KIRSTIE ON FIRE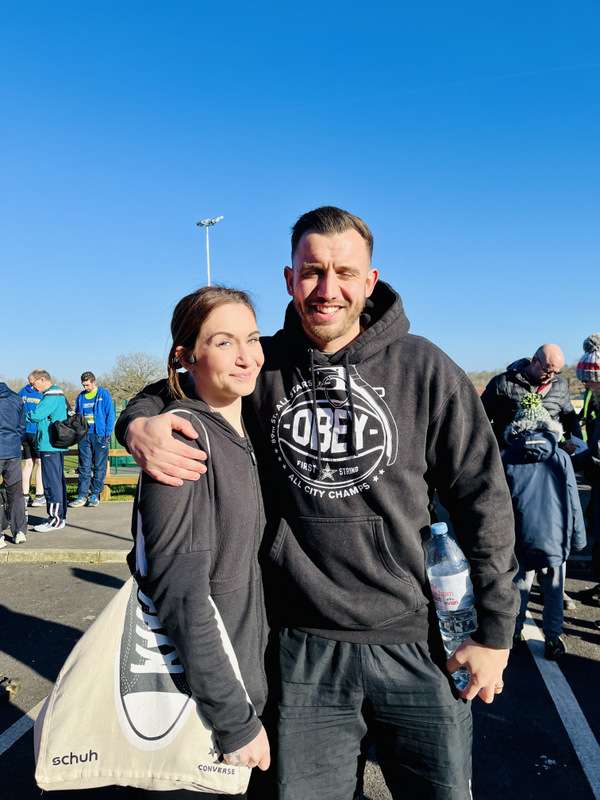 Stazza's Angel Kirstie Harvey "Wallbanger" took to the roads for the Wokingham Half-Marathon—her second race ever—and smashed a massive 6'24" off her PB, clocking 1:46:48, placing 266th/954 women, and well inside the top half overall.
When she's not annihilating her PBs, Harvey is an assistant headteacher by day and Pretty Woman fanatic by night. But she does have a dark side and will go all Man on Fire on anyone who stands between her and her mum's veggie lasagne. Yum!
The Stable News' very own assistant head, Ally "the Chin" Smith, was down in Sheffield watching Britain's Strongest Man, so before he came home, we sent him a little farther south to catch Harvey and see how it went:
"There you are, Kirstie; I was scared I'd miss you. It's a cracking day for running."
"Yes, it is—absolutely Baltic, though. But I would say that; if it isn't 25℃, I am cold and moany!"
"Ha-ha, you sound like my wife, eek. Guessing you PB'd by that massive smile on your face?"
"This was a PB! The second race I have done; my first half-marathon (in October 2020) was 1:53:12. The difference between the two is maths I cannot do!
"Ha-ha, and you're an assistant head: you take 12 seconds to get to the minute, then six full minutes, and then a remaining 12 seconds for 6'24"! Brilliant, Kirstie! That is a helluva chunk off. How did you feel going into the race?"
"I was terrified! I went in with some big calf niggles and was anxious about how it would go. I think there is a lot of physio on the horizon, but I was pleased to get through with a PB—although I missed out on the time I was hoping for (1:45)."
"Only a minute and a bit away, though, so you should be very happy. Anything else you took away?"
"Definitely realised one should look at the route, too—hills at miles 10 and 11?! Unprepared, I had hoped for a negative split, but it didn't quite work out!
My brother did his first half-marathon that day, too; although we didn't run together, it was lovely having some moral support at the start! Obviously, Mum gave the biggest cheer as I finished, and it felt great!"
"Aww, that's amazing. It really spurs you on to finish strong. Massive congratulations, Kirstie; half-mara's are no easy task. What's next?"
"I am not sure, really. Perhaps more halfs—I would like to test a 10K, too. I've not tried a 10K race before."
"Well, whatever you choose, I'm sure there's much more improvement to come. Good luck with whatever you decide."
"Thanks, Ally."
The Stable News interrupted Coach Stazza, who was lying on his lilo and drifting along the Indian Ocean, for his two cents' worth: "Get in there, Kirstie! A humongous PB and plenty more to come off yet … You're just getting started … Oh, yes; that's made my day even better!"