180!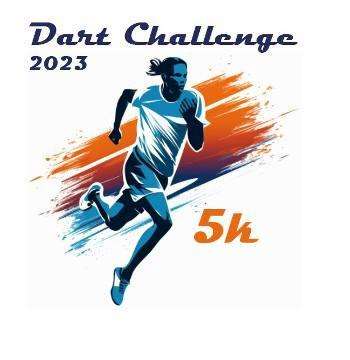 Stablemate Hyrum "the Prodigy" Johnson bested all but one at the Dart Challenge 5K in Barnes Park, Kaysville, UT, recording a firestarting 16:13 to take silver.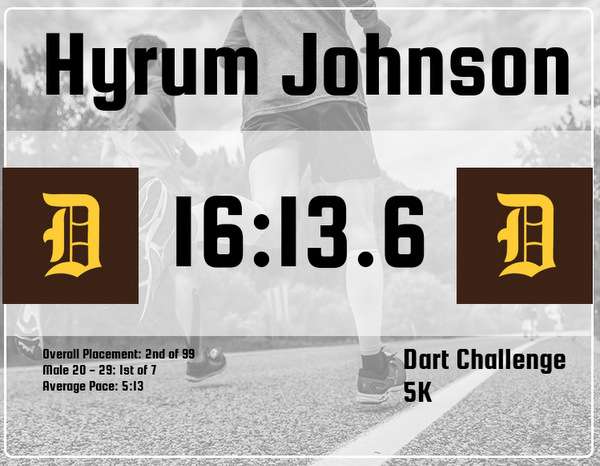 Johnson is just getting back to fitness after a two-year-long mission for the Church of Jesus Christ of Latter-day Saints, so this little rust-buster shows he's rightly earned his Mozartian moniker.
After leaving Wing "Iceman" Hoe Yee in the icebox, Ally "the Chin" Smith swung by Johnson's gaff for a catch-up:
AS: Hello, Hyrum. Pleasure to meet you. How did you find the Dart?
HJ: It was a great effort overall. I was leading for most of the race, but I didn't know the course and nearly took a wrong turn—twice.
AS: Oh, no!
HJ: After the first mile, I decided to let the other lads catch me, so I knew where I was going. Then again, at the 2-mile mark, I made a big surge for the finish. I thought I had everyone beat, but I had no speed to come back and fight for the win.
AS: Unlucky not to get the win, but it sounds like if you knew the course, you'd have crushed them all. Surging and pulling back certainly drains the legs, but that's better than getting lost altogether, hee-hee. Plus, you're just getting back into the swing of things after a long stint overseas.
HJ: Yes. At the end of May, I came back from my service as a missionary for the Church of Jesus Christ of Latter-day Saints. During those two years, running was an afterthought. As a missionary, you get put with a companion missionary to work together. Sometimes, you'll get lucky and your companion might run with you. Other times, not so much.
My running was sporadic at best on my mission. But I did have a six-month period in Malvín, Uruguay, where I was able to run nearly every other day on the beach!
AS: Result!
HJ: So yes, I'm just getting back to training. Things are going well, and Coach and I have got big things planned.
AS: Exciting stuff … The small matter of a sub-4-minute mile.
HJ: Ha-ha, yes. But I'm going to see if Coach will let me run a cross-country race first. 😁
AS: I'm sure The Bossman will see you right. Congratulations again, Hyrum. I'll no doubt be seeing a lot of you over the next year.
HJ: Thanks, Ally.
The News found Coach Stazza wandering along the beach, barefoot in his linen trousers and smoking a fat Nicaraguan cigar: "Ahh, this is the life … Weekly training all done … Feedback forms completed and the Prodigy hammering out a sublime 16:13 in his first outing since coming back from his mission. Outstanding stuff … Quicker than I thought he'd go as well … Big things to come from young Hyrum … Don't miss it."