A BROMANCE TO END ALL BROMANCES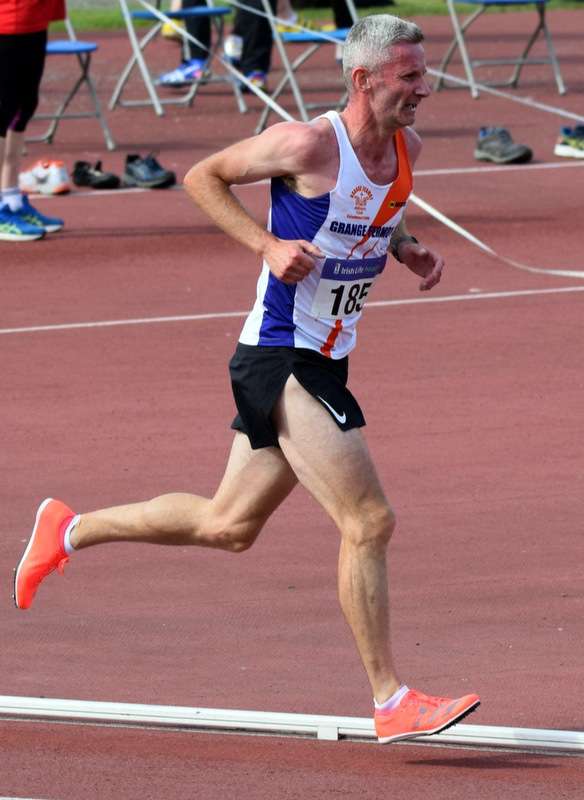 It's the one you've all been waiting for! Stable buddies Dave "Young Boy" Greene and Liam "Old Man" O'Connor have given us the exclusive on their budding bromantic relationship. You thought, as did we, that it was all war and machismo between the two—but we all know that's how boys get when they really like each other.
The stage was set: Morton Stadium in Santry, Co Dublin. A hot … steamy … breezy … summer night. Both men running in separate legs of the National Masters 5000m, each happy in the knowledge that the other would be watching.
The Stable News' relationship editor, Ally "Roses Are Red" Smith, was track-side to enjoy this turnaround for the boys:
Ally: Well, well, well; look at you two being all gooey and touchy-feely. Now, try to concentrate for a minute. I need all the details for the new column I'm doing, "Run to Real Love."
David: Thanks, Ally. I was in the M35-M40 category, running a 17:38 and finishing eighth overall. It's far from my best, but I didn't have handsome over there to push me along this time.
Liam: Stop it, Dave; you're embarrassing me. My finishing time was 17:05. I finished eighth overall and sixth in my age category (M50).
Ally: I'm so pleased for you guys getting a cracking track run in and supporting each other along the way! Tell me more:
David: A great experience. Track running is so much more difficult than the road. This was a real eye-opener and a bit of a slog. I really enjoyed it, though, and there's no doubt you need to be operating at a good tilt to do a fast 5K on the track. No "magic" shoes! I did see a bit of an argument when officials were going through results. One competitor from the M55 category was shouting for a stewards' inquiry because someone in his category wore Vaporfly. This was highly entertaining 'cos he was getting fairly animated. Arms flying everywhere with temper. I checked the results later, and yer man was DQ'd. Oh, well. 😊
First four or five laps went well, and I felt good, but I started struggling far too early. Kept plugging away, though, but I couldn't get the legs doing what I was asking. Thankfully, I was in a different heat than Liam; he ran brilliantly again. Plenty of motivation for Charleville now, with a big couple of weeks training ahead of me. 
Ally: You runners get all hot and bothered about the littlest of things: Vaporfly, schmapourfly. How'd your race go then, Liam?
Liam: It was my first time running 5000m on the track, and I ran my second fastest 5K (17:05). No PB this time around but still happy with my run. I was in heat two with the M45, M50, and M55 categories. The conditions were good, although there was a strong headwind down the stretch in front of the stands. The race was very fast, with the winner coming home in a cracking time of 15:39. I ran my 5K consistently enough, averaging 3:22 per km, but found the 5K on the track very tough for "some reason."
Overall, I was happy enough with my run. It was a good experience for me to get to run at the national championships. I was never more delighted to see my Stablemate and club-mate standing at the finish line and throwing me a bottle of water. Cheers, Dave, and thanks for the encouragement throughout the 5K. See, Ally: we can be nice to each other.
Ally: I've no doubt about it. I saw you two at the end; it would bring a tear to a glass eye. Right, I'm off to tell Coach Stazza and General Puffball all about this—they love a good rom-com.
Back in the office, Ally was gushing about Dave and Liam's rekindled bond and put a call straight through to Stazza in his private villa: "You don't say? That's just lovely now, isn't it? What a lovely pair those boys are; shouting each other on and being there for one another is a great thing to see … But hold on a minute! They're both racing in Charleville and Manchester! Oh, dear; I can see this bromance screeching to a halt for those races. Get the bell ready for round five, Ally. This could be war!"