A Flame Of Phoenīcēs Rise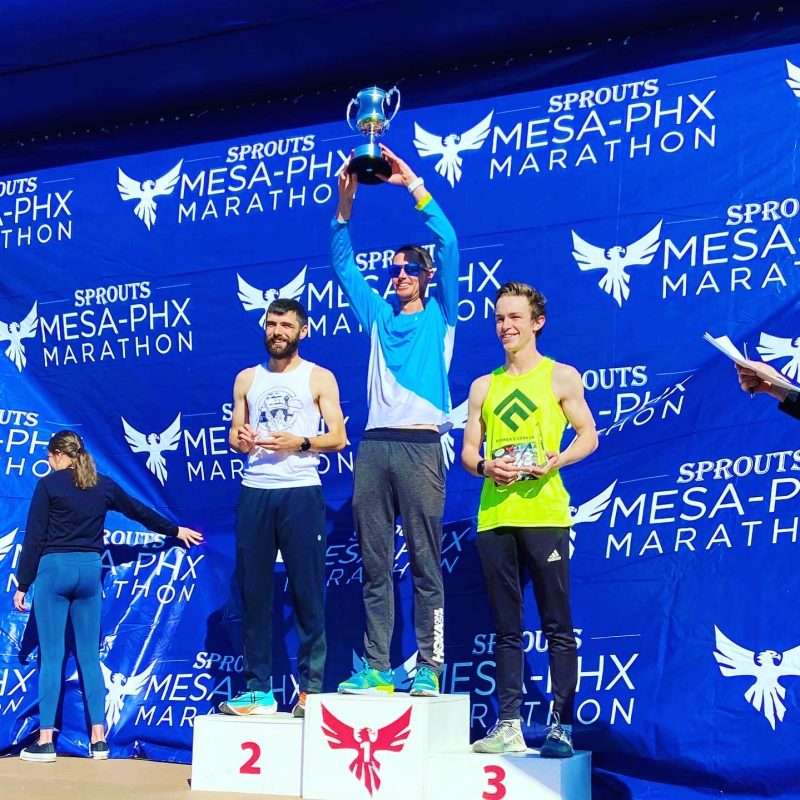 To depict the great performances of Stazza's Stable Stablemates at this year's Phoenix half marathon and full marathon, I thought I'd be clever and use a title about Phoenix(es), Phoenīcēs, or Phoenices. Unfortunately, as you all know—from Mendeville—there is none but one (Phoenix) in all the world (except, of course for, Joaquin and River; note: one of these is dead and the other is a/the joker/Joker). (Note too: JK Rowling got it wrong: she used Phoenixes). Anyhow, less pedantry and more waffle…The Stablemates at the Phoenix half and full marathon rose to the challenge and, like the Phoenix, their runs will last for five hundred years…
The Marathon—The Problem With Jaydn's Little Prick, His Podium, And His PB
In the marathon, we had Jaydn Asay and Rush Mills. Back in December, leading into CIM, Jaydn was in about 2:15-2:16 shape. During CIM, Jaydn tipped along at 2:18 pace until 20 miles. At 20 miles, he upped the pace. At 21 miles, however, he stepped in a pothole and his back locked. Game over: he walked/jogged home. For two months, he tipped along doing easy runs to maintain his fitness. He decided to head down to Phoenix for some sun and to see if he could podium, run a PB, and have some fun.
In a ding-dong battle, he fought with two others for the win. Here's what Jaydn told The Stable News: "Mission almost accomplished. Can't complain about this one, executed my plan perfectly. Almost to the second, even splits from the first and second half. After Ben Bruce flew by at mile 22/23 felt like I had second in the bag and got content. $450 mistake. Overall though, really happy with this. You can never be upset with a new PR (aided). And my training leading into this was essentially non-existent when it comes to specific workouts. Even split 2:22 on residual fitness, third place, and prize money to cover the trip. Good day."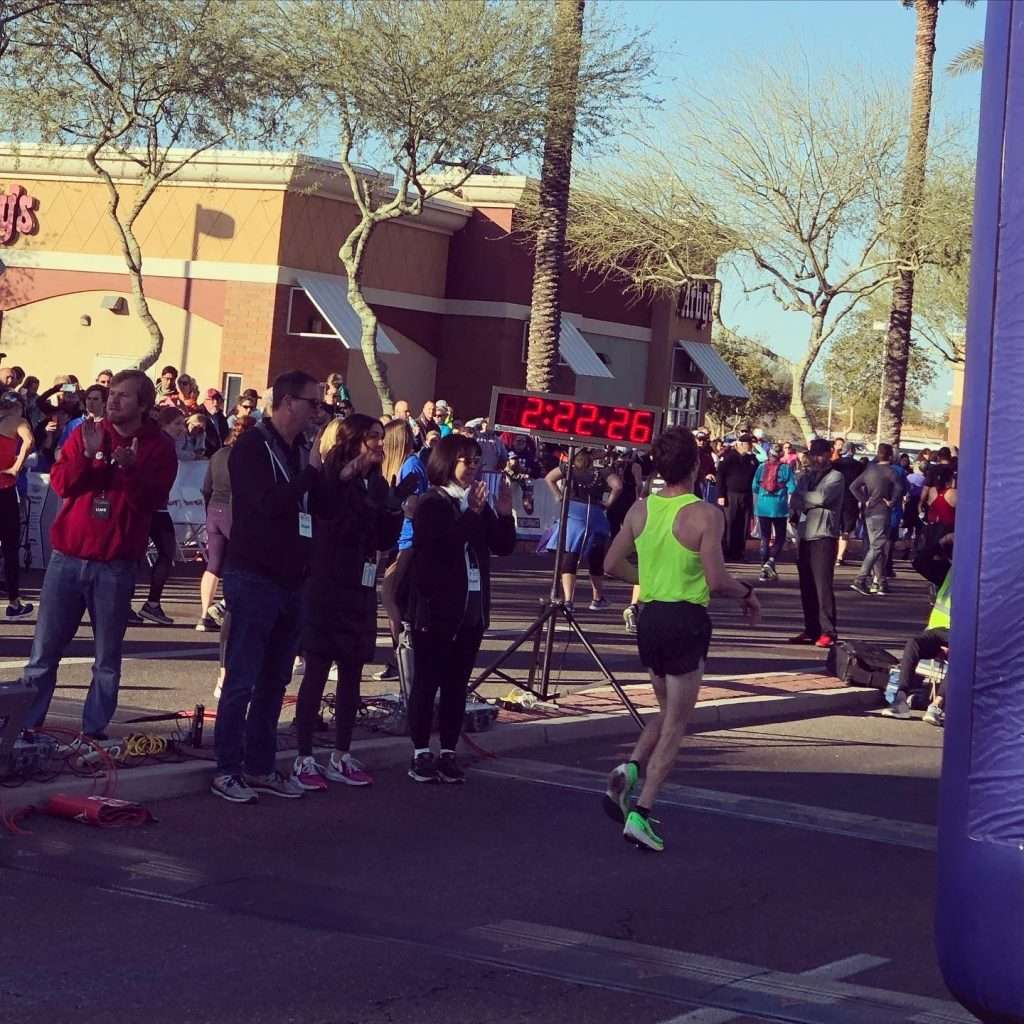 Jaydn went on to explain how a little prick can cause so many problems: "Most horrible starting line experience ever. Waited in line for bathrooms for 35 minutes, heard them counting down for the race start. Ran to piss in the desert. Slammed my shoulder into a cactus, ran the entire race needing to pee and with cacti in my left hand and left shoulder. Won't forget this one."
From The Ashes Of CIM, Rush Rises To A Five-Minute PB
Rush also headed over to CIM in December and, like Jaydn, a niggle/injury plagued him during the race. Rush suffered with some psoas issues. He still ran a PB but nowhere near his potential. He wanted to rise again at Phoenix, but like Jaydn, off no specific training.
Rush ran a five-minute PB to finish in 2:29:38—here's Rush's account of the race…
Slipped under 2:30 today for a new PR which can't complain about! I'm happy with it with everything leading up to the race.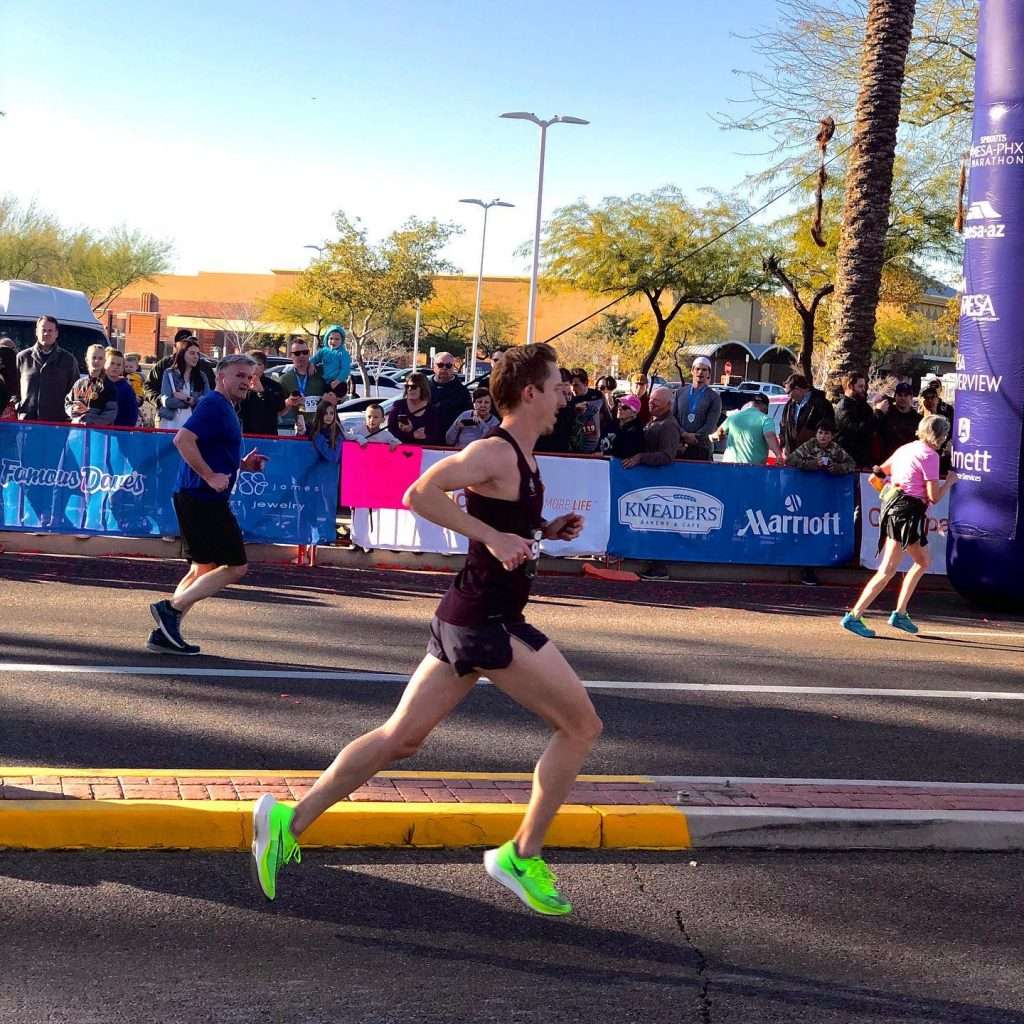 The organization at the start of the race was pretty crappy. I stood in line waiting for a porta potty for a while, but they didn't have nearly enough. 3 minutes before the race started, I ditched the bathroom line and ran to drop off my bag and sprint to the start line as they were counting down from 10. So I was just praying I could hold it for the race.
And then the bottles that were put on the course for us were hidden. I missed my bottle at miles 3 and 7. Didn't get my first bottle until mile 11.
Felt good going in the first half, just running on effort. Stayed within the lead group within about a minute and a half for the first 16ish miles before my legs started to feel fatigued. Basically ran the whole race in 4th place by myself haha. The second half was a little harder than I anticipated. But good experiment. Happy to be in the 2:20's club.
Ps. I didn't end up having to "go" in the race so that's a plus
Dustin Pops Out Cheeky PB In The Half—Off Limited Training—While Tawny Drops Out 79-Minute Training Run
Four-minute miler, Dustin Bybee, made a last minute decision to jump in the half marathon. Dustin was heading down with his wife, Tawny. She was using the half as a training run and she zipped around in 79 minutes—decent enough training run.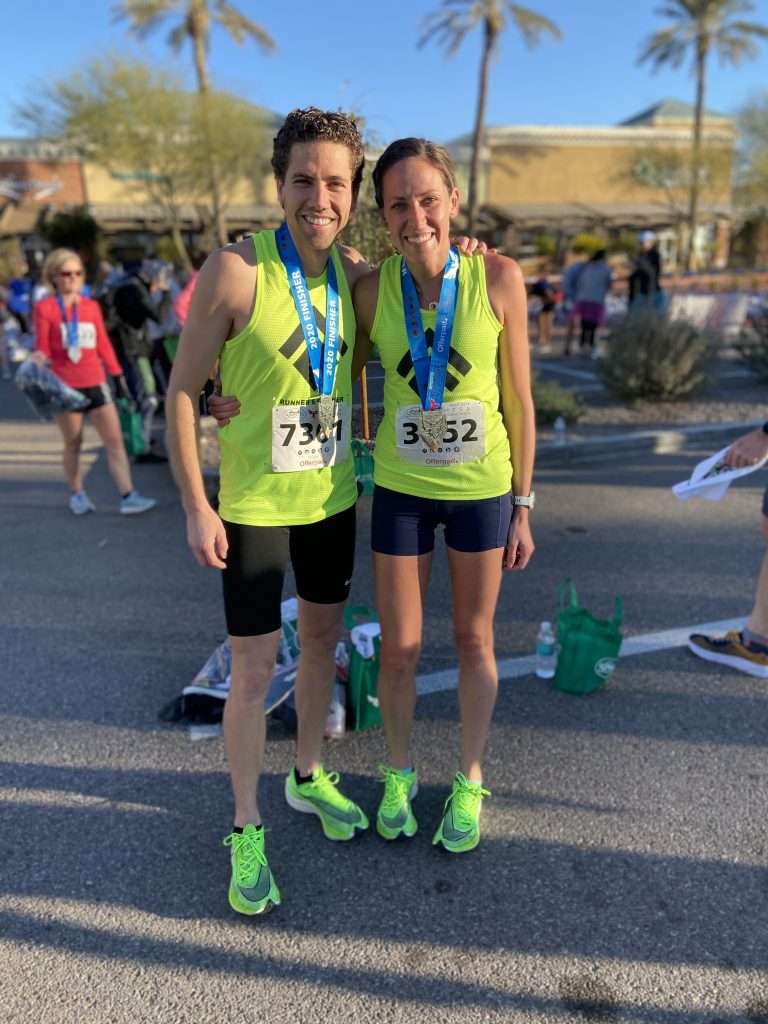 Dustin, however, set off like he meant it—chasing Galen Rupp and the lead group. He sat in the second group for a while and thought that he shouldn't be there as he hadn't done any serious training. But, Dustin being Dustin, he decided to give it a lash.
As the miles clicked by, he felt pretty good and with four miles to go he pushed on and finished in a PB of 69:54 (he hasn't banged out that many half marathons).
Dustin told The Stable News: "I was surprised how well I felt during the race, especially given that I haven't done much more than easy running."
Meghan Hits Her Goal
Stablemate, Meghan Goodwin hasn't raced in nearly a year. She started with Stazza's Stable in September. She's working towards this year's Boston marathon and opted to run the Phoenix half to monitor her fitness. Her goal was to finish in 1:28 and she ran 1:28:31, running a perfect race.
Meghan now has the necessary threshold speed to run a PB in Boston and, over the coming weeks, will work away at improving her endurance. It'll be interesting to watch Meghan's improvement as she has some untapped talent…