A PB OF LAWRENTIAN SCALE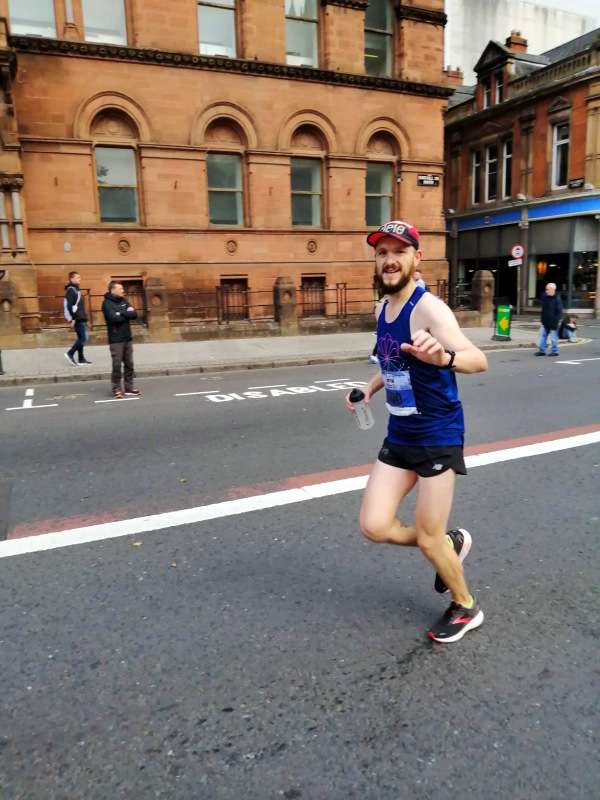 Stablemate Patrick "the Rambler" Lawrence (29) obliterated his PB by an astonishing 55 minutes at the Belfast City Marathon, Northern Ireland. The hiking holiday lover—before COVID, he went to Japan and did a three-day trek on the Kumano Kodo—crossed the line in 3:05 after battling monstrous headwinds and creeping hills.
The Stable News can report Lawrence was "worried about [his] glute tightening up," as he missed two and a half weeks' training in the peak phase of the build. Which also meant he only had one run pre-race to assess his fuelling strategy.
Lawrence caught up with Stable newshound, Ally "the Chin" Smith, to fill him in on how his day went:
The Chin: Alright, Patrick! A little birdie told me you ran a PB of epic proportions! 55' must be up there in terms of biggest PBs in The Stable. Tell me all about it.
The Rambler: Ha-ha, thanks, Ally. I planned to stick with the 3:15 pacer, as I wasn't sure what my fitness was going to be like. Ended up leaving them behind after the first mile. Initially, I thought it was a flat race with a couple of hills, but it ended up being lots of small little hills, and a couple of long, slow hills made worse with the headwind.
The last two to three miles were the toughest, with a long, slow incline around the park where I could hear and see the finish line. So close, yet so far. 🙁 Overall, I was really happy with how the race went: nutrition went well, pace felt comfortable, and my glute didn't play up—which was an added bonus.
The Chin: Brilliant, pal; what else have you got coming up?
The Rambler: Unsure as yet on my next race. Probably focus on half-marathon distance or less to get more speed. I'll be ready to attack another marathon next year.
The Chin: Well, congratulations once again on an excellent race and humongous PB.
The Rambler: Cheers, Ally.
The Stable News contacted Coach Stazza for his take: "A 55' PB! Have some of that with HP brown sauce on top! Best performance of the autumn marathons so far—and Patrick's battled some serious niggles, too—GET IN THERE!"