A PHOENIX PARK AUBADE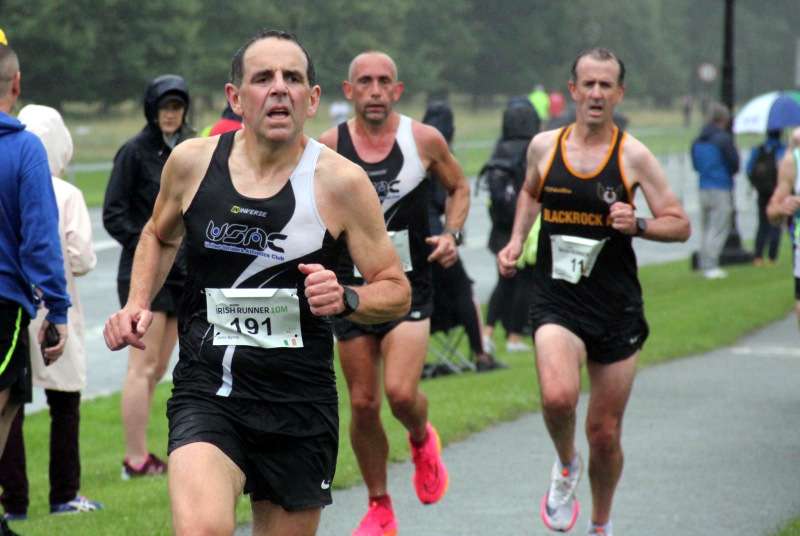 Stablemate John "Burn Baby" Byrne went all disco inferno at the Irish National 10 Mile Championships, taking home M50 team silver alongside his ageing compatriots. His own 1:01:01 was good enough for eighth M50. There's some fast folk at 50-odd, that's for sure.
Dublin's Phoenix Park was damp and misty at the start line, with heavy rain for a few miles in sticky, 15°C temps. Byrne and his crew had their rivals from Donegal in their sights but couldn't do what they did earlier in the year when they took gold at cross-country nationals.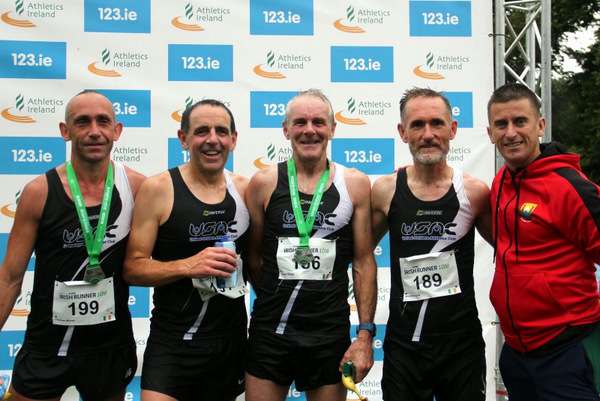 The Stable News dragged "the Chin" (kicking and screaming) away from his Super Nintendo Entertainment System to go get the goss from "Boogie Byrne":
"How's it going, John? It's been a while. How was it? Did you PB?"
"No PB this time. In my opinion, it's not a PB course—and I'm not in PB shape, anyway.
(I'll just throw in a few excuses here.)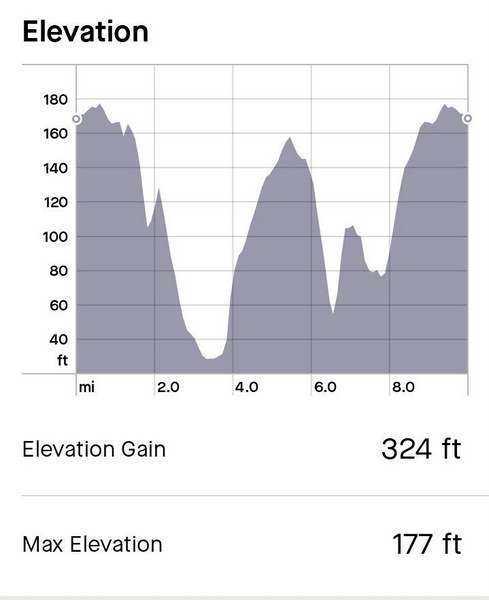 I had a sub-60 and a sub-59 last year or the year before under John's watchful eye. And I'm hoping to PB over the half-marathon distance before this year is out." 
"Never mind the PB. A one-oh-one-oh-one around the park is some going. Tell me more."
"I really enjoyed the race. Along with the half-marathon, this would be my favourite distance. You can't go eyeballs out like a 5K; you have to be measured in your approach, but give it a lash at the same time."
"Ah yes, the perfect cocktail of fire running through your veins, but enough 'tonic' to keep you from blowing up."
"I went out with sub-60 in mind, knowing that three of our team would need to run that time if we were to have any chance of securing the gold, but it wasn't to be on the day. I went through the first 5km in 18:20, which was fine. I felt good, and anyone who has run the course will know that this section will be quick because of a subtle downhill.
This you pay for later in the race, as the start and finish are in the same place. What goes up must come down, and all that.
I went through 5 miles in 30 minutes on the button, so I still felt that sub-60 was in my sights, but miles 7-9 put that notion to bed fairly quickly."
"Sounds like the uphill went on waay longer than the downhill. Anyone would be happy with that time on a tough route. Plus, another other team silver for the trophy case. Excellent work. When's your next outing?"
"The National Half-Marathon in Tullamore on August 26. We have a strong over-50s team entered, so it should be a good race."
"Brilliant! Going for gold once again!"
"Indeed we will. Thanks, Ally."
The Stablemaster was slathering himself in tanning oil (shudder at the thought) for another tough day at the "office":
"Ahhh, it's a hard life … The things I do to enhance the Stablemates' experience … They can't have a pasty Coach on the other end of their Zoom calls … Now then, what about JB helping his team in a sterling fashion? … JB's in his third year with The Stable, and he keeps on improving! Don't you worry about that half-Mary PB, either; I have a special selection of sessions all mapped out to ensure its destruction. Get ready."