ACROSS THE YEARS 24HR CHAMPION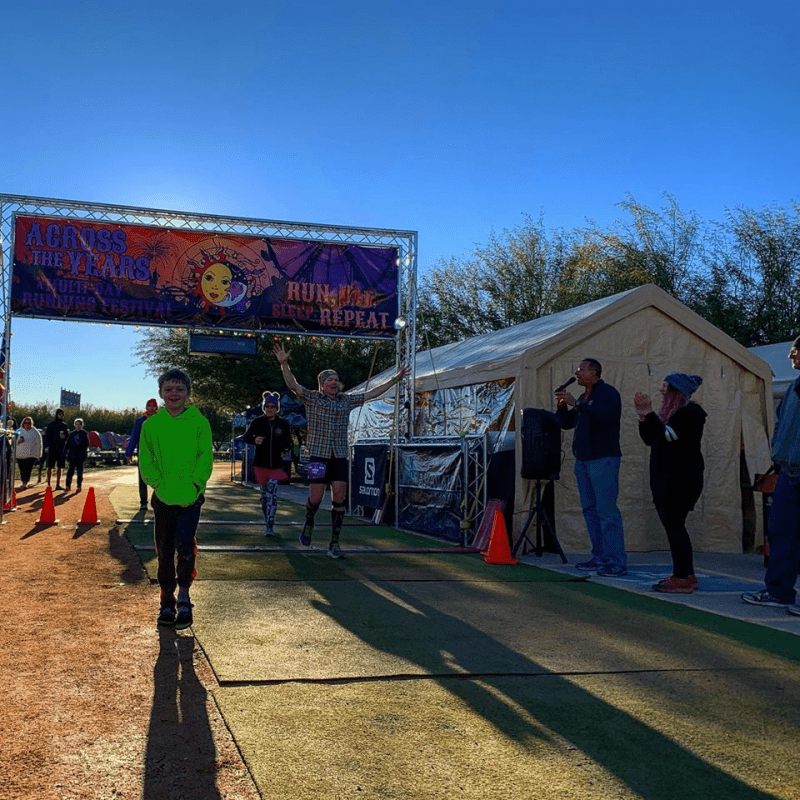 Stablemate,Chris Krash Pope, wins Across The Years 24hr Race and now stands seventh in the USA rankings. Here's his race report…
Pre-race:
The drive to Phoenix is a long road from SLC. We broke it up into two days to make it easier. The family thanked me for planning on a hotel the night before the race. It rained a lot making the ground sloppy wet and camping in the rain sucks. After picking up my timing chip we set off to the hotel to relax. I then hit the road for an easy 2.5 mile shake out. All felt great and ready to rock it tomorrow. I passed a donut shop and craved one, after the race you can eat one if I am lucky.
Race day:
I got up early to make sure I had plenty of time to have everything set. The racecourse was just as wet as it was the day before if not muddier although it was pretty sandy and didn't glob up on your shoes. I set up my aid station right next to my friend Meli. That way we could yell at each other to keep going or shut up and run. The course is a 1.05-mile loop with 85% of it now a dirt or mud fest. I found it really flat with minor changes in incline. Lots of trees lined the course as we pass a few baseball fields. Go time was 9 am Dec 28th. This was the first day of the multiday races. The race had 24, 48, 72 hours, 6 days and a 10-day race to celebrate a new decade. I was happy to only be running for one day because I am not as crazy as some of those other runners (wink wink).
I started off at an easy training pace of 8:30 for a few laps. I ended up dodging more mud puddles than I could count but who cares. With lots of people starting day one the course was somewhat crowded for the first few hours. I had to do some zig-zagging to get around others and I know that took a bit out of me but I kind of like the opportunity to chat it up with everyone. I had a set nutrition plan to drink 160/320 Maurten drink mix every hour. After about 7 hours switch to Maurten gels and then real food. Then go back to Maurten drink mix for the rest of the race. I finished a marathon in 3:53 with ease (Wife edit- With ease? What a joke, that would kill me). Around hour 6 I started to feel a bit sore in my quads and feel the doubt creeping in (wife again- Doubt? Really? This kid could talk himself through anything). I am a strong believer in self-motivation (That and a high pain tolerance). If you are feeling sad or doubting your ability, you have a choice to make, you can let that doubt overcome you and sit in your sadness or make a change. My go-to is letting out a big yell, drinking Mt. Dew, motivate someone else or throwing on some upbeat tunes(He hoots and hollers all time, it's like ringing the doorbell to let you know he is coming). This time I washed down some pain killers with some Mt. Dew. I consider myself a Dew connoisseur(Just cause that is all you drink-but maybe, just maybe it is better than the 2 liters of Kool-aid you used to drink every day!). I find joy in others achievements(He really does, he will help me get ready for any race I would like to do). During your next race pull up to someone and tell them they are doing awesome and keep it up. Watch their facial expressions it's totally worth it. Most of the time they will change and you can see a glow. Then take note of your own feelings and attitude. It will change too. That feeling inside fuels my drive to keep going more than almost anything else. (You are adorably cheesy)
Every 6 hours they had us switch directions. I loved the counter-clockwise direction. It made the downhills feel longer. Mile 50…..wow I still feel great and I set a PR of 7:42. I set this PR 6 years ago when I started running ultras. PR'ed my 100k 10:06 and then PR'ed my 12-hour distance with 74.6 miles. My first Loop race was Pickle feet 12 hour in 73.48 miles back in 2016.
Sometime around 7 pm, my family left for the hotel for the night. It was getting cold for them (ie. things were starting to freeze over and cold kids are grumpy kids). I was on my own for a while. I can't do these ultras without my family, they are my best supporters. Sometimes before they left my 7 yr old son saw me running by and asked: "You only have a few more laps left right?" Umm not really. I have many hours to go. My daughter is 16 and an amazing crew chief. I gave her a brief outline of my nutrition plan and she was set. She would see me coming around the corner and she was up and ready to hand me my water bottle. She had my salt pills ready every hour. Even when I didn't need anything she would see me coming and give me a killer smile and wave. I loved seeing the excitement she had to help me with my race. I feel so loved.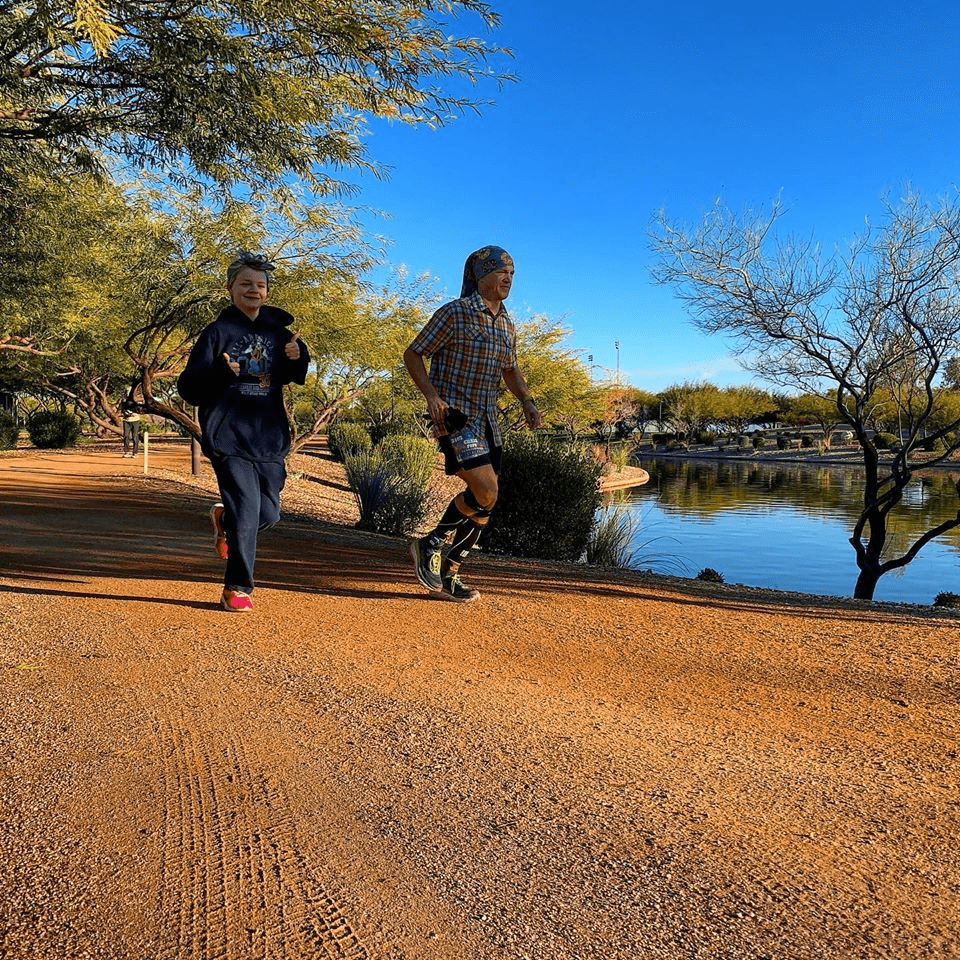 Then about 9:30 my buddy Danny dropped by with his dad and a family member. They were in town for a few weeks. It was awesome to see them and I am grateful for them crewing me for a few loops.
For many people, the night is the hardest part. It's dark and cold. I overheard many talking about how they were freezing. I don't mind the cold and I even felt too warm(He never wears pants except when he is "dressing up"). I had on my plaid shirt and a long sleeve over it and was sweating. During the night I put the tunes on and focused on the route ahead (It was a lap you had already run literally a hundred times already, how much focus did it take?). A few times I had to tell my friend Meli to get her butt moving and that she can do it. (I got him to slap Melissa's butt for me! Butt slapping is a part of running)
100 miles in 16:27. Wow, I can't believe I ran a 100 that fast. This was a big PR for me. I ran an 18:05 split in Feb during Jackpot 24 hour. I will have to run a flat 100 miler one of these days to see how fast I can go when I don't have to keep running after doing 100.
With about 5 hours left I started doing the math. Could I still make my B goal? I would have loved to hit 145 miles(24 hr national team Minumum qualifying distance). My nutrition started to fall apart and I didn't feel like mixing up more drink mix or even drinking it so I switch back to real food. M&M pancakes and Dew is magical. I know since it worked for Jackpot and this race. At this point, my quads were sore and didn't want to go much faster than a 10-11 min pace. I have had the motto "Pain is my friend" since high school. My wife tells me my pain receptors are turned off(Seriously! He had a large firework blow up in his hand and a blister that covered most of his palm. He said "Ow"). I just push through the pain and keep going. Pain to me is like sadness, for the most part you can choose to let it take you down or you can keep pushing.
With 3 hours to go, I did the math again and I could see that it was going to be hard to hit 145. I wasn't going to slow down. I felt like I was the only one running all the time ( At this point in time he was). I walked some of the little hills but most of the last 2 hours I ran. My family came back at about 8 am with only 1 hour to go. It was great to see them again and it gave me a boost (because we are cute and seriously the best!). With only time to get in 2 more loops, I asked my family "Who wants to walk my last lap with me?" My son and daughter did and I love them. My daughter took some pics for me because I didn't take much time to take any(had a record to crush).
Finished the race with 141.45 miles in 24 hours and finished 1st overall out of 214 people. This is the biggest race I have ever won.
I am still amazed at how long I was able to keep a 9:30 pace during the race and all the distances I was able to PR. I am really close to qualifying for the US 24 hour team. PS I have plans to qualify in Cincinnati in September if anyone wants to come be my friend…