AGENT RYAN CARLEY 2: DESTINATION LONDON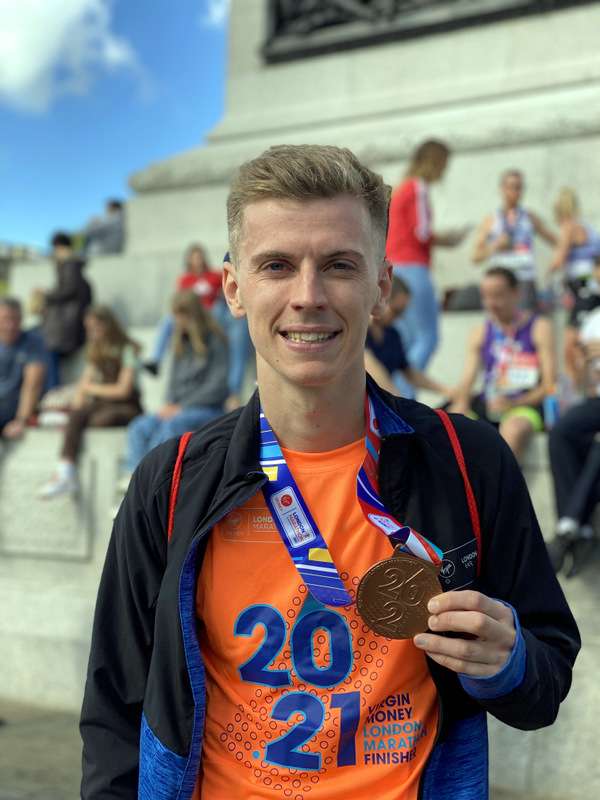 Stablemate "Agent" Ryan Carley was back in London for his biggest assignment yet—attacking the London Marathon in his first attempt at the distance. Despite the best efforts of the dastardly Dr Smith, Agent Carley completed the mission in a very respectable 3:04:00.
The Stable News can report that the Agent was swiftly bundled into the back of a Transit before he could celebrate:
Dr Smith: We meet again, Agent Carley!
Agent Carley: Wh … who's there? I can't see a thing with this light blinding me!
Dr Smith: You'll find out soon enough. Now tell me what you accomplished in London.
Agent Carley: Hmm. I recognise that voice! Dr Smith! I ran the marathon in 3:04 and was 2504th place and 1151st by age category. That's all I'm giving you!
Dr Smith: You over there! Write down those codes. We might be able to break into the Tower of London, after all. As I was saying, Carley: tell me the full story before I put a blowtorch on your Nike NEXT%.
Agent Carley: Whoa, whoa, whoa; that's taking it too far. I couldn't complain at all about the weather—11℃, slightly humid at the start, but didn't notice it at all during. The sun came out, and a headwind began after Canary Wharf with six miles to go.
Dr Smith: Very good … and?
Agent Carley: It was my first-ever marathon, so an absolutely massive PB!
Dr Smith: First-ever marathon? Really? I am about to spark up this blowtorch and get to work if you don't get to how you really felt DURING THE RACE!
Agent Carley: OK, OK. Sorry. I wasn't stalling for time. As I was shuffling to the finish, my initial thoughts were negative: I had trained so well through the HM races earlier in the year, and the long runs. My MP was looking like 6:35-40/mile (2:55-ish). I agreed with Coach to keep controlled (around 6:40) until mile 20 and then see how I felt and look to progress slightly. I hit 22 miles (with 18 miles @ 6:35) in training a few weeks earlier, so I was confident I could stick with 6:40 the whole race.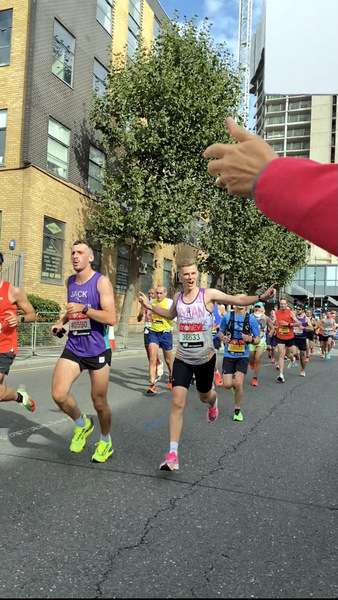 At 14 miles, I took a caffeine gel, something I had trained with before—but maybe not enough. After I took this, I didn't feel quite right for the couple of miles after. I persevered until mile 20, but then it decided to make a reappearance—three times in a row—in front of the watchful crowd. Covering my legs and my shiny NEXT%—not my finest moment.
After I'd lost every last bit of energy in my stomach and left it all on the streets of London, it became a battle just to get to the finish line. The last four miles were the longest of my life, but we got there in the end, and I still tell people I enjoyed it. Crazy, right?
Dr Smith: AH HAHAHA HAAA! It was MEEE who switched out your caffeine gels for ones with a much higher dose! Ah, ha, cough, sputter, ha. NOW TELL ME WHERE COACH STAZZA IS, OR I'LL HAVE BAR-B-QUED DOG FOR MY DINNER!
Agent Carley: NOOO, not my beloved golden retriever, Ralph!
Crash! Glass shatters, and light and smoke bombs fill the room. Coach Stazza has come to Agent Carley's rescue:
Coach Stazza: We're gettin' outta here, my boy. Hold on tight!
Dr Smith: Nooooooo, Stazza you fiend! Come and face me like a man!
Thwack!
Coach Stazza: I'm fed up telling him to keep his hands up! Come on, Carley. You ran a cracking race, and if it wasn't for that imbecile messing up your gels, you'd have sub-3'd your virgin marathon. Great job.
Agent Carley: That sure shut him up! Thanks, Coach … Now, while you're here saving my ass and stuff … Is there any chance you can train me up to win my local parkrun in the winter?
Coach Stazza: Hahahaha, parkrun! Of course, my boy; just keep getting the miles in, and we'll sharpen you up closer to the time.
A few days later, Coach Stazza and Agent Carley are lying on the beach in Dubai, having a few cocktails over the marathon debrief:
Agent Carley: I think I'll leave off the races for a while and let Dr Smith lick his wounds, ha-ha.
Coach Stazza: That sounds like a plan. I don't think he'll be troubling you for a very long time.