AND, LO, THE HAPPINESS, IAGO!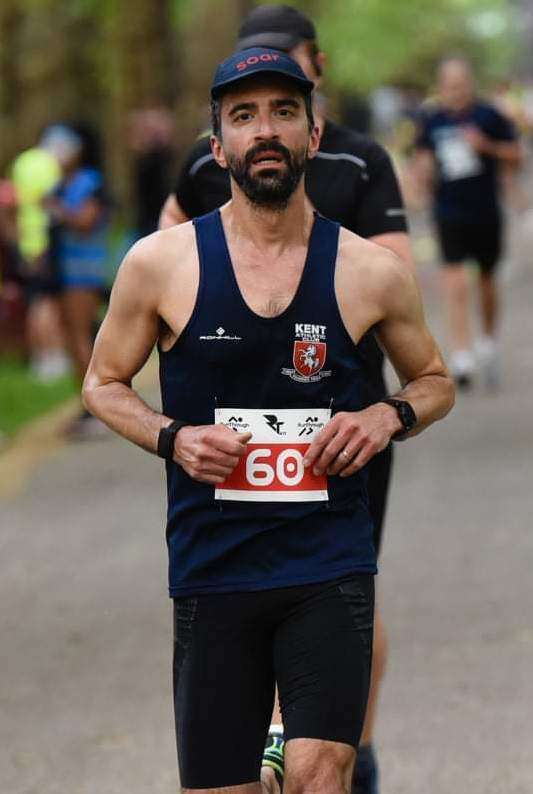 Stable baby Iago Martinez (only eight weeks into the Stazza Super Base) went sub-40 in the Chase the Sun Battersea Park 10K. The heat was on for Martinez, as he rattled round the park in dry and dusty conditions before crossing the line in 39:00, taking a massive 1:08 from his previous best. Martinez faced stiff competition; with everyone clambering for a PB, he finished 43rd out of 277 overall and 9th out of 27 for V40 males—nicely done!
The Stable News grabbed Martinez for a quick chat up over a pint, where he told us:
"The course consisted of four laps of 2.5K around beautiful Battersea Park. A sparse but enthusiastic crowd of people were scattered along the course, especially at the bandstand, which was the finish area. With the first lap down, I looked at my watch—6:20 pace. Faster than intended, but I was feeling OK.
At two laps in, the familiar mind-body struggle kicked in. 'I could pack it in at 5K, still a decent time. Just this corner, then I'll stop.' I pushed on.
On the third lap, it started to get a bit harder. Pace still good, body feeling fine, but my mind was racing ahead, thinking of how much I wanted to finish. To distract myself, I started to count breaths up to 10—then start again. Looking at the scenery.
Fourth lap: nearly there. I had a little bit of energy left, so I tried to catch other runners to give myself something to aim for. I turned the last corner. One last push and I was over the line. I took a look at my watch and knew I had run faster than my previous PB, but I had to wait for official results to know for sure (I started the watch late).
Once I'd recovered a bit, I felt elated—at having the chance to race again and at having set a new PB: 39:00 exactly! To top off an already great day, I joined my club-mates for a debrief over pints at a local pub. It felt good to race again and nerd out over running with like-minded people.
I was unsure about what to expect, having run my last real race in March 2020. For the last year, I had been feeling that my running was at a plateau, and I've struggled with consistency and fitting in running around home life, remote working, and general lockdown ennui (no surprises there). Working with Coach Stazza has given me a new sense of motivation (and a reason to get my runs done). With this result, I've set a baseline for myself, and I feel that the consistency of mileage (and those long tempo workouts) have been paying off."
Stablehand, Ally "Where did you put my shovel" Smith, raging that he missed out on the pints, commented, "Welcome to the Stable, Iago. That's an excellent benchmark to work from: well done."
We interrupted Coach Stazza, busy packing his custom Vaporfly for cycling in Utah, for a quote: "Good man, Iago! Excellent race! Wait until you see what's in store for you next."
Martinez is quite literally race hungry: "I'm looking at doing a half at the end of July, maybe another 10K in the summer, too—but mostly I'm gearing up for the London Marathon in October. Can't wait to see what I can do with some proper training! I have to say: there's a fun race (with wine and cheese stations) around Denbies' vineyards in Surrey in September. If Coach Stazza gives me the OK, I might go for it." 🙂
Wine and cheese? Coach Stazza will be all over that race; he's the expert, after all.