ANGEL'S SHARE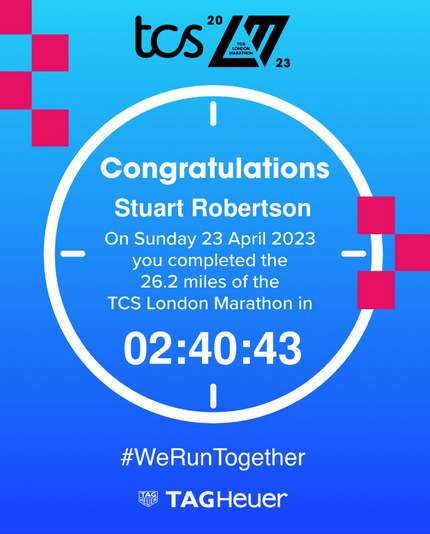 Stablemate "Big" Stuart Robertson (53) let his running do the talking when he competed in the Scottish Marathon Championships—held during this year's London Marathon.
Big Stu, from Irvine, Ayrshire (Ally's neck of the woods), clocked a stupendous 2:40:43, chipping 2'29" off his best while placing 16th M50 and 648th overall. But that's not all: due to his age (and being Scottish), the big man came second in the north-of-the-border champs. Watch out, Tommy Gavin: our boy's going for gold next time!
A head greenkeeper by day, Robinson told The Stable News that it was a "Well organised, good race."
A chap of few words, it seems. Not to worry. We can always count on Coach Stazza and "the Chin" to pad out the script. Here's what they had to say on the big man's performance:
CS: Och aye the NOOOO, Big Stuuu! An absolute cracking canter!
AS: Nice accent, boss; and I completely agree. Romping home in 2:40 at 53 years young is bleedin' brilliant.
CS: Let's not forget his silverware and two-and-a-half minute PB. At his level, that's a heavy slice off his handicap.
AS: Definitely. He'll be smashing that barrier soon enough, I bet.
CS: Easily. And he'll be lifting the title of Scottish marathon champion … Mark my words.
Big Stu will be dropping down in distance to get some speed back in the legs, with a 10K planned shortly, to be followed up by a half-, and then a full, marathon.
Stay tuned to follow this future champion's escapades.