ASH STOKES THE FIRE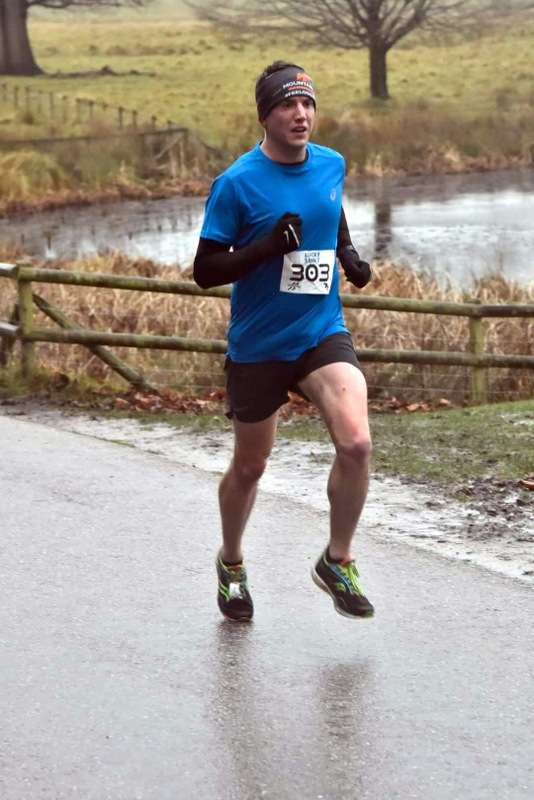 Stablemate Ashley "Choo Choo" Holbrook burned through a RunThrough Tatton 10K in a searing hot 38:28. He melted 43" from his official PB, sizzled 73" off his course best, and blazed through the field—placing 14th/498 overall and ninth among his age-appropriate peers.
With climate change the new buzzwords for global warming, you would think the little town of Knutsford in Cheshire would be a balmy 15℃ in the middle of January, but no such luck for Holbrook: "Crap, basically! Wet and windy."
Avoiding another sin bin stint, Ally "the Chin" Smith begged General Puffball for a loan of his Maserati Quattroporte for a face-to-face with Holbrook:
Ally: Oh yes, true Italian elegance at its finest. The old General certainly has a bit of class about him. Here we are; better go and see if he's in … I did get here an hour early … Oops.
In true Manchester United fan-style, Holbrook had an Alex Ferguson-themed door knocker, which threw a football boot at a young Beckham's face.
Ally: Alright, Ash. What's that doorknob all about?
Ash: Ah, the glory days of Man U. We'll leave it at that, shall we?
Ally: No bother with me, pal. Now tell me all about this race you had.
Ash: Truth be told, I wasn't feeling "up" for it. It's probably my least favourite of the road distances. Winter conditions—while the Stablemaster was hogging all the sun in Kenya—just topped things off!
Ally: Aye, January sure is the worst month of the lot.
Ash: Maybe a bit of ring rust there from the festive period, too.
Ally: Alright, calm it with the excuses a bit; what were the positives? Trying to inspire folk here.
Ash: Sorry. Well, I'm lucky enough to live next door to the venue, so local knowledge was going to be key. I knew every incline and decline, where I would lose a bit of time and where I could open up my stride a bit.
Ally: That's more like it; how did it go?
Ash: Barring a few speed demons at the front of the field, I could tell early on that some runners had underestimated their finish time, as I began to cruise past people who were never to be seen again.
After the uphill slog of mile four, the course turned back on itself, and I let the brakes off and began to pick runners off in front of me. One final uphill towards the finish, and I just gave all I had to come home with a PB.
Ally: See, what were you even worried about! A patient start led to a roller coaster finish! Well done.
Ash: One more thing. Leading up to the race, Coach Stazza had given me sessions to be run at "effort," which I struggled with initially and did question: "Why effort and not a specific pace?" The Stablemaster enlightened me with his infinite wisdom on the reasons behind this, so I remained disciplined from then on and refrained from looking at the watch.
To my surprise, when running by effort my splits were very consistent.
Lo and behold, my race pace from the 10K mirrored what I had been running in training when I was asked to run "X" amount of minutes at 10K effort!
Ally: That's terrific, Ash. Any final words?
Ash: Overall, I came away really pleased with my performance, and the fire inside me has been relit. I have my mojo back to push on now. It's going to be a big year ahead!
Ally: Yes, man! I'm fired up. Hope the local constabulary sees it that way when I fly by. Catch you later, bud.
As Ally flew across England like his childhood hero Michael Knight, The Stable News received a WhatsApp voice note from the man in Iten: "Hope you're well, General; just a quick one on Ashley Holbrook's 10K PB. What a run he had in rubbish conditions. Obviously, running to effort has worked like a charm, and he's seeing the method to the madness, ha-ha. Well, I best be off; time to get Stazza's Stick out for a few workouts."
Holbrook has his sights set towards the Wilmslow Half-Marathon in March, with a 10K tune-up race a fortnight before.
He has yet to discuss the meaning and tactics of the 10K race with Stazza, but he hopes (with it being a flatter course) to go quicker.
But he stressed: "The main goal is the half-marathon, so we'll see how the buildup for that goes!"
Good luck, Ash.