AUDERE EST FACERE

Stablemate Steve "Lego Master" King (49) laid a solid aerobic foundation before heading towards the skyscraper that is the Manchester Marathon. King hammered the 26.2 miles to the top of the course in a brick-bashing 3:15:14, levelling 13'26" off his PB in the process.
A builder by trade, he's used to all weathers, and 5℃ set up a delightful morning for the calloused King, who threw down the miles like cups of milky tea. He placed 2,255th overall and 276th M45.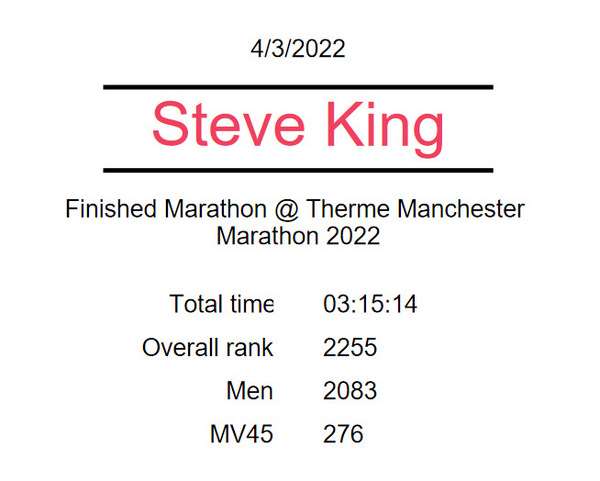 "The Chin" was keeping himself busy (having been recruited by other volunteers) dishing out foil blankets and impersonating the Gallaghers in his parka and yellow sunglasses:
Ally: Champagne supernova if you diiiiiieeee … Oh, there's arr Steve; better go give him his medal. Y'aright, Steve?
Steve: Yeah, mate, thanks.
Ally: Nice one, mate, sorted; how'd ya get on out there?
Steve: The race was going well, with the target of 3:05 being the goal up to 18/19 miles—then the wheels came off, and I ran out of gas.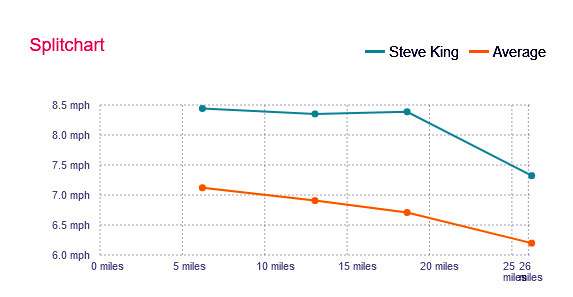 Ally: Ah, mate, sorry about that. On the bright side, you bagged a whopper of a PB.
Steve: Thanks, Ally. Onwards to the Big Half in London this September and some 10K races over the summer to gain more speed.
Ally: Yeah, excellent—sorted, mate. Keep that up, and 3:05 (and beyond) will be yours.
The Stable News stopped by Coach Stazza's garage, where we found him polishing his copper handbells: "Wahey! You should hear these little beauties going full gong; I'm like the Jean-Michel Jarre of bell ringing, ha-ha."
"That's very nice, Coach, but we're here to ask about Steve King's run at Manchester."
"Oh, right you are. A solid trot from the brickie boy. The wheels may have come off near the end, but we'll get that fixed … Enjoy your 13' PB and this little ditty."
"We're all right, Coach. See you back in the office."