BETTER KNOW A STABLEMATE—ALLY SMITH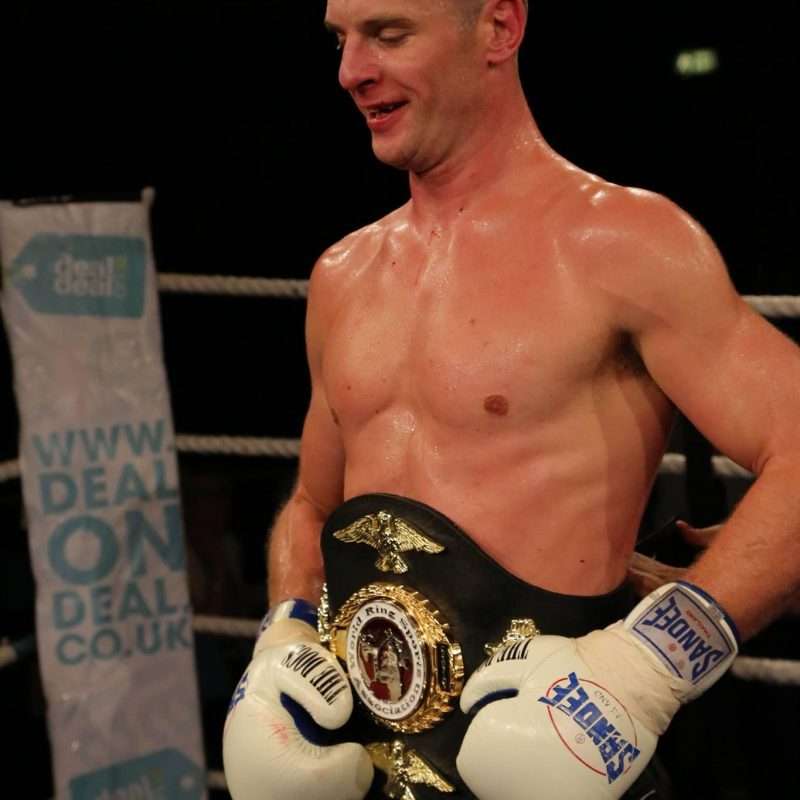 Ally Smith is The Stable's Assistant Coach and a former Muay Thai world champion.
What is your name?
Ally Smith.
What is your favourite colour?
Red.
What is your favourite word?
100%. Not really a word, I know, but I say it all the time and drive my wife nuts. 😉
Who is your favourite musician?
Plan B.
What is your most marked characteristic?
Sense of humour.
What talent would you like to have?
I'd love to be able to sing. I give it a good go sometimes, and even my harshest critics (the kids) say it's not too bad.
What do you consider your greatest achievement?
My kids will hopefully be my greatest achievement, but I'm not done with them yet—still a work in progress. I'd have to go with winning my first Muay Thai boxing world title (76kg) in Sheffield, in September 2013. I was fighting the home favourite, and 20 of my friends and family travelled down from Scotland to support me. Was a great night, as I stopped him in the second round with punches.
Who are your heroes in history?
I love superheroes and heroes from Greek mythology. Bruce Lee was also a great influence to me starting martial arts.
What profession would you like to attempt?
Stand-up comedian. I love coaching and teaching my classes, and it's a great feeling when you make them laugh and enjoy the training. I'd be nervous as hell to get up on an open mic night, but I think I need to try it when things open up.
What is your greatest extravagance?
A 40kg weighted vest. Didn't really need it, cost a fair bit, but got it anyway. Still use it from time to time, but it's torture to even walk in the thing.
What is your most treasured possession?
My Staffordshire Bull Terrier, Reggie.
Why did you start running?
I used to hate running when I "had" to do it for fight training. Would've much rather been punched in the face. When I retired from competing, I was listening to a strength training podcast and the guest was Brian Mackenzie. He was talking about running 100 miles, and I thought, that's impossible. Then I researched all these mad races and just started running in 2018; I was inspired.
What does running mean to you now?
It's hard; it's something to challenge myself against myself. It requires effort and hard work, and I like that. It gives me a release and focus when life can be unpredictable—as it has been for the past year.
What do you like about Stazza's Stable?
The Stazzalove, the banter, the fantastic runners of all abilities. I've made new friends (even though I've never met most of you), and the main man himself. Coach Stazza is a really great man who cares a lot about us all.
What is your motto?
Make your bed.