BETTER KNOW A STABLEMATE—JAN CORCORAN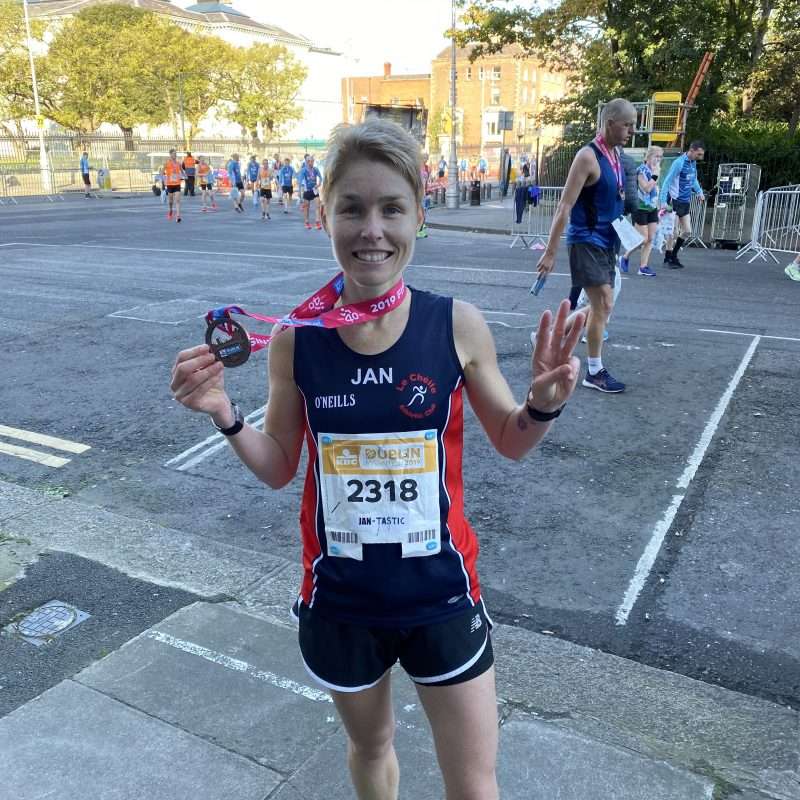 Don't try to launder any dirty money on Jan's watch!
What is your name?
Jan, aka Jantastic.
What is your favourite colour?
Orange.
What is your favourite word?
Coffee.
Who is your favourite musician?
P!nk.
What is your most marked characteristic?
My stupid calf lick … darn thing annoys me … like, it was cute when I was a kid—but not now. 🙂
What talent would you like to have?
To fly, so that I could travel around the world whenever I wanted.
What do you consider your greatest achievement?
Making it to adulthood. I was so accident prone as a kid that there were times I didn't think I'd make it (LOL). I would say pulling on the Irish singlet for my debut in a six-hour race; it was such an honour to represent my country, and I hope to do it again. Also, getting 2:52 in the Dublin Marathon in 2019. It still feels like it was only yesterday that I did it, so I'm looking forward to testing out my training in another marathon.
Who are your heroes in history?
Alex Ferguson: what a manager. United have never been the same since he left. Plus, he also reminds me of my grandfather.
Who are your heroes in real life?
My wife. She is so supportive and has so much faith in me—sometimes more than I have in myself. Kathrine Switzer: because of her courage, she proved that women are just as good as men.
What is your idea of happiness?
Having my grandad back. Having my family and friends around me and travelling around the world, making memories along the way.
Where would you most like to live?
NYC, Boston, or Australia I love the outdoor lifestyle of both the U.S. and Oz … so much to do as well … oh, and the better weather is always a bonus.
What profession would you like to attempt?
I would love to be a coach, to educate and provide support to younger athletes coming up through the ranks. I feel a great sense of achievement helping others. What I currently do just pays the bills, but there is no love there.
What is your greatest extravagance?
My house … or all my trainers.
What is your most treasured possession?
All my trainers. I have a lot and cannot pick just one. They are very sensitive like that, and I need them to perform. So, I can't be picking favourites. 🙂
Why did you start running?
To help me through the grief of losing my grandfather.
What does running mean to you now?
Running means a lot to me. It has gotten me through some difficult times. It has shown me that I can achieve things I didn't think were possible. I have also made so many friends and created so many memories through running. I know if I'm having a stressful day at home or work that just getting out the door— even just for a short run—will help de-stress. Running is part of me.
What do you like about Stazza's Stable?
Stazza gives it to you straight … no bullshit here … just do it. 🙂
What is your motto?
If it doesn't challenge you, it won't change you.