BETTER KNOW A STABLEMATE—JASON CROSBIE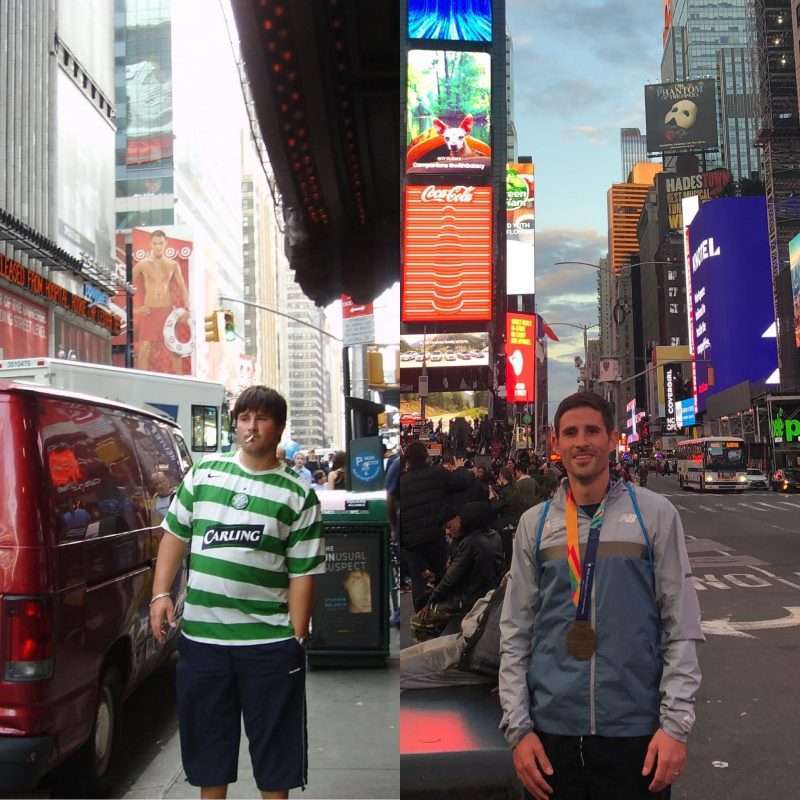 Jason Crosbie is dreaming of Vegas.
What is your name?
Jason Crosbie.
What is your favourite colour?
Not sure I have one, but I'm a big Man Utd fan and from Cork; so I'll go with red.
What is your favourite word?
Shenanigans.
Who is your favourite musician?
I'm a hip hop fan, so it's one of Tupac, Biggie, or Dr. Dre.
What is your most marked characteristic?
My family and friends tell me I'm argumentative, but I disagree.
What talent would you like to have?
I've been learning to play the sax for a couple of years, so maybe that. Would certainly save on lesson costs.
What do you consider your greatest achievement?
After school, I started to enjoy life a bit too much and ended up 30-35kg overweight. One day, I decided enough was enough and went about changing my lifestyle. In four months, I managed to go from 101kg down to 76kg. I haven't looked back since.
The photo above shows the old me and the new me. One was taken in Times Square, in 2006, when I was on a J1. The other was also taken in Times Square, but this time I'd just completed the 2019 N.Y.C. Marathon.
Who are your heroes in history?
Not sure he's confined to history yet, but Alex Ferguson would be my biggest hero. A lot of my favourite childhood memories revolve around watching his United teams play.
Who are your heroes in real life?
My wife and daughter.
What is your idea of happiness?
I should probably say spending time with the family here, but after one-and-a-half years of lockdown, I'd give anything for a weekend away with my pals (maybe in Vegas). I swear I'll bring my runners with me, Coach.
Where would you most like to live?
Somewhere in the north of Spain, I think—maybe San Sebastián or Bilbao. Great food, wine, and weather.
What profession would you like to attempt?
No specific profession, but I like the idea of building a business from scratch.
What is your greatest extravagance?
My coffee machine. But I use it every day, so it was well worth the investment.
What is your most treasured possession?
Not really too bothered about possessions, but I think I'd be annoyed if I lost my wedding ring.
Why did you start running?
After a few pints, a buddy of mine roped me into running two legs of the Cork Marathon relay, back in 2012. I spent three months training and hated every minute of it, but the race day buzz got me.
What does running mean to you now?
I still hate running.
What do you like about Stazza's Stable?
Bit of an obvious answer, but I'll say the improvements in my running. To add to that, seeing everyone else in the group make big improvements gives you confidence that you are on the right path.
What is your motto?
I don't have one.