BETTER KNOW A STABLEMATE—SHANE HAYES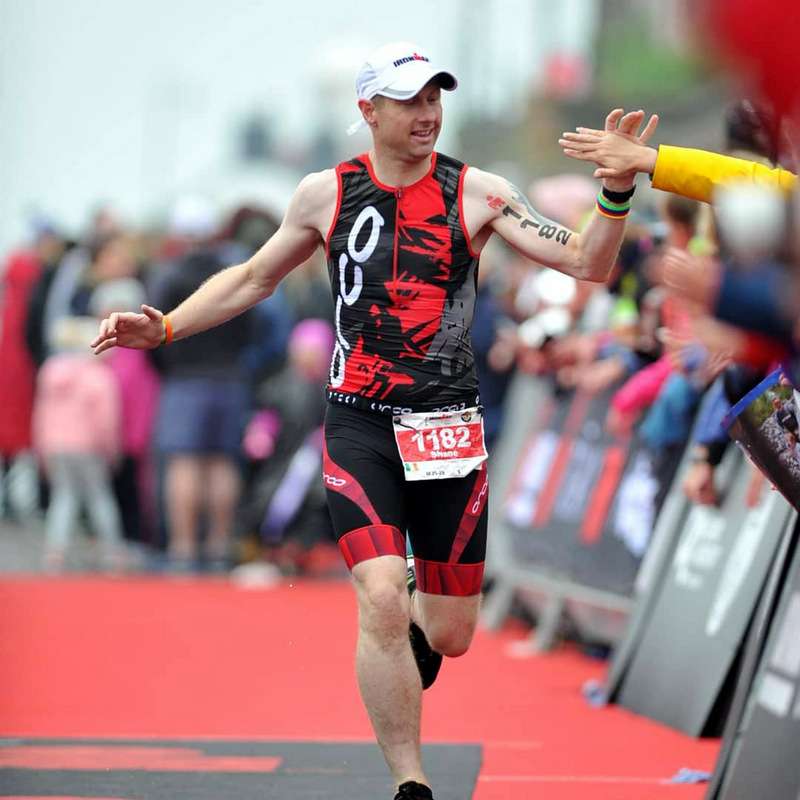 Brice Partouche has this lad's credit card in his sights.
What is your name?
Shane Hayes.
What is your favourite colour?
Hmm … blue.
What is your favourite word?
Effort.
Who is your favourite musician?
Never had one. I've always liked a bit of everything, really. When I do find the time, maybe some Bob Dylan or Neil Young.
What is your most marked characteristic?
I'm quite driven. To be completely honest, this has probably come from a place of "wanting" or "feeling the need" to prove myself. To who? I'm not quite sure, but it's certainly been there since my late teens. Family, friends, colleagues, myself, and quite often people I don't even know.
Could be from where I grew up, always having to fight my corner. Either way, it's a characteristic that has helped develop so many others: patience, consistency, determination, and self-discipline. I've drawn from these when running, in the ring, in work, and in so many different aspects of my life.
What talent would you like to have?
That's a toughie, as most talents you can develop with the right work ethic—and time, of course. So with that in mind, I'm going to go off the grid completely and say flying. Yup, actually flying, like Superman. I often dream of it; actually read once that it's a sign of ambition. So if I get to a sub-three hour marathon, I'm hoping that'll make me happy enough to feel like I'm flying, although that might be more Peter Pan than Superman.
What do you consider your greatest achievement?
I've not set the world alight but have had a few special moments in the boxing ring and swimming pool, enjoyed some personal achievements in running and long-distance triathlon, and of course there's family. Don't know if the latter is an achievement, but it's certainly one of which I'm immensely proud. I'm very fortunate to be very happily married with three wonderful kids (life is good; well, most of the time).
If you were to press me, though, I'd say stopping my opponent 1'14" into round one at Airth Castle, Scotland. Such a special day, particularly for the ol' man; he was so proud. Wife was so supportive, too. A great day and great memories.
Who are your heroes in history?
Kudos to whoever answers this one. I don't know … Gandhi? Sugar Ray Robinson?
Who are your heroes in real life?
Easy: my dad, may he rest in peace. Like us all, he wasn't perfect. But he had great wisdom, compassion, and was a true believer that Laughter is the best medicine. He taught me so much, but probably the best lesson was in empathy and to be kind.
What is your idea of happiness?
Seeing my family happy and healthy—everything else is secondary. I do enjoy the running, though. Banging out a morning run six days a week fires me up for the day. The rain helps too; I've always loved running in the rain. Throw in some cold, too, and it's happy days. Makes me feel alive.
Where would you most like to live?
I live in Cork city and love it there. Wouldn't like to live anywhere else. That said, a villa in the South of France would be nice.
What profession would you like to attempt?
Not anything dangerous, anyway, that's for sure. I'm turning into a right "wuss" as I get older. I'll say a writer; would love to write a book someday, and who knows—I might yet.
What is your greatest extravagance?
I'm ashamed to say, but I'm definitely a bit of a snob when it comes to running gear. I'm a sucker for the marketing linked to the top brands. If Runner's World magazine gives it the thumbs up, I'm sold.
What is your most treasured possession?
Typical, I know, but would have to say my watch, a Polar Vantage M. It's rock solid. I can be quite particular in my purchases. I would, and actually have, researched socks for running. Really, the same goes for all running accessories.
Why did you start running?
I was a decent cross-country runner at school but didn't keep it going. Took up swimming; basketball, and boxing, stuck with the latter until I was 26, then started running. I was hooked on the simplicity of it. You put one foot in front of the other and keep going for as long as you can. The risk of somebody trying to knock you out is quite low, too.
What does running mean to you now?
It gives me a tremendous sense of control and balance in my life. Going out early in the mornings means I can enjoy my passion without it impacting on family life or work. I equally enjoy running in groups or on my own. Running allows me to set achievable goals, too, which can be hugely rewarding.
What do you like about Stazza's Stable?
I like the incremental nature of the programme; it's all so steady and manageable. If you stick with it, the progress comes so naturally. I'm also very interested in the science behind the sessions. It also goes without saying that the group is super supportive, even though the vast majority of us have never actually met.
What is your motto?
I've never really had one, but I did read one recently that struck a cord: Victory is within the lessons.