BIONIC BYBEE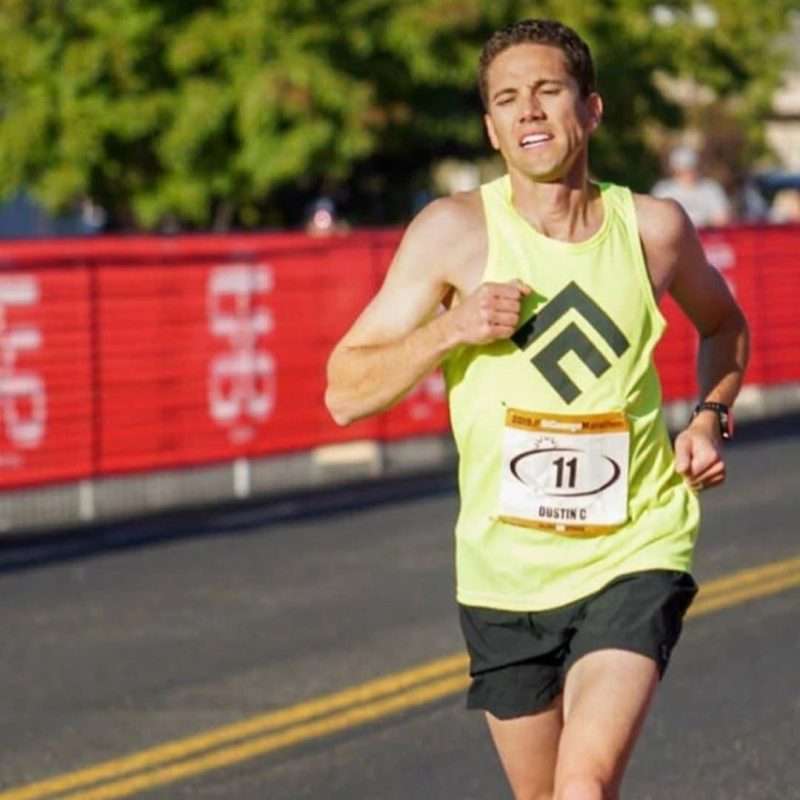 Stablemate Dustin Bybee obliterated his marathon PR on Saturday at the St George Marathon. Bionic Bybee finished in 2:21, taking a gargantuan 11 minutes off his PR.
Wonderboy Bybee finished fourth in only his second marathon. Bybee went through the first half in 73 minutes and ran the second half in 68 minutes.
The four–minute miler and former Brigham Young University (BYU) pinup said, "The body responded well today."
Speedy Bybee joined Stazza's Stable back in January 2019. At the time, a chronic knee injury from his college days at BYU plagued him. The Stablemaster (Coach Stazza) gradually brought Bybee back to fitness.
Coach Stazza said: "Dustin's knees kept giving out to him. We had to proceed with care. He was a bit like the bionic man, Steve Austin: we had to rebuild him."
Bionic Bybee underwent a targeted strength and conditioning programme, along with progressive and structured training.
Coach Stazza went on: "Dustin's original goal was to give 2:30 a tickle and sneak under, running 2:28-2:29. But he came along well and up until Thursday, he was thinking, 2:25. We had a chat on Thursday and I suggested that he should go for 2:22."
Reluctant Bybee had reservations. Sources close to the Bybee camp revealed that he'd studied a St George marathon calculator created by celebrated runner and BYU Professor, Iain Hunter, and he felt 2:25 was the 'A' goal.
But Coach Stazza explained: "Professor Iain Hunter's calculator is a great tool for fun runners. But for more serious runners, using modern marathon training methods, the calculator is outdated. I explained a number of things about fuelling to Dustin and we agreed to go 73 minutes for the first half, open out in a controlled manner from halfway through 20 miles, and then hammer the last six and wee bit miles."
The plan worked perfectly. Bybee blasted out a stunning final 6 miles in 30 minutes 33 seconds.
Frantic fans scrambled to their social media platforms to bestow praise on brilliant Bybee.
Winner of the masters' category in 2:23, Scott Keate said: "Thanks for the fantastic company for so much of the race. It was so cool to watch you lay it down that last 10K. It's got to be very close to the fastest 10K on the course. AND you're just getting started!!! Coach Stazza is right! Scary to think what could be possible with a full, healthy build–up. Great race today!!!"
Stazza's Stable captain, Riley Cook (3:42 1500m and 2:16 marathoner) also took to Strava and said: "Holy freaking Dustin! What a race. Congrats man."
Barnstorming Bybee told The Stable News: "I'm going to take a rest now and then we will decide what's next."
Coach Stazza said: "We're thinking about the Olympic Trials or going to Boston and smashing it—big time."