BLUE MOON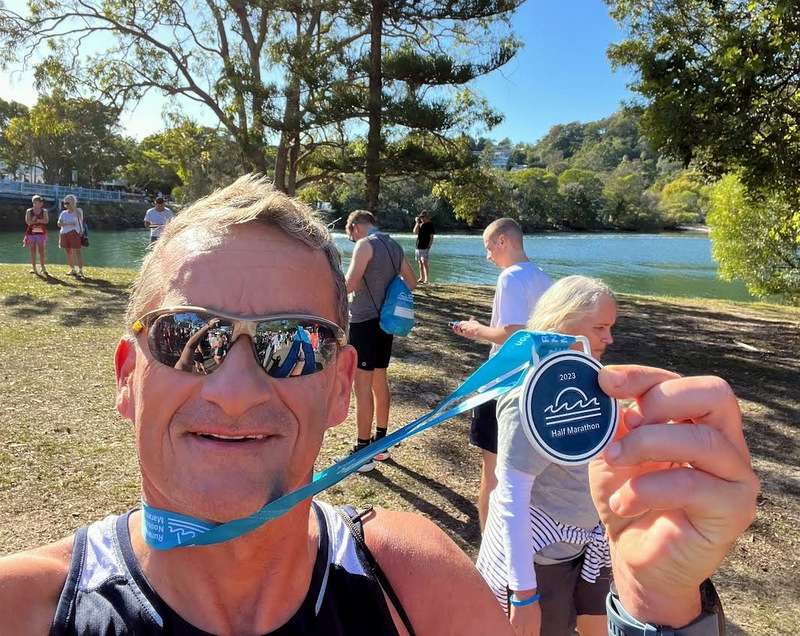 Stablemate Nigel "Granddaddy" De La Rosa is back in the News after a sensational M50 win at the Runaway Noosa Half-Marathon, where he also cracked the top ten overall.
Himself older than the hills, De La Rosa further bagged a chunky, as-near-as-makes-no-difference four-minute PB with a 1:34:35 timing on the Sunshine Coast of Eastern Australia.
After speaking to Elise Beacom down in Victoria, Ally "the Chin" made the arduous, 18-hour drive (fast asleep on the Chin-Mania tour bus) up to Brisbane to see the Granddaddy:
Ally: Nigel! Another stonking PB; some might say you're a headline hunter, ha-ha. Tell me all about it!
Nigel: Thanks, Ally. Noosa is well known for its triathlons, and I have done a few 10Ks/half-marathons over the years. You can rely on Noosa for great organisation of events. I knew the course like the back of my hand, which I also knew would be an advantage.
I went into this race feeling strong and very confident based on recent performances during training—and the 10K PB.
The race went really well; only felt the effort at around mile 10, and I was on the home straight after this, anyway. Best I have felt for a half-marathon, and maybe next year I will be back to try and beat it.
Ally: Never in doubt, Nigel. A belter of a canter, and I predict you'll be sub-1:30 very soon.
Nigel: Oof, no pressure, ha-ha. Let's go throw some shrimp on the barbie and crack open a couple tinnies before you head off.
Ally: Oh, yes; you're the best, Nigel!
The Stablemaster had a touch of FOMO while the Chin was getting some fair dinkum reports Down Under, so he decided to dust off the old longboard and go catch some waves:
"All this talk of beer and barbies … Does Ally not realise he's supposed to be working? I'm slaving away 24/7 in perpetual paradise, and he's off on a jolly. I'll need to speak to General Puffball to curtail the international budget after this trip.
Anyway, enough flummery from me. What about our man Nigel making light work of Noosa? A doozy of a PB, and once the marathons are completed, he'll be in great shape to go sub-90. Wollongong-a-ding-dong!"
As our illustrious leader alluded, Papa Nigel will be taking on the Sunshine Coast Marathon in August. After that, he hopes to get an equivalent performance at the Chicago Marathon in October.