BOOKIE BOY BASHES BOSTON HM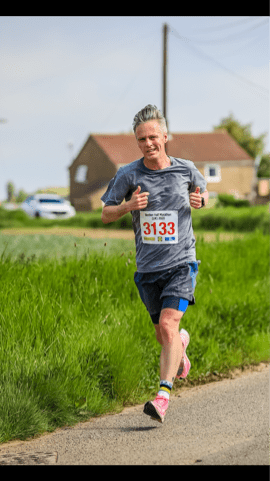 Stable newbie Ian "Fair Price" Fairhurst bashed out a 1:24:53 half-marathon at the Boston UK Mayflower 400 in Lincolnshire, England. "The Bookie Boy," hoping not to lose a fortune at this year's Olympics, ran a 2:14 personal best through the English countryside, on a warm and sunny day.
Fairhurst, giving himself an even-money chance to nip under 1:30, should've gone each way on a sub-1:25. The new addition to The Stable had his blinders on, running very even, 6:30ish splits—and got down to business.
The Stable News sent Ally "I've never placed a bet in my life" Smith to catch up with Ian, who was keen to talk shop:
"Fancy a flutter, Ally? 10/1 on Scotland beating England this Friday, and I'll sing "Yes Sir, I Can Boogie" when I pay your winnings!"
"Absolutely! The Stable News is paying over the odds to keep me from going to the Sunday Times, so I've loadsa cash burning a hole in my pocket. Stick a grand down; I can't wait to hear you sing. But anyway, how'd your race go?"
"Delighted (and surprised) with the time. Would have been happy with anything under 1:30. Very well-organised race, and the course was excellent. Lovely countryside and very flat. Really enjoyed the whole experience and would love to race it again in the future. I am excited to see how far I can go with some real coaching."
"That's fantastic, Ian. Running a sub 1:25 is some going; you won't believe what times you'll be running with Coach Stazza's guidance."
Ally got up super early to get a hold of Coach Stazza, who had just finished his dinner, and was subjected to a two-hour saga about the "legendary" 5K in which he (Coach Stazza, that is) ran 13:4X, in plimsolls, on a cinder track, in gale-force winds. (You all know the one, and if you don't—DON'T ASK!)
"Ian ran an excellent HM and has been doing well on his own, but now, with a little Stazzamatazz, he'll really see what running's about."
The Bookie Boy is back training hard for his main race of the year:
"The target is the Manchester Marathon in October. By the time it comes around, it will be getting on for two years since my last marathon. Fingers crossed for a PB in Manchester as well!"
We hope so too, Ian … GOOD LUCK!