BRILLIANT BARRY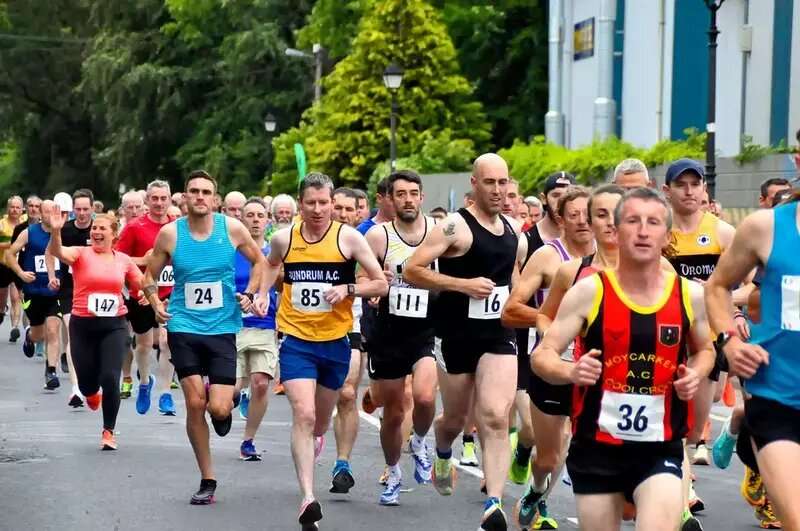 New Stablemate on the block Barry "the Principal" Condron coördinated a sensational 38:43 at the Coillte 10K in Dundrum, Co Tipperary. Not bad for his première outing at the distance.
The warm, dry conditions and pancake-flat course had the participants itching for PBs. Our man Condron was no different, and he bagged a time many seasoned hobbyists would envy, placing well inside the top fifty of a keenly competitive field.
The Stable News panjandrums thought "the Chin" had already had enough of a holiday, so we dispatched the sun-loving Scot to the Principal's office to sweat:
Ally: Jeezo, I've never been sent to see the head before; I'm a good boy. I hope he goes easy on me, what with this being my first one back.
Principal Condron: Come in, Ally. Take a seat. I hear you've just returned from vacation, and you've been sent to my office by General Puffball for a stern word. I trust you understand.
Ally: Well, n-n-not really, sir. I suppose I am a bit annoying and can procrastinate with the best of them.
Principal Condron: HAHAHA, gotcha! General Puffball just wanted me to put the frighteners on you.
Ally: Well, it worked, ha, too well. OK, can you tell me about your inaugural 10K jaunt, then?
Principal Condron: Very well-organised event. The course was two laps of a flat, 5km loop. It's definitely a course for PBs. As it was my first 10K, I wasn't sure what I could do.
Ally: Understandable.
Principal Condron: My goal was to go sub-40. I had planned to keep my pace around 4:00 min/km and see what I had left for the last km or two. I felt comfortable at a little quicker than my goal pace, so I went with it.
Ally: A lofty aim achieved—and then some. 38' and change is a fantastic time, and I can assure you there's plenty more to come off that.
Principal Condron: Thanks, Ally. You may leave.
Ally: Thank Zeus for that, hahaha. See you next time, Barry … Uh, I mean Principal Condron.
The News got Coach Stazza on the blower for his take on Condron's killer quarter-Mary: "YES! I am the Wordle, Quordle, and Octordle champion! Start getting some practice in, General; I'm coming for you!
Now, what do we have here? A 38-high on Bazza's fledgling crack at a 10K … Absolutely outstanding. I knew he'd be quick, but that's even better than my expectations. Very well done, Barry. Good man."
The Principal is presently working towards his next project—the Run Killarney 10K in early August.