BY GEORGE, KRAIG'S DONE IT!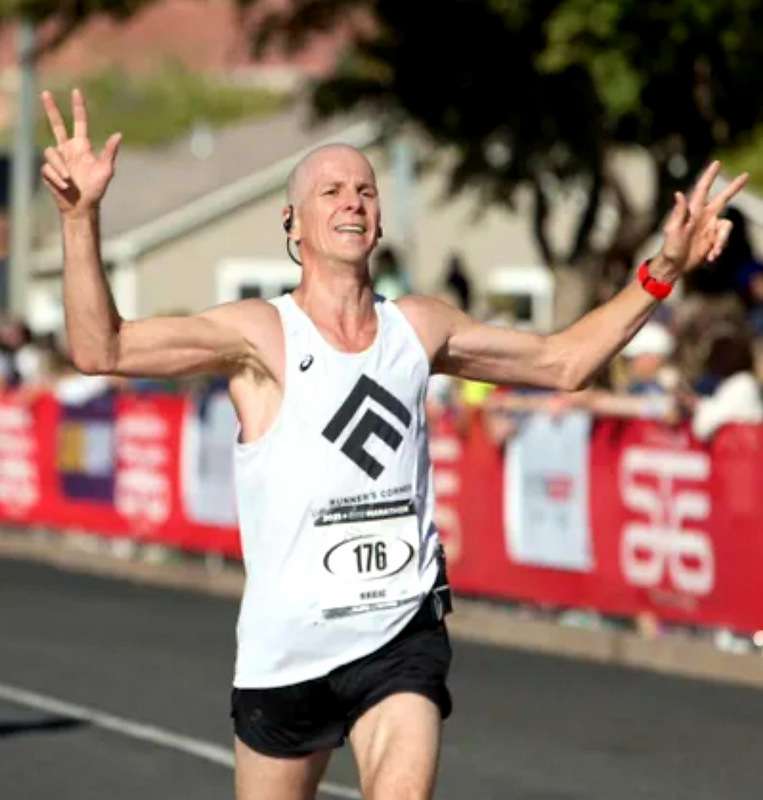 OG Stablemate Kraig "Pac-Man" Packer chewed through the St George Marathon to achieve his dream goal of a sub-3! The Pac-Man completed the torturous downhill course in 2:56:05, a 4'51" PB. But that's not all! The Pac-Man won his 55-59 age category by 15 minutes!
Standing at the start line on a cool, dry morning, the Pac-Man had the look of a ferocious killer—worlds away from his kindly nurse's mien—ready to attack and bite St George's figurative jugular.
The Stable News flew Ally "the Chin" Smith to Utah to grab as many Stablemates as possible, and he was lucky enough to be at the finish to hear all about this dream that came true:
AS: Pac-Man Packer! How are you? I'm liking the new, aerodynamic hairstyle!
KP: Thank you very much. I'm over the moon with the 4'51" PB. I was so close in June with a 3:00:46 and now I have finally done it. I have had the goal to run a sub-three hour marathon for several years, as many people know. Twice, I missed it—at 3:01:xx and 3:00:xx. I found numerous excuses for why I missed it each time, but the fact is, despite excellent coaching and hard work, marathons are hard and fickle.
AS: They are a cruel beast for sure, but you've more than done it! That's a massive sub-3 run! How did you feel leading up to the race?
KP: Quite honestly, my spirits were a bit downtrodden at the beginning of this training block, and I felt like my focus was compromised compared to the spring marathon training. Nonetheless, with great encouragement from Coach, things came together in this race that hadn't before. I actually remember the last three miles of the race! It was fun to see and hear the fans cheering!
During mile 22, which was a difficult one for me mentally, I made the decision to open my mind to the possible and shut down all negative thoughts! I locked on to a faster runner, and I pulled and pushed and heaved and groaned to keep up with her. I completely lost her during 26 but reached hard again for the final quarter mile, finishing strong! I still can't believe I sub-3'd! Achieving first in my age group was simply icing on the cake. Praise to the Lord on high. 🙏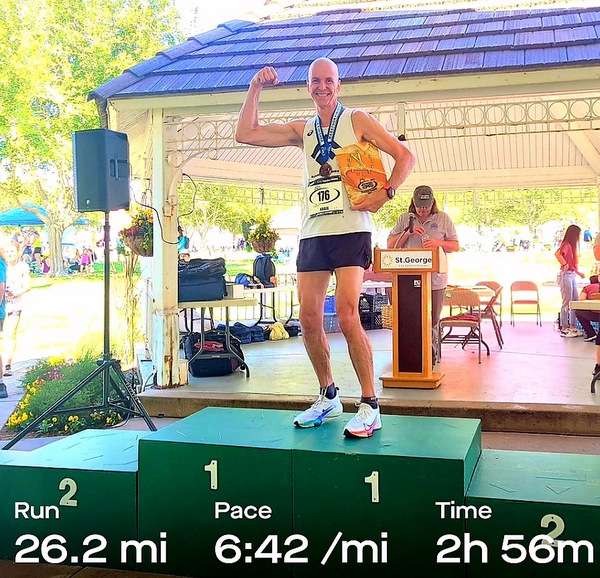 AS: Praise indeed, my friend. An amazing achievement, especially at your age; what else have you on the horizon?
KP: I would like to try my legs and lungs in the ultramarathon scene. Chris Krash Pope seems to have so much fun with it and told me I should! Thanks, Chris. 
AS: You definitely should give that a go! Krash will be an awesome guide, and he'll no doubt have a box of Krispy Kreme for you at the end of every run.
KP: I can get used to that! Thanks, Ally. 🙏
Busy spinning his legs on his sorry excuse for an exercise bike, Coach Stazza added: "I remember when Kraig broke his foot on mile 10 of a half-marathon in 2018. He was distraught, as he missed St George that year, and I said, 'I guess you may want to quit running now, but I BELIEVE you have your best races ahead of you!' Turns out I was right, ahem, again! Fantastic race, Kraig; now go have some 'fun' chasing Chris around the trails!"