BYRNE NOTICE
Stablemate and regular contributor to The Stable News John "Burn Baby" Byrne was at it again, flying around the Mr Oil Wexford Senior Road Race in 36:17—shaving exactly 60 seconds off his 10K PB, set in 2019 at the national championships.
The "Barn Byrner" was right at home as he sizzled along the tarmac in temperatures reaching 22℃ at 8 p.m. The sun was still at full-strength, which allowed Byrne to bounce the rays off his noggin into the eyes of the competition.
Rowing over to Wexford in his inflatable kayak (they're all the rage these days, kids), Ally Smith made it just in time to speak to the man himself:
AS: Alright, John; it seems like I'm never out of Wexford. It's been a great series for you guys. How'd ye fair this time?
JB: Came 15th overall, which, believe it or not, only got me ninth for the club (it's a strong club).
AS: Jeez, some stiff competition there. Was it a record-breaking run?
JB: One-minute PB—on the nose. I had done 37:17 at the National 10K in April 2019, which I was well chuffed with at the time. To be honest, I wasn't sure I would ever better that, but given the recent inspiration from Coach Stazza, the sky's the limit. 😁
AS: Ha-ha. Yep, Coach Stazza has that effect on people. Great stuff. Get to the nitty-gritty, ol' boy:
JB: The plan going into this race was sub-36 minutes, based on my 6K and 8K times from a few weeks back. So, about 5:45/mile. The first mile was bang on 5:45. But the heat was starting to take its toll, and I slowed a little, averaging 5:51/mile for the race.
Despite the PB, I was slightly disappointed, for two reasons. I know this might sound negative, but I had a goal time, and when I didn't achieve it, I felt I had left a bit behind. I think anyone with a competitive nature will understand this.
The second reason for the disappointment was that my arch enemy, and favourite sparring partner, Tomas, pipped me to the line again with a time of 36:16 to steal the fourth position on the team—and the county team bronze medal. Painful, I know, but revenge is sweet. Plus, he doesn't qualify for the masters in two weeks, as he's only a young chap, ha-ha.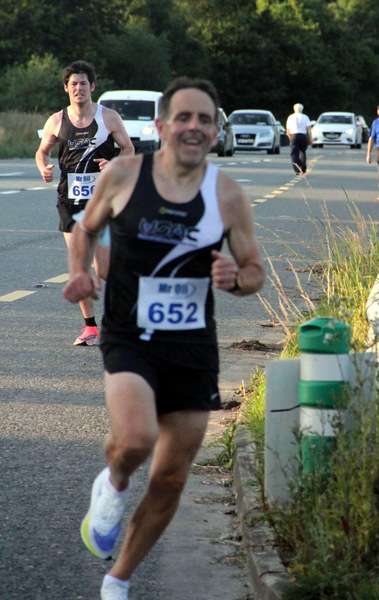 AS: Damn that Tomas! At least you won't have to contend with him in the old fogey races. Seriously, on a cooler evening, you'd have gone sub-36 easy, pal. Ask Mr Oil to get an autumn series on, and watch that PB tumble.
We called up The Stablemaster, medicating himself with more pinot noir in the jacuzzi to help his shattered bones heal: "Howdy, partner. John sure struck oil in that there race. Well done! Yeehaw!" Maybe enough medicine for one night, Coach.
We've not long to wait for "the Byrne-ing Man" to make another appearance, as he's racing the Mr Oil County Masters Road Race on the 6th of August.