CHERYL DEWIS AND THE NEWS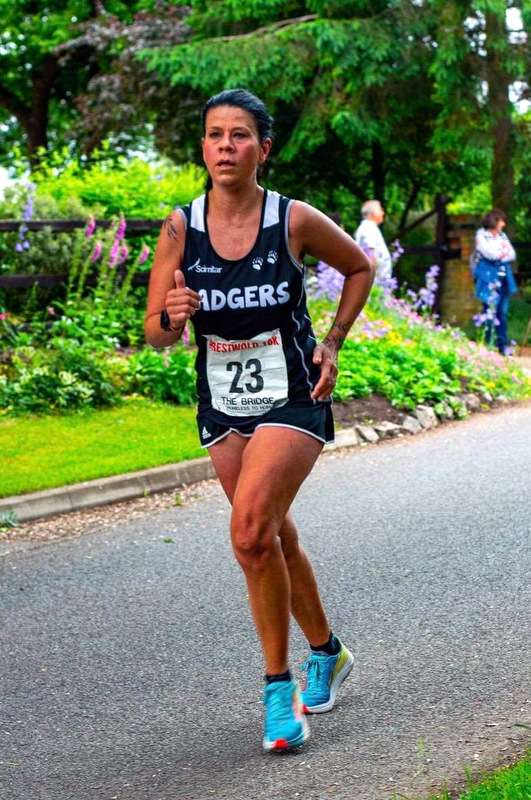 Stablemate and Stazza's Angel Cheryl Dewis was in action at the Prestwold leg of the Leicestershire Road Running League, clocking a 47:31 10K in clammy and humid conditions. The BADGERS runner placed fifth in her age category and was 33rd female overall.
The Stable News sent our plucky, young(ish) upstart, Ally Smith, to badger her for a race report (heh—see what we did there?)
AS: Alight, Chez; how did that go, then?
CD: Did better than I thought. Not running great at the moment.
AS: Ah, sorry to hear that. But it's always good to take the positives. Were you far off a PB?
CD: Yeah, 2'40" out.
AS: Well, we all go through peaks and valleys, and you'll bounce back and break that, I'm sure. That's the power of run. What have you got lined up next?
CD: Endure24 on the 23rd/24th of July. It's 4 x 5 miles on the 23rd and 2 x 5 miles on the 24th—in a team. After that, I have the Launde 6 mile on the 22nd of August and the Desford 5 on the 5th of September.
AS: Busy girl! Good luck with them, missus.
The Stable News grabbed Coach Stazza, savouring the last of his Raza Reserva Malbec 2015, for a quick comment:
"Well done, Cheryl. This was a good rust-buster (and a benchmark to build on). After Endure24, we'll sharpen you up for the 6-miler, and you'll be flying."