COOKE'S STARTER…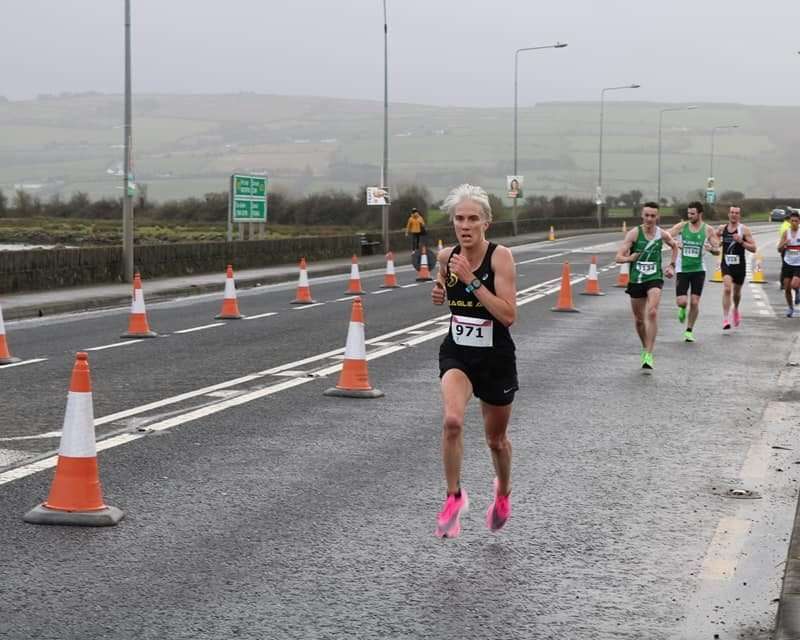 DUNGARVAN 10—HUGE PBs, COURSE RECORD, AND PODIUMS
Stazza's Stable had a huge herd of runners in this year's world-famous, John Treacy Dungarvan 10 mile road race and the Stablemates didn't disappoint.
Aoife Cooke delivered the run of the day. Cooke, suffering with a cold, ran a sizzling hot PB, took the win, and obliterated the course record. Cook, fresh from a six-week training sojourn at Stazza's Stable High Altitude Training Camp in Iten, Kenya, ran 54:23 to take nearly one-minute off her PB.
Cooke told The Stable News: "I woke up with a cold and wasn't sure if I should run. I chatted with Coach Stazza and we decided to see how I felt during the warm up. Although my heart rate was high, I felt ok and decided to run."
Cooke ran the first five miles in 27:40 and the second five miles in 26:43. "I felt so strong in the second half of the race and throughout I was passing runners."
Coach Stazza told The Stable News: "Today's run wasn't about running a super fast 10—it was more about triggering the start of Aoife's Vienna build-up. Aoife now has the necessary threshold speed to cope with the marathon block. Given the conditions and that she was sick, we're pleased with the performance."
Coach Stazza continued: "Aoife's six-week block in Kenya worked a treat—she's strong and ready now. So many go out to high altitude camps and get it wrong; we got it bang-on."
Training Partners Shine
Fellow Stablemates and training partners of Cooke, Paul Moloney, Mark Smith, and Damian Kenneally all had great runs too.
Irish masters cross country champion, Paul Moloney, ran 53:08 to finish eleventh overall. Stablemate Moloney's coming back from a serious bout of the flu and his run was more to get a benchmark for the rest of the year.
Moloney told The Stable News: "Sure, I'm happy with the run. It's a starting point. I'm ready now to start training and it'll be interesting to see how the next few months go."
Coach Stazza said: "Given that Paul's been pretty ill recently and only just back at it, he ran a great race. Today's run told me that he's now ready to transition over into a three-month foundation block, where we'll introduce high density workouts and work on improving his threshold speed. We'll also start working on his endurance spine and structural endurance. Come May, he'll have the necessary fitness to start his marathon build-up for the autumn. He'll tip away working with Aoife, Damian, and Mark. They have a great group."
Stablemate Mark Smith also ran well, finishing fifteenth in 53:21. Mark's training is building up nicely for the London Marathon in April where he hopes to run a decent PB.
The fourth member of the group, Damian Crusty Kenneally, ran a stonking race. Kenneally dropped out a two-minute plus PB to run 53:59. Over the New Year, Kenneally ran a 5k PB and took three minutes off his 10k PB. Kenneally's improvement over the past three months has him perfectly primed for a great 2020.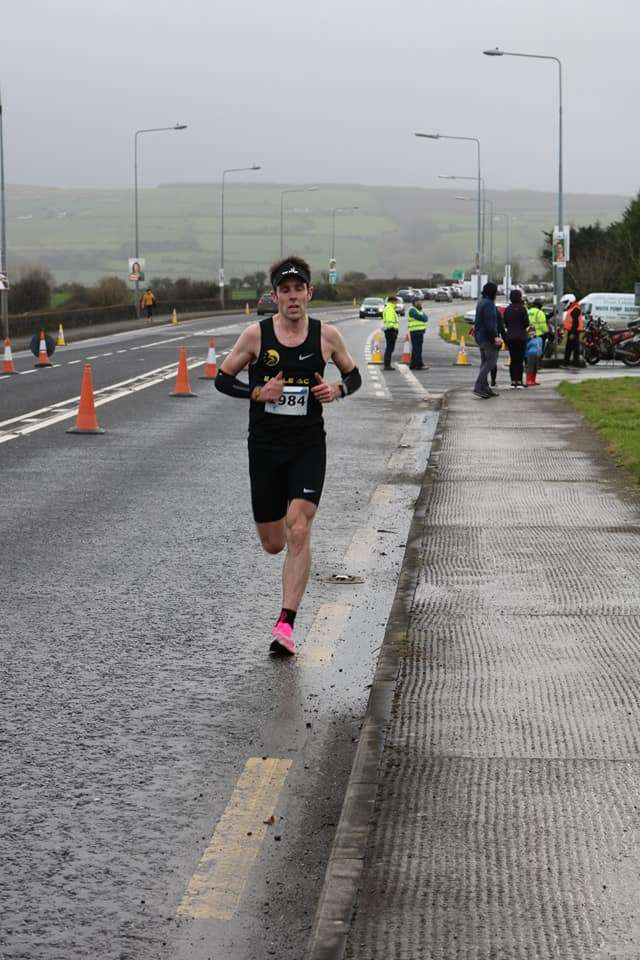 The Dreamer
Stablemate, John The Dreamer O'Brien also dropped out a cheeky little PB. John ran a twenty-eight second PB, finishing in 57:56.
O'Brien told The Stable News: "I've always encouraged my kids to dream big but there comes a time when you have to say stop dreaming and deliver."
Today, O'Brien delivered a decent PB in tough conditions. He went on to say: "I'm happy with the today's run."
Greene Snots Out Another PB
Dave Boy Greene snotted-out another PB. Greene, who smashed his marathon PB in Dublin (lowering from 2:57 to 2:42), finished in 58:48, taking fifty-eight seconds off his PB.
Coach Stazza said: "David was sick with a cold for a good few weeks there, so to come out and chop-off the better part of a minute from his PB just shows the mark of the man. He's training for the Boston marathon, which will serve as a foundation block for an assault on 2:30(ish) autumn marathon."
Three More Under The hour
The Stable had three more Stablemates in under the hour: Garrett Lordan in 59:05 and Johnny O'Sullivan in 59:20. Both Stablemates raced to test their fitness after returning from niggles and sickness. Then, Stephen Rooney came home in 59:32, running a forty-five second PB.
Three-minute PB
Stablemate, Mark Murphy, continued his great run of form with another PB. Mark finished in 63:26, running a stunning three-minute PB.
Massive PB
Just behind Mark, Stablemate, Iain O'Callaghan came home in his first turnout for The Stable with a massive ten-minute PB. Iain finished in 63:39.
Strava follwer, Jeremiah Callanan posted on Iain's feed: "Savage running as always Iain. Very Impressive in windy conditions."
Huge PB
Since joining Stazza's Stable last year, Stablemate Sandra Manning has smashed all of her PBs, including a whopping ten-minute PB in the Dublin marathon (lowering her PB from 3:18 to 3:08). And at Dungarvan, she dropped out another beauty. Manning whacked off five minutes from her 10 mile PB, running 65:35. Stablemate Manning is gunning for sub 3hrs at this year's Dublin Marathon—she's well on course and is likely to go sub 2:55. Sandra's run helped Eagle AC to win the team prize.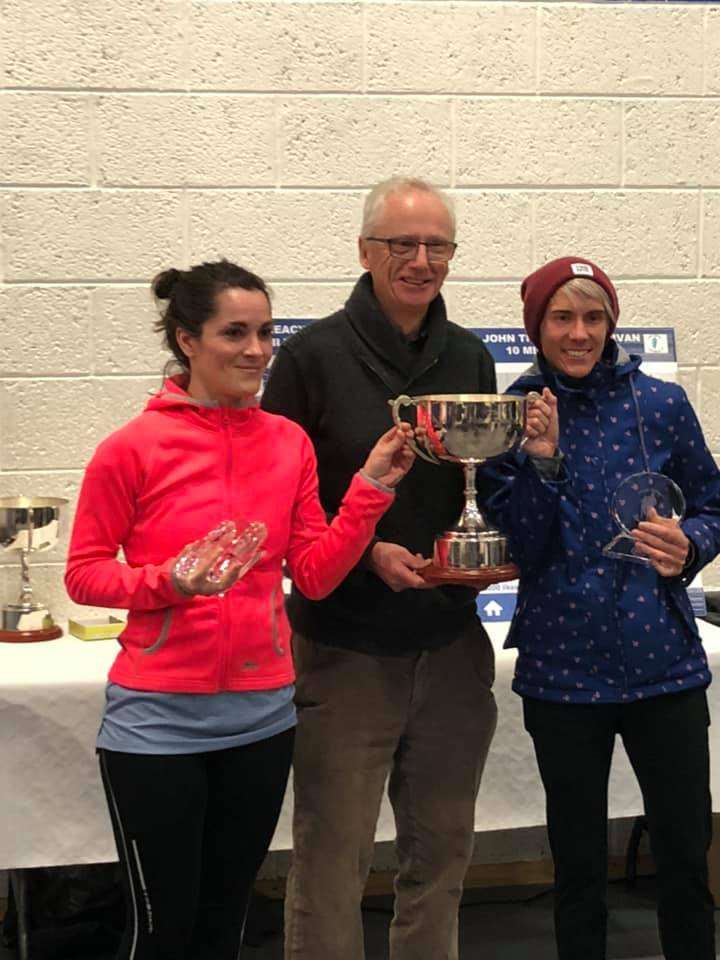 Niggleless Return
Stablemate, Derek Ahern wasn't sure if he'd make the start line following a few weeks of niggleitis, but he made it and ran a niggle free 66:07.
Derek told The Stable News: "Very happy with this result considering the niggles over the past few months, pushed on a bit from halfway, neg split, time to build on it."
Gargantuan PB
PB of the day went to Stablemate, Dave Laces Mullins. Dave obliterated his PB by taking twelve minutes off his previous best. Dave finished in 70:04 and told The Stable News: "Tough at times with the wind but delighted with the PB. Now starts the training for Manchester Marathon."
Return To Form
It was great to see Stablemate, Ellen Hanley, return to form with an excellent 71 minutes. Ellen joined Stazza's Stable back in the summer of 2019 but was plagued with an injury.
Coach Stazza told The Stable News: "Gradually, we've brought her back and built her up. Her training run at Dungarvan showed that she's nearly back to fitness."
The Farrier's PB
Damien The Farrier Roche shoed Himself with a pair of runners and galloped around to a one-minute PB. No Cheaterfly shoes for Farrier Roche, just a pair of old-fashioned, hobnailed boots.
New Stablemates
Recent additions to Stazza's Stable, Catherine O'Sullivan (74:44) and James Forrest (77:06) made solid starts in The Stable colours and will now build on their base form, before pushing on to knock out some stunning PBs.
Wintering Out
Enda Kiernan showed that he's wintering out well. Enda got isolated in the race and took a right old battering from the wind. He rallied well and dug deep to finish with 76:56. Enda will now sharpen up and go after some fast times in the spring, which will serve as preparation for the world masters track championships in Toronto, during the summer.