COPPERS FOR CHARITY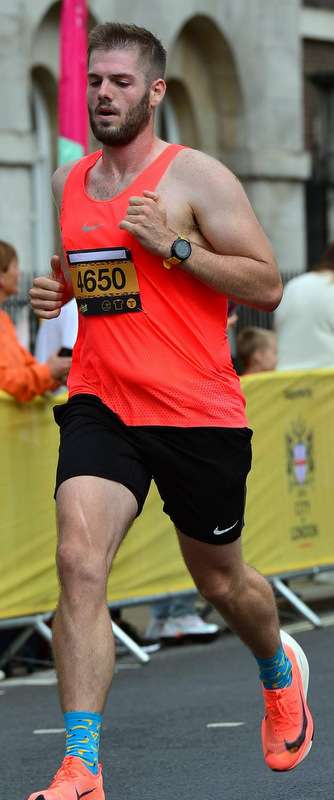 Stablemate Matthew Jeffery was back in action, with another last-minute entry—to the London Landmarks Half-Marathon. Deciding to race for fun and do a bit of fundraising, Jeffery ran a very respectable 1:34:39, finishing 334th/11,005 overall. More impressively, he raised £1,010 (at the time of writing) for the Butterfly Thyroid Cancer Trust.
The Stable News' apprentice, Ally "I'm trying to have a holiday here!" Smith, was in London on a short break, but the news waits for no man. So we sent (possibly ordered) him to hear Matthew's take on the race:
"Alright, Matt; let's get a pint, and you can tell me all about it. The wife and kids are away on the London Eye, so we might manage a couple."
"After being diagnosed with thyroid cancer on the Monday before the race, I was told that after my upcoming operation I won't be running or racing for a long time. This encouraged me to email the organisers of the event, who very kindly gifted me a last-minute place.
After only travelling to London the week before for the London 10K, I wasn't what you'd call 'fresh.' Also, I think I'd had about 10 hours sleep over the entire week. Filled with stress, I just wanted to go out and enjoy the race. I wasn't interested in a PB; I wasn't interested in anything other than just enjoying the occasion.
The morning before the race, I set up a JustGiving page dedicated to the Butterfly Thyroid Cancer Trust, which, within hours, raised £350! That gave me the energy to really give it some.
It was absolutely incredible. The race was so well organised and supported, but I struggled. However, every time I wanted to stop, I just thought of how strong I was just to be in that race. I continued to push and finished with a respectable time of 1:34. It's a race I'll remember for a very long time."
"That's excellent, mate! There must have been an amazing atmosphere along the course. Really chuffed for you; well done on the run and raising a great amount for charity."
The Stable News placed an emergency call to Coach Stazza, who was throwing some shapes, popping and locking at the Buckhorn X/C camp par-tay: "Told you I've still got the moves! Once my screws have settled, I'll show you my signature move: the Stazza-Windmill-Headspin-Freeze! Oh, yes; Matthew's got some cajones on him! Squeezing in as many races as he could before his operation shows you how tough he is! Great stuff, Matt."
So what's the next race for the toughest copper in the land? "The race to beat this sh*t and get back racing."
Well said, Matthew.