DEREK'S DREAM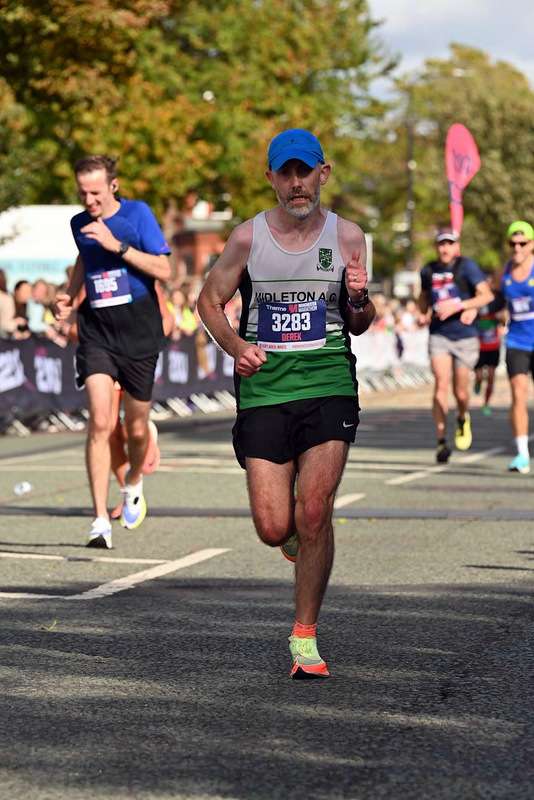 Stablemate Derek "Dreamer" Ahern had a whole lotta fun, prizes to be won, at the Manchester Marathon, whacking a cra-a-zy 5'55" off his best, from Dublin in 2019.
Clocking 2:59:20, Ahern placed 523rd overall and 90th in his category (M40). Diving for the line, Ahern achieved his dream of breaking the mythical three-hour mark. And he bested his childhood hero Pat Sharp, who was whizzing through on his fun kart. The cheating scoundrel!
The Stable News' "Jock in a frock", Ally Smith, was ready for the after race drinks a bit early (and some might say over—or under—dressed, depending on where you were looking 😉). Pulling his notebook from his sporran, he caught up with Ahern at the finish:
Ally: Whit the … Was that Pat Sharp's mullet I just saw flying by? Alright, Derek, that was some finish. Did you PB?
Derek: Ha-ha, yep, that was Fun House's very own! I heard him gaining on me, so dove for the line. This was a PB by 5'55" —we will round to 6'. 😊
Ally: Ehh! No, we will NOT! 5'55" is what you did, 5'55" is what's going in the paper. A superb PB, regardless; you'll get much more off that, I'm sure. Let's get the full story, then.
Derek: Oh, alright then. My Plan A was to get under three hours for the first time. I knew I had a good chance, as the training had gone reasonably well (with the exception of the odd interruption over the previous 18 months of a relapse in my Crohn's disease, resulting in changes to medication and constant monitoring). With the unpredictability of not having raced in over 18 months, the medical issues, and the inevitable race day nerves, nothing was certain.
I honestly found it tougher on the day than I was hoping, and especially when the three-hour pacer passed me at 23 miles, I thought it was gone. I'm not sure if I surged or if the pacer dropped back a bit, but I managed to pass him out again shortly after. I needed to have some serious words with myself, came out of a few dark places, and held on to get under three hours by 40 seconds (negative split by 16 sec, which was nice). I have dreamed, and maybe even obsessed, over trying to get under three hours for the marathon. So to say I am delighted to have a marathon time with the first number being a "2" is an understatement.
Ally: Jeezo, Derek! That's one gutsy performance—great stuff. What's next? You won't need to wait another 18 months, I hope!
Derek: Dungarvan 10 miler in Feb, and on to (hopefully) a half-marathon PB attempt in the summer. By then, it'll be time for another crack at the marathon in autumn '22.
Ally: Brilliant, bud; catch you laters in the pub.
The Stable News contacted The Stablemaster (also in the pub) for his opinion on Ahern's assault on Manchester: "Holy mackerel! Derek, what a real crazy race—but you kept on pace! You used your body and your brain and won the (PB) game! Excellent, good lad."