DOTTING THE I'S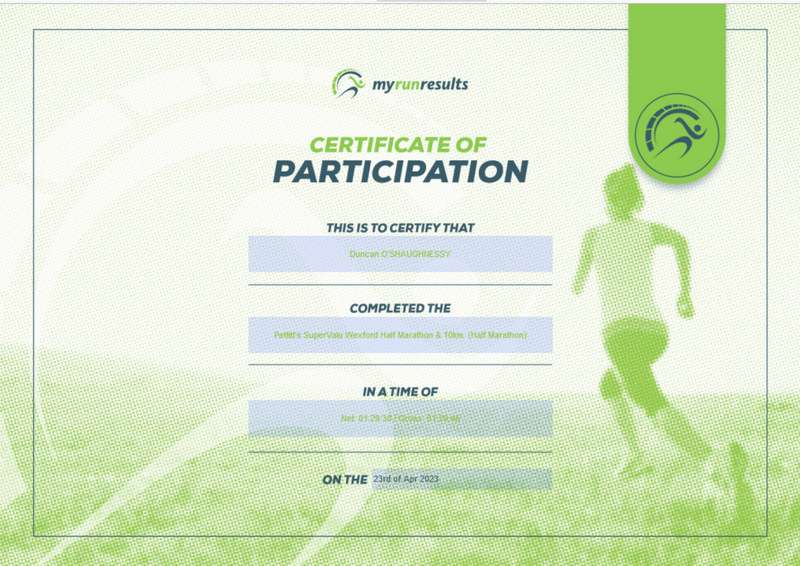 Stablemate Duncan "Donuts" O'Shaughnessy bagged a whopping 3'16" PB at the Wexford Half-Marathon—clocking a sensational 1:29:38—in the "sunny," south-east of Ireland town.
The safety and quality compliance lead investigator (aka panic merchant) just missed out on cracking the top 50 overall but was well inside the top tier of 40-something Couch to 5K graduates. 
Typical Irish springtime weather saw O'Shaughnessy clipping along amid a pleasant breeze and temperate temperatures.
The Stable News' roving reporter, Ally "the Chin" Smith, was back from his six-month hiatus and couldn't wait to hear from O'Shaughnessy:
"How's it going, Duncan? Tell me all about this half-Mary, then."
"Things are going well, thanks. Stazza said to use the rule of three, which I did, and it went perfectly. I wanted to run the race by effort and feel and so took all data screens off my watch—except for distance.
I manually split the watch at 5km, and again at 16km, to see if I was on pace or not. Both times, I was slightly behind pace (or what I thought should have been the right pace). But as Stazza said, "From 10 miles, you'll start reeling people in and you'll feel strong": and that's exactly how it played out."
"Nice one, Duncan. A perfectly paced run by the sounds of it, and Stazza's game plan worked to a T—culminating in a sizable PR. Well done! What other races have you got planned?"
"I have a 5k parkrun in June, followed by the Pink Rock 10K, which is a nice, flat, and fast county race."
"Lovely stuff; I'll catch up with you then."
"Thanks, Ally."
The Stablemaster, busy packing plenty of Ultrabrite to care for his beloved "Turkey teeth" when he moves to a beach shack in Mauritius, had this to say about O'Shaughnessy's trot:
"Let's do the maths on this one; one tube a day for six months gives me 182.5 tubes to keep these teeth brighter than the Mauritian sun … Better round it up to 200, just to be sure.
Now then, what about little Duncan donuts' half-mara? A sublime effort, all done on feeeel … Real racing at its finest, and a healthy PB in the bag. Good man!"