DREW'S DARING DASH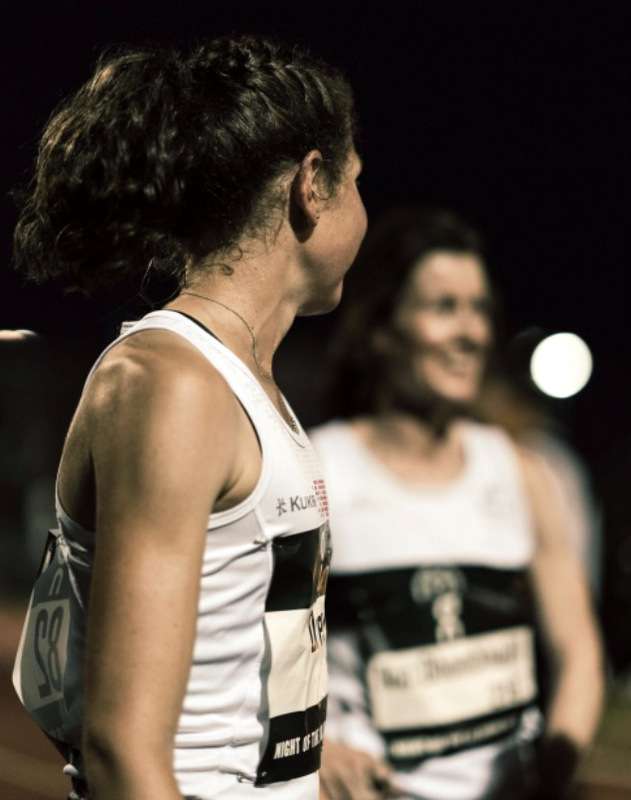 Stazza's Stable Elite Racing Squaddie Kate Drew shellacked 3'18" off her previous tartan best, thundering home in 33:59 (22nd overall) at the highly competitive—and controversially typographised—Night of the 10,000m PB's [sic] at Parliament Hill Fields Athletics Track.
The dynamic physiotherapist/running prodigy had a while to wait in the sun for her heat to commence. Drew was thankful for this, saying, "Hot day, but luckily the race wasn't till 8:45pm, so it had cooled down a little by then."
The youngest member of the Stable News team camped out on the field (fortunately, no javelins or hammers were launched) and watched the spectacular spectacle unfold before catching up with Drew:
"Hi, Kate, an excellent performance there; how was it for you?"
"I knew I was going to be at the back and had prepared myself for that. Decided I didn't want to go off too quickly, so I came up with my own plan and just ran my own race."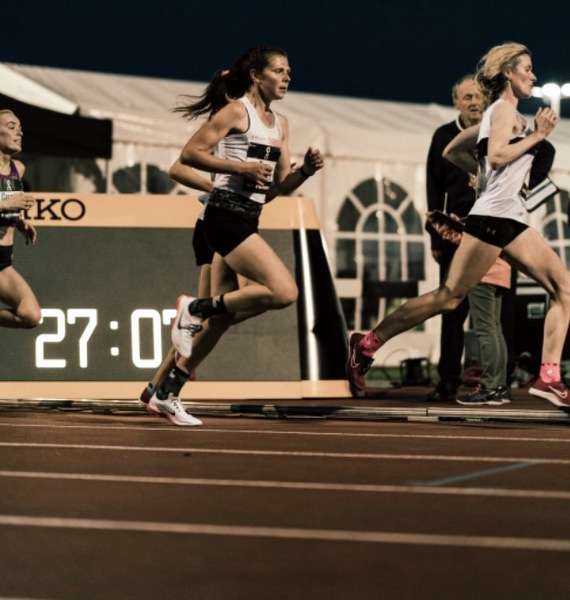 "Wise move."
"In the end, others wound up coming back to me in the second half. I'm happy with the PB and how it went."
"Fantastic going, Kate—a three-minute+ PR on the track is no small feat. Congrats on a marvellous dash. What's next?"
"Thanks very much. Hopefully, the Watford Grand Prix on June 12, where I'll be tackling the 5000m."
"Superb! Thanks for your time, Kate, and I'll see you shortly."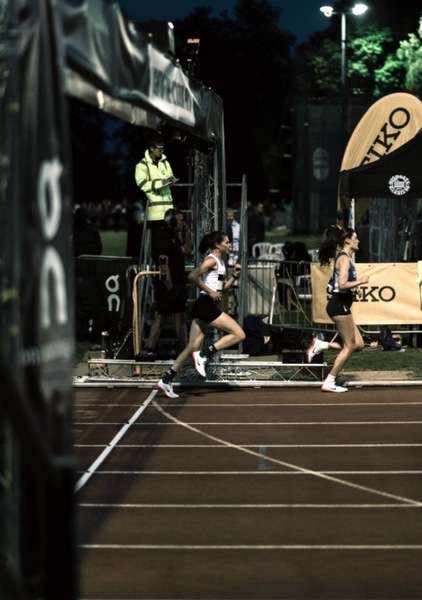 General Puffball was summoned by Coach Stazza to help figure out the Blue Yeti mic he bought for The Stablemaster Speaks podcast. A top-notch journo never switches off, so he seized the opportunity to get a comment on Kate:
Stazza: This is the finest mic on the market, General, so why is it causing me so much hassle?
General: First of all, it manifestly is not the finest mic on the market. (That'd be the Neumann U 67.) Secondly, if you use a Blue Yeti in an untreated room, reverb is going to be an issue. Do you have a spare duvet you might record under? Also: keep the gain low as possible while maintaining a decent enough signal, and then remember to boost the levels in post.
Stazza: Yeah, the reverb isn't a problem now; I think I had my setting wrong.
General: That's good. You must have been getting distortion from hitting 0dB on the levels.
Stazza: Oh yeah, the DBQCDBXI levels … Yeah, I was hitting them a little bit too hard. I think it's my BIG BOOMING VOICE … Haven't got a clue what you're on about … But, yeah … Probably.
General: OK, enough noodling. What did you make of Kate's daring dash?
Stazza: Oh, at the race you can't stand the name of because of apostrophe placement? Ha-ha. A solid outing for the rising star … She did the right thing, ploughing her own furrow, and it paid off splendidly with a bonza PB. She is simmering nicely, and it won't be long till she's at the front on the big stage.