EARNING HER LAURELS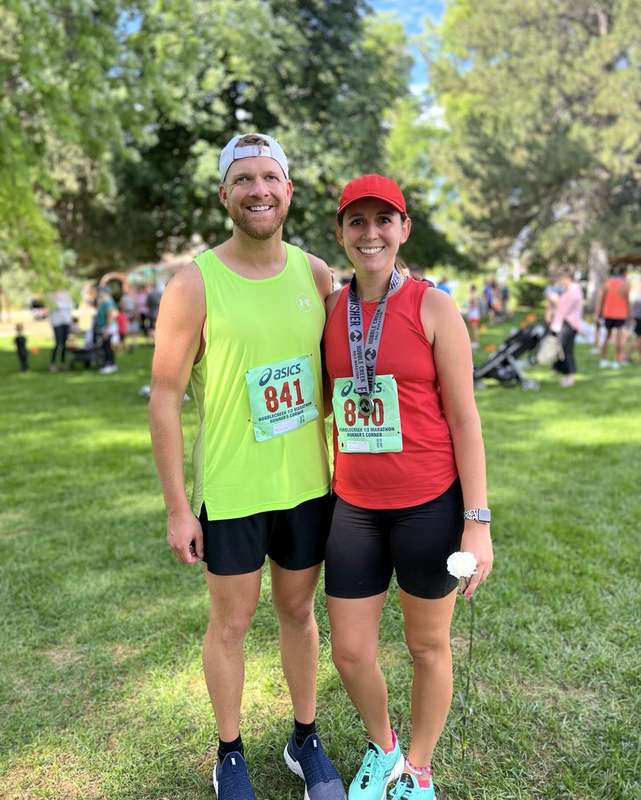 Stazza's Angel "Golden" Laurel Dorff negotiated the Hobble Creek Half-Marathon with aplomb, dashing a descensional nine minutes from her PR. The mom-of-four registered an impressive 2:00:29 in this, her third-ever half. All told, she has reduced her half-Mary time by a gigantic 53 minutes!
Conditions were overcast, with a few spots of rain. But, always looking on the bright side, Laurel was glad it was not cold or windy. This was perfect weather in her eyes, and she placed 23rd in her age group and 242nd/679 overall.
The Stable News contacted the supermom for an in-depth debrief on how the day unfolded:
SN: Thanks for giving us a chance for a chat, Laurel; it must be hard work looking after DJ. Now tell us a bit about yourself and how you got started.
LD: I'm a busy mom of four young kids (nine, seven, five, and two) and a (mostly) well-behaved pup. Running has been something I got into during COVID when I needed something to get me out of the house and away from my family and keep me sane.
I started out with a goal to be able to run 5K, and a couple years later, here we are! I'm working towards doing my first full marathon next year. My very first half-marathon was nine years ago, when I was five-months pregnant with my first child. I had such a miserable experience! I had to stop at every single porta-potty and finished in 2:53. I swore never to do another half-marathon again.
But like childbirth, enough time passed for me to forget the pain and misery, so I found myself running again with the itch to do another race—this time NOT while pregnant. 🙂 Last summer, I ran the Utah Valley Half with a time of 2:09:XX. So this was a new PR of nine minutes!
SN: A fantastic result, and I bet much easier without a bun in the oven. When did you decide to join The Stable?
LD: I joined the Stable at the end of May after seeing my husband have such a positive experience over the last year in the group. I'm pretty sure I'm the slowest one in The Stable, but it's exciting to make progress, and I'm learning so much about how to run better/faster/stronger.
SN: You're definitely not the slowest in the group! Ally "the Chin" can barely get our lunch in time, so you have no fear there. Now, tell us about the Hobble Half.
LD: The course was more challenging than I expected a Utah canyon race to be. The downhill was not as steep as the canyon I trained in (American Fork), and I wasn't expecting the rolling miles in the back half. I started out way too fast trying to keep with a pacer but settled into a good groove for miles three-nine. Miles 11 and 12 were ugly. 🙂 Finished strong on the last mile, running my second fastest mile of the race!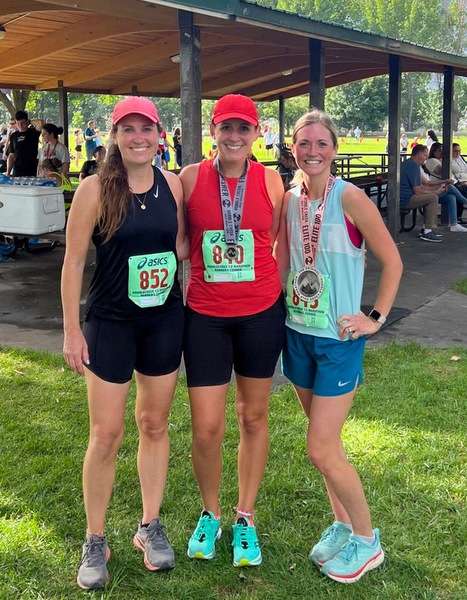 SN: Sensational stuff, Laurel. A committed charge for the line after a few tough miles shows you have determination and grit. Very well done. Anything else lined up?
LD: I'm running the Big Cottonwood Half in two weeks!
SN: Jeez, I better let you get out for a run before the kids come back. See you next time, Laurel.
LD: Thanks. See you then.
Coach Stazza was relaxing in the garden with a plate of pastries (while Jellybaby was mowing the lawn) when we chimed him for a chat: "Hold on till I nip inside; that lawnmower doesn't half make some racket. Now where were we? Ah, yes. Laurel's golden gallop … A magnificent run from her and some great progress made for only being in The Stable with a couple of months. Well done, Mrs D. There's plenty more where that came from. Watch this space!"