EOIN'S ECOTRAIL EXPEDITION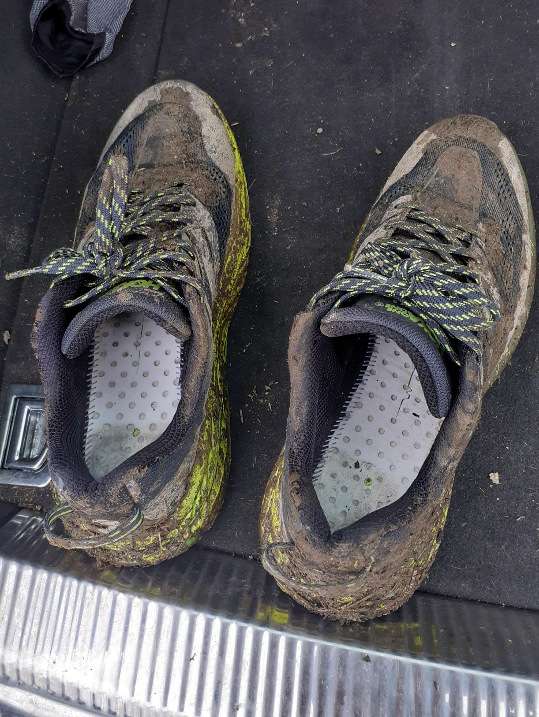 Stablemate and ultra trail runner Eoin Collins smashed 30 minutes off his EcoTrail Wicklow 45K PB with a hard-earned 5:52:21. Forced route changes (for the runners' safety) meant the route was extended to 46K. (More K = more beer!) The chocolate peanut muncher ground on to finish 80th out of the 237 who managed to complete the race.
The Stable News' ultra groupie, Ally "the Chin" Smith went on the hunt for Collins to share some beer and chocolate peanuts—and to hear all about his 45K+ ultra:
Ally: Eoin? I've a 12 pack of beer here needing softening up! Come and tell me all about it; the more we drink, the more the truth shall be revealed!
Eoin: Cheers, Ally. We started in Bray, went up Bray Head, and took in a beautiful route around Sugarloaf, Djouce Woods, and Powerscourt Waterfall before returning to Bray. It was really humid and unseasonably warm, which made it a complete sweat fest from the off.
Ally: Aye, this humidity and mild temps are murder. I know ultras and trail races are hard to compare, but you still managed a big course PB, yeah?
Eoin: Yes, indeed! I previously ran this race in 2019 in a time of 6:24:25, so I chopped about 30 minutes off that. But I feel I should have managed a lot quicker, and I'm pretty disappointed!
Ally: Really? Why, what happened?
Eoin: I got my hydration strategy wrong on the day and ended up vomiting around 32/33km in, which really killed me. To put it into context, I made it to the second aid station at 30/31km after about 3'30'': the remaining 15km took me more than 2'20'' to do. My legs packed in shortly after my stomach, so I was walking anything that wasn't a gentle decline or completely flat.
Ally: Oof, sounds rough as, pal; well done on pushing on. Next time, it'll hopefully not be as humid, and you'll storm under five hours—easy. Don't tell me you've signed up for another one already, have you?
Eoin: Hahaha, of course I have—the Connemarathon Ultra in April 2022. It'll be 39.9 miles of me asking myself, "Why the f@%k are you doing this to yourself?" I can't wait!
Ally: Jeez, yer aff yer heed, pal. I better shoot and get this in for General Puffball to check over! See ya, Eoin.
The Stable News called The Stablemaster, just as he was landing in Manchester for The Stable takeover: "What a cracking run, Eoin. Those trails are never easy, and the first 30km was excellent. A bit of a mistake with the fuelling, but hey, it's all a learning experience. The next one will be better, and a great job on gritting your teeth and finishing."