EYE OF THE TADHG-ER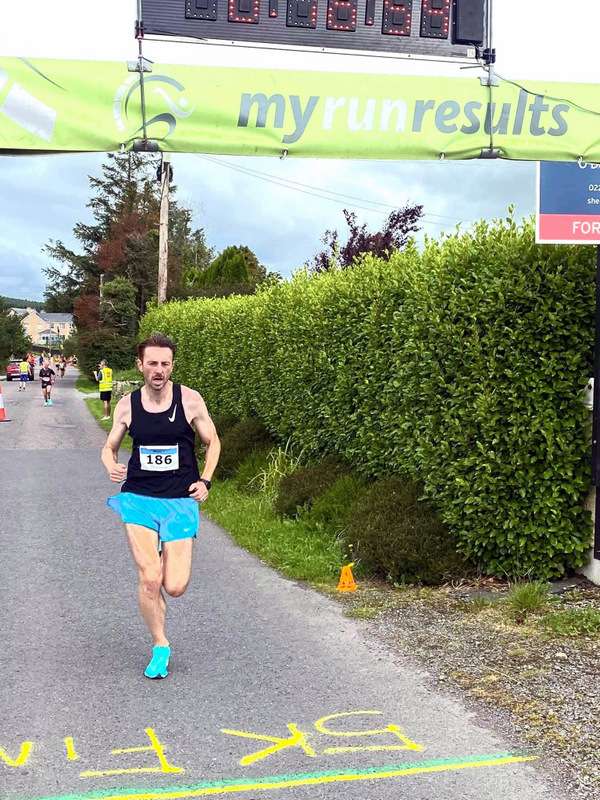 Stablemate Tadhg "the Curator" Crowley crafted an exquisite 2-in-1 race report in honour of "the Chin's" love of the corresponding garment. Crowley bagged back-to-back PBs in two races at opposite ends of the spectrum: a superb 16:53 at the Bweeng 5K (slicing 37" off his best) and narrowly missing out on dipping under the magical hour mark at the Mooreabbey 10-mile in a very respectable time of 1:01:30—earning himself a five-minute PB in the process.
The Stable News' culture columnist, Ally "Hmm? Interesting" Smith, caught up with Crowley over a very artsy petit four and triple espresso, al fresco.
TC: Hi, Ally. I hope all is great with you?
AS: Aye, man; I'm jammin'—can't wait to get stuck into these wee cakes. Back-to-back excellent races, pal. Let's start with the wee Bweeng 5K. We can get to the main course 10-miler after.
TC: Ha, sure thing. We all know that, just like shorts, race reports come better as 2-in-1s! So here goes. Bweeng 5K (pronounced as Jonathan Ross would say "bring").
AS: Ha-ha, brilliant. I like it when you let me know how to pronounce it properly. Coach Stazza could use some help in that department, too, especially with certain champagnes.
TC: Eh? Anyway, Bweeng is a small village in mid-Cork, about a 30-40 minute drive from Cork city. The race is renowned as a fast 5K, very popular for those seeking out a PB. It was a cracking morning without a hint of wind. Warm, but weren't we all wearing singlets and short shorts? So it was fine. 
I'd done a 4 x 1 mile session a week or so beforehand, which Coach said would be a good predictor for my race time. I went out too quick on the first few reps and died a death on the last one. So this made me pretty cautious going into the race. I knew I could get close to sub-17 but wasn't very confident.
I decided to try and keep the first two miles really consistent and then empty the tank on the last mile. The course starts with a rapid downhill, then levels off for an out and back, and finishes on another downhill. I held my nerve at the start and kept to my pace (5:25-5:30/mile) as everyone streamed past me down the hill.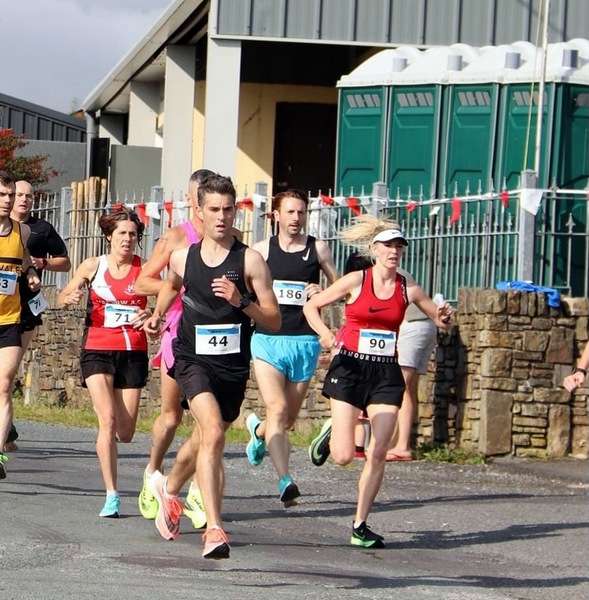 As we reached the bottom of the hill and headed into the out and back section, I kept the pace consistent, and for the next two miles I sliced through the field.
I reached the end of the out and back completely wrecked but with just enough gas in the tank to let it rip down to the finish. I was running too fast for my body (you know when you can't see and you're wobbling about, every limb flailing), but roared on by Stablemate Ken O'Mahony (Ken was stewarding), I made it down through the village, and as the road levelled out, I could see the large clock and knew I'd get in before it hit 17:00. 
I ended up with 16:53, and that's a good 37'' off my previous race PB. I finished 29th but wasn't bothered by my placing—the job was done!
AS: Absolutely brilliant, pal. I know all about dying a death, and people streaming past, but unlike you I couldn't slice through the field at the halfway point. Great tactics, pal. Let's get another drink and you can get to the meat and potatoes race. I'll have a pint this time; I'm buzzing from that triple espresso!
TC: No worries; a pint of Guinness will take the edge off. Right: on to the next one. The Mooreabbey 10-mile took place in County Limerick, on the border with County Tipperary. It was the inaugural race, so I spent the week leading up to it wondering if the course description provided by the organisers, of it being all flat and downhill, was true, or if the race route on Strava that showed scary elevation was actually correct! The weather conditions were ideal: sunny but not too hot, no wind—perfect.
AS: Sounds like it. It must have been a head nip not knowing the real profile. What was the goal?
TC: The goal was sub-60. I'd done a seven-mile tempo at six-minute-mile pace a month ago, and it felt good, so I fancied my chances of stretching that out on race day. The plan was similar to Bween; I knew the last 1.5 miles were downhill, so I wanted to get to that point in with a shot—and then sprint as hard as I could.
Before the start, I met this friendly steward, who told me the only hill was at the start and the rest of the course was flat with a downhill finish. The first couple of miles were tough, but I was moving along at pace, even building a small cushion. The confidence of knowing (thinking) the worst of the climbing was behind me got me through a challenging middle section, where I lost my cushion but was still on track.
Then, as I hit mile eight, things changed. I should have known that something was amiss when the road markings that directed us along the route changed to Tibetan prayer flags. On tired legs, the climbing completely finished me and put the sub-60 all but out of sight. I continued, somehow, upwards into mile nine. The air thinned, and it began to snow. At this point, it didn't feel like I was running anymore, but, rather, slowly dragging my legs, one by one, to the top of this "Matterhorn." The last 1.5 miles downhill should have been enjoyable, but knowing I'd missed the chance of the sub-60, it didn't have the same appeal. Get me back to my natural habitat: the flood plains of Cork city below sea level, I thought.
AS: Ooft! That sounds like a horrendous hill at the end. Did you take any solace from finishing, at least?
TC: The initial disappointment was replaced with the satisfaction of having chopped 5' off my last 10-mile race, run on a similar type course in Kinsale, just before '"the COVID": this time I ran 1:01:30 to place 25th. The sub-60 will come next time. Sorry if I'm waffling on a bit.
AS: Don't be daft! I love every detail, especially your description of the Mooreabbey mountain, ha-ha. I can almost guarantee a sub-60 in any 10-mile race without a mountain at the end! In fact, it might even be sub-58/59. Stay patient. What's next up on the cards?
TC: Next up is the Charleville International Half-Marathon at the end of September, and then I'll sit down with the Bhagwan to make a plan for the autumn/winter.
AS: Good stuff, "Tadhg-er." I better get back to the office and see what Uncle Puffball's up to; probably enjoying the peace without me there, ha-ha.
General Puffball was indeed enjoying the peace and quiet from Ally, but not from the incessant yammering of Coach "I'm going on holiday" Stazza:
"I can't wait, Puffers: the Mediterranean won't know what's hit it when me and Grand Stablemaster Edwardo Starretti rock up. The wines will be flowing, Michelin starred chefs will be at our beck and call—it's going to be an experience of a lifetime. Of course, we'll be doing important Stable work while we're there, so don't you think I'm off on a jolly."
"That's great, Stazza. Give me a quote for Tadhg's races, and then I can get home."
"Oh! Sorry, General. I can rabbit on a bit, can't I? Jellybaby's always saying, Get to the point, will you? Yes, the young Mr Crowley has had an impressive couple of weeks. A perfectly paced 5K, and a put-some-hair-on-your-chest 10-miler. He's maturing into an almighty runner."