FARNBOROUGH'S FAR FROM A DREAM FOR ROCK-A-BYE ROBERTS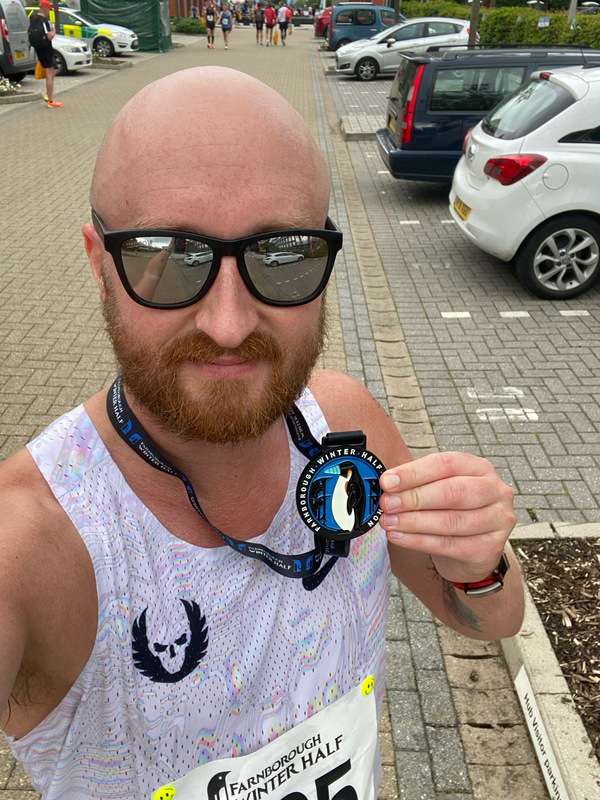 Stablemate Chris "Who's the Daddy?" Roberts dipped his toe back in the racing waters at the Farnborough Winter Half-Marathon. Roberts, having not raced since March 2019, set off with all guns blazing and ran the course in 1:35:16 (about five minutes off his best) but still managed to finish in the top tiers: 120/770 overall, 105/468 male, and 42/159 in his age category.
The Stable News assigned our office cleaner, Ally "Streak-Free Shine" Smith, to go and catch up with Roberts between nappy changes:
AS: Good of you to answer, Chris. Congrats on the race and new baby. How's it going?
CR: (In whispered tones) Shh! Sorry, I didn't hear the phone earlier; wee Dougie was having a meltdown. It's all good now—he's asleep, so I can have a chat. Can you hear me OK? I'm scared to move, in case he wakes up.
AS: Oof, I know all about that, mate. How'd it go then?
CR: It was a good race and well organised. My first half-marathon race since March 2019, due to the pandemic. Personally, I didn't pace it sensibly. Had a friend who was pacing someone to a sub-90 attempt, so I went out with them—but blew up after about 5.5 miles. Realistically, I probably always knew I wasn't in that shape but still thought I'd give it a go. Think if I had paced myself better from the start, I would have probably come in around 1:32/1:33. Still happy with the result as a baseline, considering the last 18 months and having a 10-and-a-half-week-old baby at home. Of course, my sleep pattern is a little messed up right now, which ultimately is probably affecting my recovery to an extent.
AS: Well done for jumping in and giving it a go. A great run considering all you've got going on. I know I was a walking zombie for the first three years. It's all about routine, ha-ha. When's the next race, then?
CR: My next race is the Thorpe and Egham Half-Marathon on August 22nd. Oh, god, I think he's waking up … I better go.
AS: No worries, mate. Is there a pushchair/pram category? You and Dougie would smash that. 🙂
The Stable News got a hold of our own super-dad, Coach Stazza, for a few goo-goos and gaa-gaas about Roberts' run: "Ah, there's nothing better than a new baby. I just love the smell of them. The downside is they suck the life out of you and your life is now secondary to theirs. For Chris to bang out a 1:35 half in his sleep-deprived state is great going … well done, kid."