FINDING FORRISTAL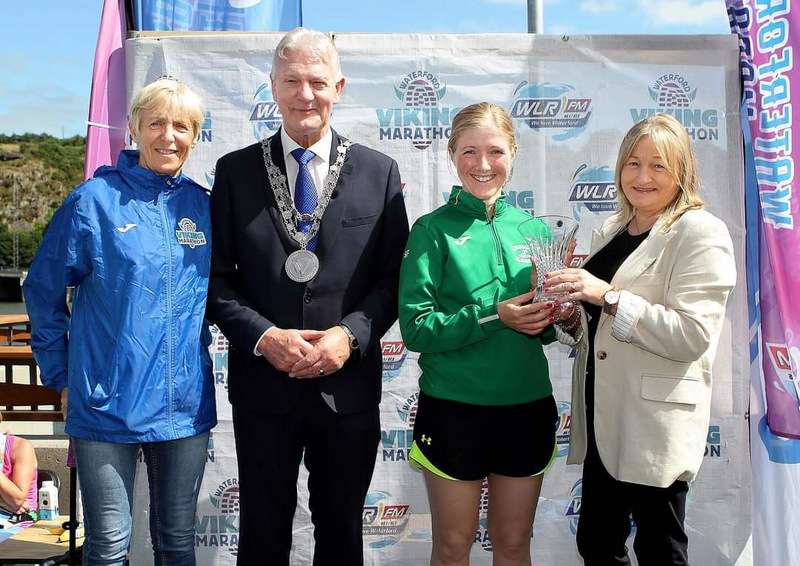 Stazza's Angel Sally "Tiny Dancer" Forristal conquered the competition at the Waterford Viking Half-Marathon, taking victory in 1:22:47—a mere 35" off her best.
The baking aficionado thought she might get a soggy bottom during the race, but luckily for her (and everyone else), the morning's heavy showers subdued until the event was over.
The Stable News' top-tier cake taster, Ally "the Chin" Smith, fought off the press pack to hear from Forristal:
AS: Congratulations on the win, Sally! Tell me all about it.
SF: It was a nice course over the two bridges in Waterford and onto the greenway. Due to the inclement conditions, there were no spectators on the greenway, and I felt I had a poor finish trying to zigzag around walking competitors from the quarter-marathon.
AS: Damn and blast those "racewalkers!" A strong performance, I'd say, and only half a minute off your PR; I'm sure you'll thwack that in the coming months. Anything pencilled in?
SF: Dublin is probably next. It's my main aim this year.
AS: Cracking stuff. I'll be back in touch when you smash sub-3 out of the park.
SF: Here's hoping; thanks, Ally.
The News received an emergency distress signal from the middle of the Indian Ocean:
"General? General? Send the coastguard, the navy, the marines, and the SBS … I've stumbled into a bit of bother … Get Admiral Alf on the blower PRONTO."
"All in good time. Can we have a comment on Sally Forristal's latest endeavour?"
"Great idea, General! Sally could get me a floating meringue to safety, ha-ha. But seriously … She whipped around Waterford easier than a KitchenAid mixes batter. Even the slalom to the finish couldn't slow her down. Love it, love it, love it."