FITZROY STREET KISSES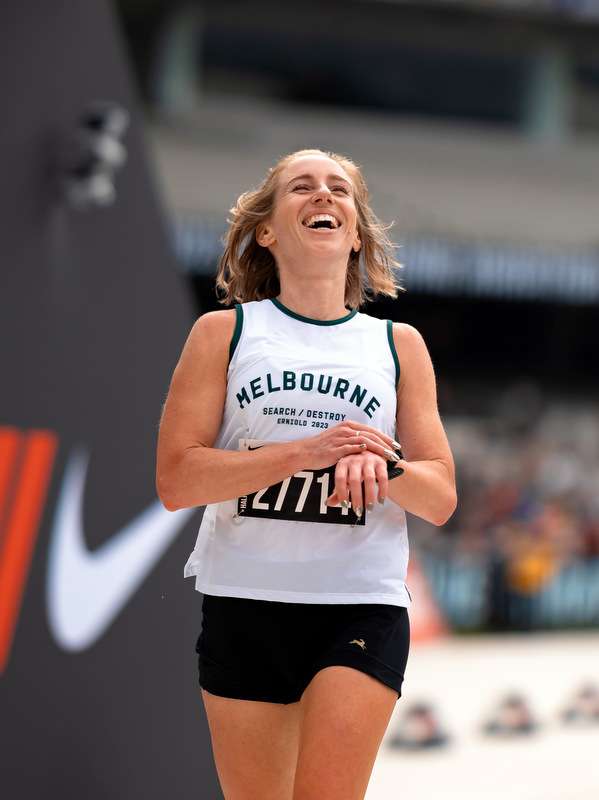 Stablemate Elise "Cheesy" Beacom farts out PRs like her countrywoman Sia cuts hit records.
And she's finished the year off with yet another (albeit slight) PB. She smashed the Nike Half-Marathon in a stonking 82:17, slicing seven seconds off her six-week-old best while placing 11th/4,710 women and second in her age category. Well in, Cheesy!
Not too surprising that the antipodean weather was perfect—around 14℃ and a light breeze. How does she cope?
As the year is drawing to a close, The Stable News let Ally "the Chin" Smith fire up the Chin-mania tour bus for one final whistle-stop tour Down Under:
Ally: Hey there, Elise; told you I'd be back in person. Tell me all about this heroic half, then.
Elise: John has jokingly called me "the PB machine," but I had such a huge week with uni exams, public speaking commitments with the Melbourne Marathon Festival, and a couple of long car journeys that I almost texted John on Saturday to say he should expect a PB machine malfunction. However, I thought better of it and decided not to write the story before it was done. Even if you don't do your best, you can still give your best.
Ally: That's my attitude with the News, hahaha! Go on.
Elise: I settled into a 3:50/km pace early on, and there were some friends in the pack, which made it fun. We probably went out a bit hot because it was hard to hold that pace, but I wanted to try because I'd been close to that in the Burnley Half. Between 7-11km, we were running alongside Albert Park Lake, which always picks up whatever wind is around. I tried to stay relaxed, but the pace dropped off a bit. My friends unfortunately dropped back at this stage, and I was alone. Around 14km, I managed to get myself onto the back of another group and worked with them for a while.
Ally: Hopping from one pack to another—nice.
Elise: The course support was excellent; being my home marathon, there were many friendly faces yelling my name. The podcast I work on, For The Kudos, had its own cheer zone with a DJ, and they were going so wild that I couldn't help but laugh and make the most ridiculous faces running through there (at pace). Those kinds of shenanigans help me so much when I'm hurting in the last few kilometres.
Ally: Sounds like a great laugh. That'll definitely help keep you out of the pain cave.
Elise: Running into the Melbourne Cricket Ground, I always feel the need to sprint finish. I hadn't been paying attention to my watch, but luckily I did kick home because it scored me a seven-second PB. We'll take that!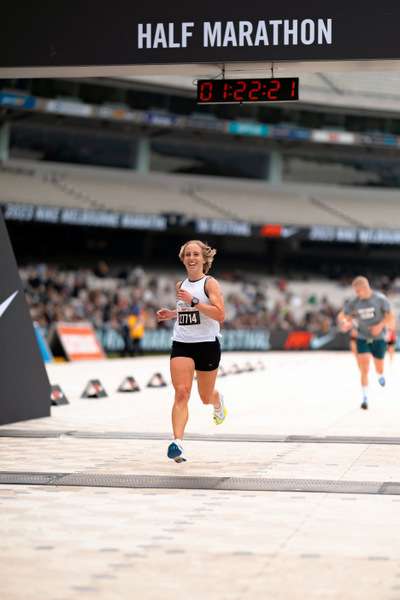 Ally: Too right we will! You've been on fire this year, Elise, and a PB is a PB, however small. You really should take time to soak it all in, but does the PB machine have anything else this year?
Elise: ABSOLUTELY NOT! I've run 15 races this year—put a fork in me, I'm done. But I'm trying to get into the Osaka Marathon at the end of February.
Ally: Ahh, not too long a rest then, ha-ha. Well, you enjoy the well-earned sabbatical; what a year you've had. Simply sensational.
Elise: Thanks, Ally. See you next year.
Coach Stazza has recently taken up crochet to fill his time between Weekly Trainings, feedbacks, and putting punts on the football: 
"This one's for you, Cheesy … I'm crocheting a giant cheese emoji (🧀) and shipping it off to Oz for your Christmas … What a year, filled with PB after PB … And you have given Ally and Puffers plenty to write about … Kudos to you!"