FORMULA FAIRHURST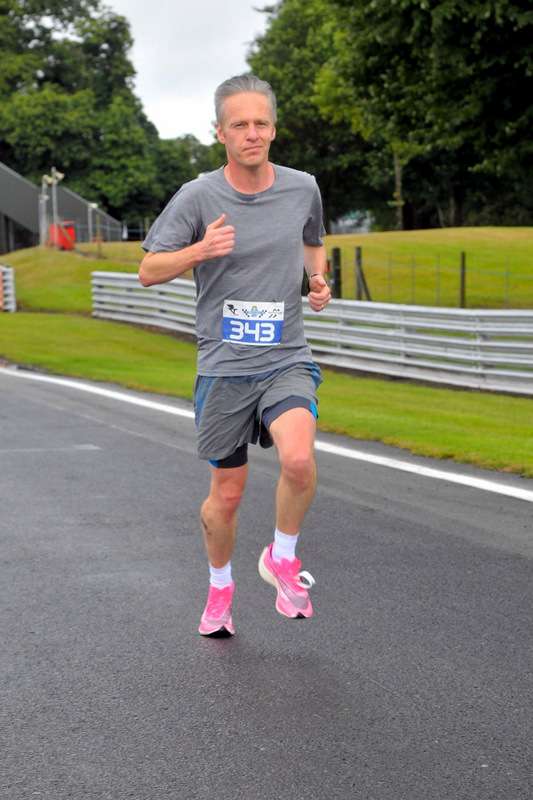 Stablemate Ian "Fair Price" Fairhurst flung caution to the wind at the RunThrough Running Grand Prix Oulton Park Half-Marathon in Cheshire, England. He landed a masters victory with a time of 1:26:54 and finished 14th/146 overall. The wannabe political pundit didn't let the overcast, breezy conditions stop him from achieving his second quickest HM on a tough route around the lumpy racing track.
After losing his pay packet the last time he spoke to "the Bookie Boy," Ally "There's a reason I don't gamble" Smith was reluctant to meet him, in case he got carried away and stuck his house down on Coach Stazza winning the breaking gold medal at the Paris 2024 Olympics. Seeing sense, he gave him a quick call for his take on the race:
"Pleased with how it went. Managed to hold the pace that I wanted to run at. The course is five laps around a motor racing circuit. Undulating, so not the easiest of courses to run."
After his call, Ally checked out Fairhurst's feed on Strava: "Ian was on the money with his pacing, conserving slightly on the ups and hammering the downs to keep on track for a great run. Nicely done, Ian."
The Stable News awaited Coach Stazza's return to the Emerald Isle with a giant "Welcome Home, Stazza!" poster; he gave us intermittent comments between sleeping in the car:
"Fairhurst … zipped and zoomed … race track … Nigel Mansell … well done, lad … zzzz."
Ian's training continues for his big marathon return at Manchester in eight weeks' time. Odds-on for a PB? We hope so.