FROM THE PALACE TO THE VALLEYS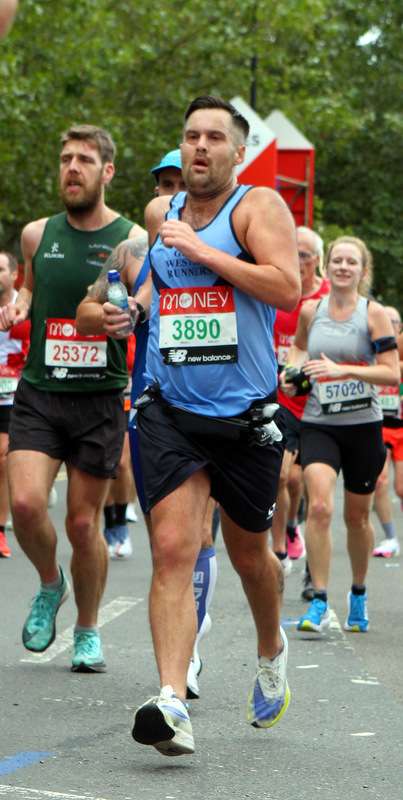 Stablemate and Insta' legend Mark Watts (nearly 40) cranked up the power for an electrifying 14'42" PB at the Virgin Money London Marathon. The fruity pizza fanatic finished in 3:16:08. And get this: he was the second-fastest of the 28 Wattses who finished the race—missing the top spot by only three minutes.
Temperatures in London stood at around 11℃ (52℉) as the race began, and reached highs of 17℃ (63℉)—the average for October—during the day. Ahead of the race, a Met Office spokesperson said, "It looks a lovely sunny morning."
The Stable News' dogged reporter, Ally "the Chin" Smith, hounded the Bristol boy for his take on the race:
"Alright, Marko! Did you forget about me? I haven't forgotten about you! How did London go?"
"I totally forgot about you … I moved on … I have the Newport Wales Marathon done as well! But since you're begging, I'll give you the spiel."
"Cheeky! Well, tell me about both, then! London first."
"OK. After ballot rejections since 2010, just to be on the start line was an achievement in itself! The race went pretty much to plan, with a 1:36/1:39 positive split. My plan was to run at half-marathon PB pace for the first 20 miles and then see what was in the tank for the last 10K.
I think I did well until I got to about mile 24, when the wheels threatened to come off, but I held on for a big PB. I had a few GI issues in the race, which is rare for me, but every race is a learning experience. Had I not had that—and a toilet stop at mile eight—I think I could have scraped a sub-3:15. I loved the course; while there were a few undulations, I wouldn't call it hilly. The first three-four miles of the course are downhill, so that's something to bear in mind.
Not having someone draping the medal around my neck was a downside and an anti-climax, having earned the London Classics medal for completing the three London events (the marathon, RideLondon 100, and the two-mile event at Swim Serpentine)."
"Fantastic, Marko; a humongous PB with a potty pit stop as well! You have plenty more to take off that. How was Newport?"
"Well, The Stablemaster doesn't advise two marathons in three weeks, but I promised him I would 'jog' it. Came home in 3:20:00. The Stablemaster won his bet with himself that I would slightly more than jog it in, ha-ha."
"Bleedin' Nora, mate! That's not too far off your London PB! I hope you're taking a break now!"
"Yeah—from marathons, anyway! Currently on the lookout for short, flat, and fast races that I can enter the pain cave for … A couple of half distances planned for the spring, and then Chicago Marathon in the books for the autumn for a sub-3 push … Or maybe Berlin …?"
"Excellent plan, Marko! Well done again! Catch you laters."
Dialling in from his master suite in the Crowne Plaza, London, The Stablemaster had this to say: "Mark is a gentleman and a scholar … And he's alright at this running malarkey too! A mammoth PB at London, and I knew he'd go for it at Newport as well, hee-hee. The Stablemaster is all-knowing! Congratulations, Mark. Did I hear 'pain cave?' That's what I like to see!"