FÜR ELISE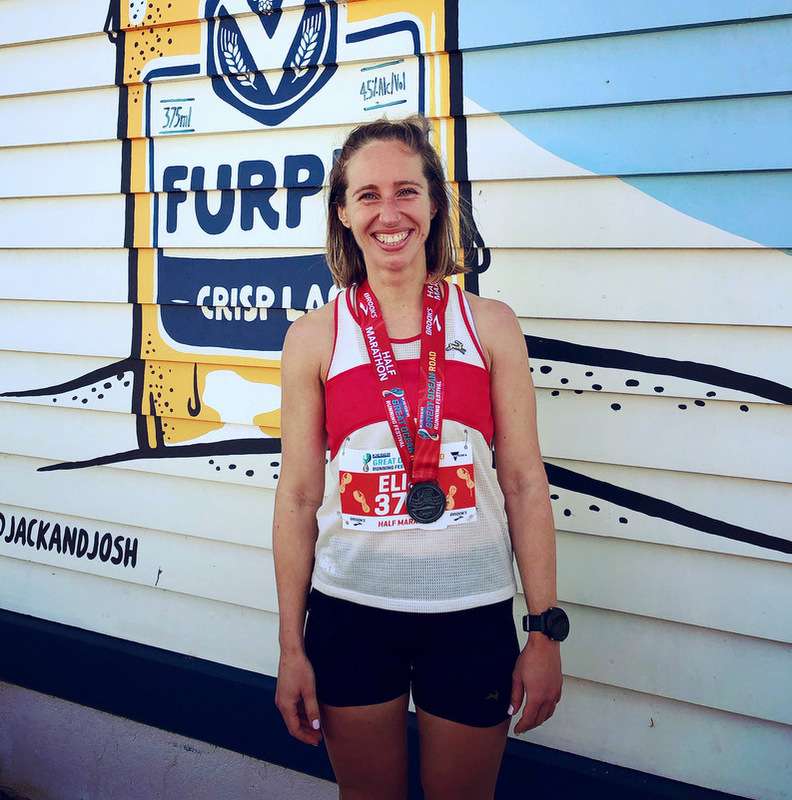 Stazza's Angel Elise Beacom slashed 90" off her half-mara' PB at the Great Ocean Road Running Festival (23K all-in, with a timing mat at Mary point #BonusMiles). She clocked a sublime 1:24:13 through the checkpoint and 1:31:39 for the full distance.
Galloping on Australian National Heritage-listed asphalt, Beacom took in the iconic Twelve Apostles and some of the world's best surf breaks, including Bells Beach.
The undulating course had Beacom tackling some tough climbs on her way to the finish in Apollo Bay, where she placed an incredible second W35, fifth overall female, and 53rd out of 2,386 barbie-loving blokes and sunshine-loving sheilas. 
Unbelievably, the weather was perfect in the land of Oz: 15℃ and sunny—including a rainbow across the sea spray and a cooling, 20km/h wind the last 6-7km stretch. How does she cope? 😉
The Stable News Skyped the effervescent aid worker for a thorough breakdown on how it went:
"I went into the race not bothered about times or splits and just decided to race it. The course was too hilly to figure out what pace I should be running, so my strategy was to run conservatively up the hills, let everyone get away from me, then lean forward and go fast downhill to catch them up. This seemed to work well.
I managed to find a group of guys to run with for about 15km. I tucked in and used some of the bigger blokes as a 'sail.' 🙂 I'm 5ft 2in, so they could provide quite a bit of cover from the wind. I need to work on my technique of running in a pack because I accidentally threw a cup at one of them coming out of a drinks station.
At around 16km, the group broke up and became strung out as the course flattened. When running on the flat, I realised how cooked my drumsticks were and had to hold pace all alone and into a headwind.
At around 19km, I saw a woman up ahead and noticed she was coming back to me, so I made it a goal to hunt her down.
After the 21.1km timing mat, I had some dark thoughts about walking or jogging it in because I was dead at that point (and who cares about your 23km time?!), but after giving myself a severe talking-to, I gritted my teeth and ground it home to the finish line!
My hair looked so bad at the end that I knew I ran hard and left nothing out there. (Either that, or my friend who braided it shouldn't quit her day job …)
I should add (for context): since joining The Stable last year, I've toppled my half-mara' PB by 8.5 minutes."
"A marvellous account of your contest, Elise. You held a clinic on running to feel, and it shows with that PB on a rough route. Very well done; what are you up to next?"
"First off, I'll be going straight to the bar for some well-earned refreshments, and once I've recovered, I'll be building towards the Gold Coast Half in July."
The Stablemaster buzzed the boys back at the office to add: "Ah, Elise is just a star … She manages a top team who win big government grants for Oxfam Australia to do all sorts of humanitarian work around the world … She's a great member of The Stable … Putting in plenty of good work to get these results … Excellent running, Elise; enjoy those stubbies, and then it's go time for the Gold Coast!"
Unfortunately, Beacom caught COVID at the race (or was at it the bar afterwards, hmm?). Being an intelligent soul, she knows her fitness will have taken a hit, and she will carefully monitor her KPIs as she recovers under Coach Stazza's watchful eye.