GET IN THE TOMORROW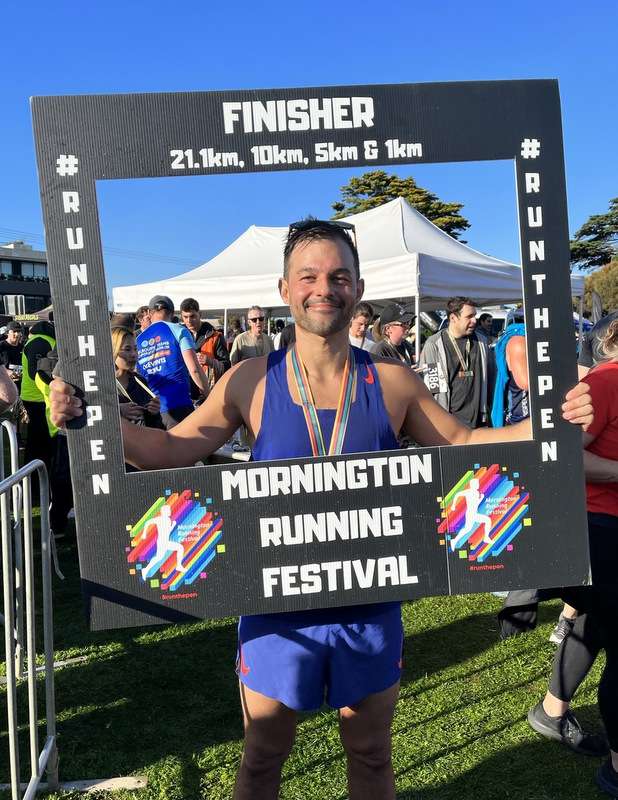 Stablemate Marco Antonio Rossi slashed 2'11" from his quarter-Mary PB at the Mornington Running Festival 10K in sunny Victoria, Australia. "The Italian Stallion" clocked an impressive 42:50, placing 50th/823 overall and 7th/81 M40.
The Stable News got this exclusive snippet from the man from Down Under:
"These were my initial thoughts:
Wholly f#@##: another hilly course!
My last two half-marathons were very hilly courses.
When are you going to start studying the routes before signing up?
Thank God it's only 10km!
Apart from that, the course is held on the picturesque Mornington Peninsula, along the esplanade from Mornington heading towards Mount Martha. The scenery and vibes from the other runners were just great. Free donuts and free beers at the finishing line were also a plus."
Meanwhile, in Casa Stazza, The Stablemaster was putting the finishing touches to his self-portrait, so Jellybaby and the kids won't miss him too much: "Ah, perfect … Just like Adonis, but with better teeth—if I do say so myself, hahaha. Unfortunately, I'm not as good-looking as young Marco from Oz … The young buck is coming into fine form and will be sub-40 before he can tousle those gorgeous locks of his … Bellissimo!"
The Italian Stallion has a busy race calendar ahead: first off, he'll be taking on the Albert Park 10K in June, followed by the Run Melbourne Half-Marathon in July, before finally taking a bite out of the Big Apple at the New York City Marathon in November.