GOODBYE TO THE NERVOUS APPREHENSION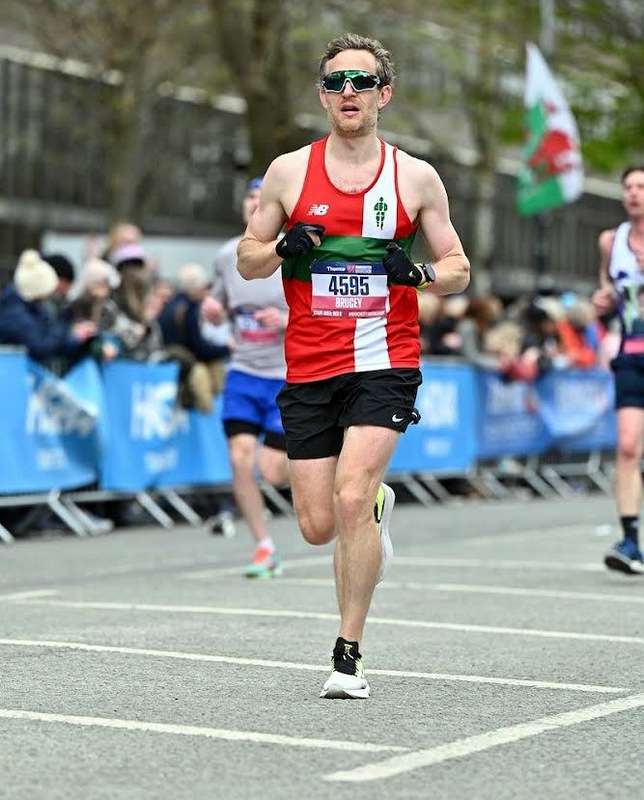 Stablemate Bruce "Bananaman" Thomas pumped himself full of potassium-laden fruit, and an amazing transformation occurred: he blasted the Manchester Marathon in a brilliant 3:05:19, chomping a tasty 22' off his personal record and placing 1,559th overall and 347th M40.
Bananaman's previous best was set at the Edinburgh Marathon way back in 2011 (his first go at the distance), and since a 3:20-chasing-blow-up at London in 2012, he hadn't touched the Pheidippidean event for 10 years—that was, until Coach Stazza appeared.
Contrary to other Stablemates' accounts, Bananaman thought the conditions were positively perfect: "Excellent conditions for running: 8℃ and hardly any wind."
The Stable News' cleaner-cum-reporter was mingling about in the post-marathon buzz when he saw a yellow-and-blue figure bounding towards him:
Ally: Holy moly! Bananaman! In the flesh! Oh, my God! I loved your cartoon; it was so inspirational for skinny weaklings like myself … And it did a fair turn for bunches of Fyffes.
Bruce: Ha-ha, thanks, Ally. But I'm not the real Bananaman. I am simply channelling his aura. Training had gone well (cheers, Stazza), so I was fairly confident I was in about 3:05 shape … Previous painful marathon experiences meant I never got anywhere near overconfident!
Fortunately, a couple days prior to the race two things happened. Firstly, our one-year-old's latest daycare bug had stopped waking him up multiple times in the night (and therefore me & Mrs Bruce). Secondly, I realised, thanks to half a dozen messages from our fair Stablemaster (one of which started "no, no, no …") that I can't, in fact, read or add up … Or both, as the race nutrition plan I had down would have meant I took on almost double the amount of recommended carbs. Disaster avoided.
Ally: Jumping jilickers, Bananaman; that was a close shave!
Bruce: Come race day, I felt the worst I've ever felt in a warm-up, with my watch helpfully pinging a "-3" at me. However, once I got the pre-race faff out of the way and got to the start line with the drums playing, a switch flicked, and I felt great. Thank goodness.
The race itself went to plan, sticking to my 7 min/miles. Managing to hold that pace in the final 10km was particularly satisfying. Overall, dead chuffed. Icing on the cake being the wife and two boys popping up a few times around the course using the tram network.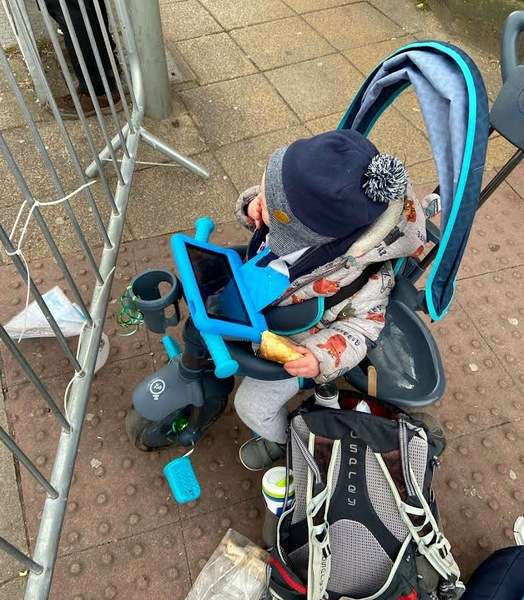 Ally: Wowzers! You really did embody Bananaman's can-do attitude and got the job done. Sub-3 is well within your reach and will certainly tumble the next time you embark on another marathon mission.
Bruce: Thanks very much, Ally; you can be my sidekick anytime.
Ally: Cheers, bud; catch you laters.
The News got straight back on the blower to Stazza, who was having a rest from the unicycling and juggling, to say this about Thomas's triumphant tour: "After Bruce's horrific marathon experiences, many might wonder, Why come back? But Brucey baby has the heart of a competitor, and whacking 22' off his PB, 10 years later, shows there's plenty more to come. Good man."
Thomas has his summer season full to the brim with 10Ks and is on the hunt for a 5K … But Manchester, and a sub-3, is always at the back of his mind: "Maybe next year."