GREENE VS. O'CONNOR 3: NEXT UP'S A TETRALOGY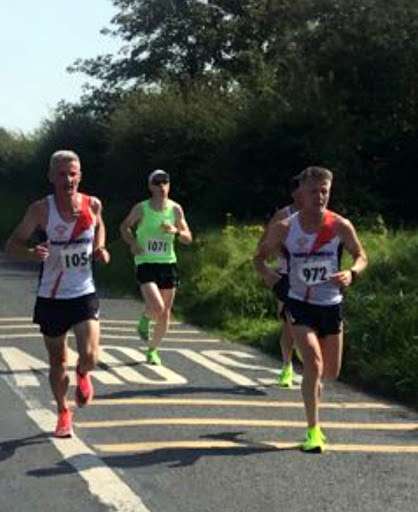 The trilogy match is here, folks! Liam "Old Man" O'Connor finally has his revenge over club-mate and Stablemate David "Young Boy" Greene. The venue for this titanic battle was the Mooreabbey 10-Mile in Galbally, Co Limerick. The youngster and the veteran tackled the tough 10-miler with gusto, but it was O'Connor who came away with the spoils—finishing in 58:39, a full 52'' ahead of Greene, who managed a not too shabby 59:31.
With his previous experience of interviewing the two men, it was up to Ally "Touch Gloves" Smith to get both sides of the story and, (hopefully), the truth in the middle:
Ally: Well, gentlemen. Here we are again. Who'd like to go first this time?
Liam: I'll begin, Ally. The weather was perfect; a beautiful summer Sunday morning, 20℃, and no breeze.
Dave: That's not how I remember it! It was absolutely SCORCHING!
Ally: Alright, Dave, mind your manners hahaha. What were you saying, Liam?
Liam: Cheers, Ally. I ran a 58:39, finished 14th overall, and won my age category (M50).
It was a 10-mile PB for me. I was 4'59" faster than my previous official PB time of 63:38, which was from the Dungarvan 10 miler in February 2020. I have an unofficial 10-mile PB of 56:44 from The Stablemaster 10 TT earlier this year, for which I received a very nice pair of magic running shoes—cheers, Coach. 😁😁
Ally: Unbelievable, bud. Excellent time and congrats on yet another M50 win for your trophy cabinet—it must be bursting full of them. Right, Dave. What about you?
Dave: I still kept it under the hour in 59:31 for 18th overall, but, unfortunately, no PB for me. Did I mention it was like the surface of the sun out there! It was a brilliant race—a tough course but very enjoyable. My aim was to do it as a tempo run, but because of the conditions, it started feeling very "race-like" after four or five miles, so I drove on.
Fitness is definitely not where I want it to be, but I'm really enjoying getting a few races under my belt after such an absence. Lack of match fitness started to tell on the last hill, and I was left for dead by Old Man O'Connor. These auld lads have just had more time on this earth to acclimatise to the heat … that's my excuse, anyways. 😊
Ally: Yeah, you mentioned the heat. Did you find it the same, Liam? Or have you a different take on it?
Liam: The race was very well organised and managed by Mooreabbey Milers AC. The conditions were fantastic, although it was very hot. Given the heat and the tough course, it made for a very challenging 10-mile race route. Miles one to three were a tough gradual climb, which Dave, in fairness, dragged me along. Miles seven to nine were brutal—a section that sorted out the men from the boys. I lost my club-mate and Stablemate on that section, but the last mile was a lovely downhill finish.
Overall, I was delighted with my run and crossing the line in a time of 58:39. Not bad for an old lad, and a PB in the bag. I finally gave Dave Young Boy Greene a good beating. It took 12 months but was well worth the wait. 😅😅 The only problem in the entire day was listening to Dave whining about the heat on the drive home! Had to bring him for coffee and a scone after the race to cheer him up.
Ally: Aww, see you can be nice to each other. But don't be too nice, as this rivalry is getting record numbers for The Stable News. I look forward to seeing how "friendly" you two are on Sunday at the National Masters 5000m.
Stopping by Casa El Stazza on his way back to the office, Ally could hear something melodic in the distance. Turns out it was Coach Stazza and Jellybaby's date night, and the sultry sounds of Marvin Gaye's "Sexual Healing" were playing from Stazza's bootleg Bluetooth speaker. Before he saw something he'd regret, Ally scarpered and called The Love Coach in the morning:
CS: Ah, morning, Ally. How can I help you on this fine glorious summer's day?
AS: You're in a good mood. 😉 Give me a snippet for Dave and Liam before a gust of wind hits that short kimono, and I need to burn my eyes out.
CS: Yes, I am in a good mood and there's nothing wrong with my kimono: Jellybaby loves it. Anyway, it's good to see Dave taking that absolute spanking with grace and dignity. He knew it would happen sometime, and Liam thoroughly deserves to gloat as much as he wants until the next race. Do you want to come in for a croissant?
AS: Oh, jeez, you're alright, Coach. I'll leave you to it.