GRIFFITHS SHOWS HIS METTLE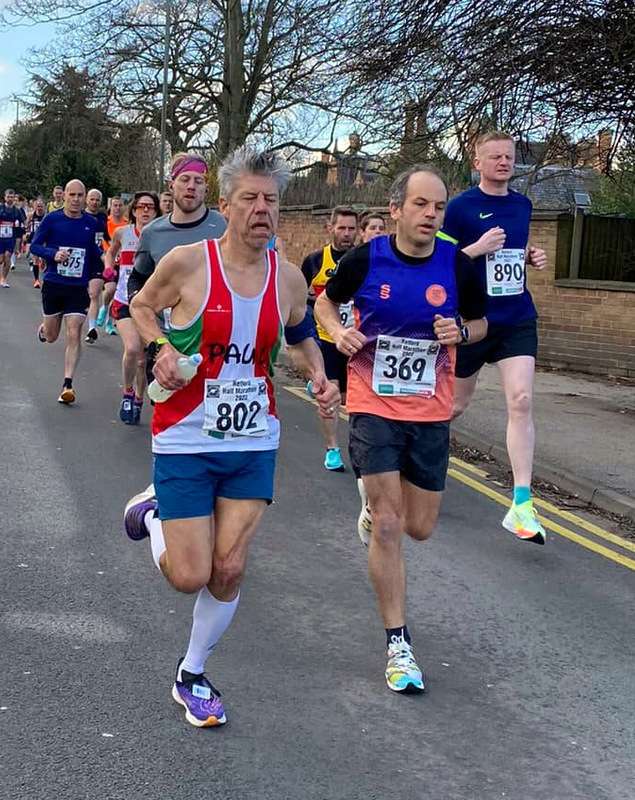 Relative new boy on the block Paul "the Owl" Griffiths swooped in for the kill at the Retford Half-Marathon on March 6, clocking 1:26:32. Unfortunately, a smidgen over his PB—or was it?
Stable News statisticians agreed that the Sheffield Wednesday superfan placed 114th/714 overall and 34th/167 M40, but the matter of his personal best was up for debate.
We sent Ally "the Chin" Smith to Sheffield to investigate:
AS: How's it going, Paulie? Great to finally meet you. Now, what's all this about your PB. Did you get it or not? 
PG: Missed a PB by 10 seconds, but I am calling it a one, as the course was long. This was 13.17 miles, and my PB course was short, at 13.02 miles—so I'm happy!
AS: Good on you, buddy. Unless you are running the perfect racing line, like Kipchoge's sub-2, then you'll always be slightly over (or under) the exact distance. How did you find the race itself?
PG: I was a bit nervous, as I had not done a road half since 2017 (when I got my PB.) Been doing ultramarathons in the last few years, so I wasn't sure if I could get the pace back, but good to see the training from Coach Stazza in the last four months has paid off!
It was a really well-run and organised race, with good support from fellow runners and spectators alike and a really positive vibe.
Was a good field, as the race was doubling up as the Nottinghamshire championships.
AS: Superbly done, buddy. A solid sub-90 is a sure-fire way to blow the ultra cobwebs away. Anything else lined up?
PG: Sheffield Half-Marathon on March 27, where I'll see if I can get an official PB, though that might be tricky, as it has a brutal hill near the start which lasts for three miles. 😉
AS: Hmm, I'll be checking the course profile to see if that's a fact, ha! Well done on a solid outing and a personal PB. Not long now until you make it official.
PG: Thanks, Ally.
The News found Coach Stazza amid a ruckus down Diani Beach—arms extended, waving them up and down to calm the boyz from da cluub and the Maasai mob from tearing each other apart: "Now, now, now, lads … Can't we all just be friends? I'll wash my hands of the lot of you if anyone lays a finger on the other … I mean it! The Stablemaster has spoken!"
With that, both groups seemed to come to their senses, and, (with glazed expressions on their faces), walked past each other, shaking hands and patting backs.
"Sorry you had to see that; I needed to put my foot down and settle it once and for all. The great Stablemaster is all-powerful, much like new Stablemate Paul Griffiths.
When he's not ultrarunning or hammering halfs, he organises all the hospitals in Sheffield single-handed. Well done on an unofficial PB, and we will make the official one much bigger!"