HAVE-A-GO HEGARTY HITS THE TRAILS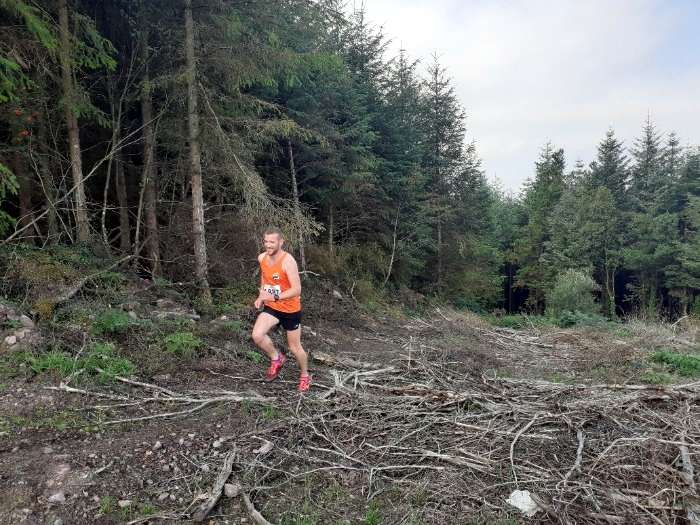 Stablemate Denis "the Menace" Hegarty stunned the trail running world by taking the win in the IMRA Nagles Half-Marathon—his first-ever time racing the distance. With it being a trail race, Denis had to contend with more than just the mileage! He tackled a quads-burning 2,231 feet of elevation gain on course to victory in an eye-wateringly good 1:36:30.
Hegarty had no time to soak up the sights of the gorgeous Killavullen countryside, but Ally "Picnic Basket" Smith greeted him at the finish with a cheese and pickle sandwich and an IPA beer (trail runners love IPAs, or so we've heard).
AS: Alright, Denis; what a great day for a trail race! Nice and warm, and the ground is nice and dry for my blanket to go down. Let's have a beer, and you can fill me in.
DH: Cheers, Ally. Today is a first for everything. I've never tried an IPA before!
AS: Oh, they're great beers, and if you stick with trail running, you'll have them every run as "fuel." Congrats on the win in your first trail run and half-marathon race in general—is that right?
DH: Yeah, that's right. I have never run an actual half-marathon race. Done the distance loads of times in training—never ran it in a race.
AS: Well, you sure picked a tough one for popping your cherry. Over 2,000 feet of climbing!
DH: Yeah, there was a big climb right at the start, up to 1,400 feet or so, then a bit of up and down bumpy stuff, and then the big descent to the finish … Really enjoyed the route and the change from the road.
AS: Brilliant, Denis! I love running down hills that fast my legs can't carry me. You should get over to Scotland for some hill races, straight up and down and great fun. What do you have planned for the forthcoming?
DH: I might just try that, Ally. I've nothing planned at all, apart from going on holiday for a good rest.
AS: Good man: here, take the rest of these beers with you. I'm slowly turning into Coach Stazza with this gut. Enjoy the rest, Denis.
"Working" on said gut, Coach Stazza was building up to the Michelin-starred restaurants by taking his dad to the local eatery in Calpe: "Two starters, two Dover sole with chips and salad, two desserts, and a bottle of wine—all for 26 Euro. You can't turn that down, can you, son?"
"You certainly cannot. What about Denis's race?" "Magnificent race from Denis the Menace! He has the bug for winning now. Once he's back from holiday, that half-marathon PB will tumble by 20 minutes in his next road race. I guarantee it!"