HOOPER DREAMS

Stablemate James Hooper banged out a phenomenal 2'21" PB at the Run Aintree Half-Marathon, clocking 1:32:13 and finishing 33rd overall—17th in his category. "The Hoopster" had a tough time in the heat, describing it as, "Too warm! (19℃.) But at least it was dry."
The Newton-le-Willows local joined The Stable in November 2020 and has been building nicely on the Stazza Super Base. The Stable News sent our roving reporter, Ally "Geez the Goss" Smith, to link up with the newcomer for the scoop on his race:
AS: How's it going, James? You've been smashing the Super Base! Tell me all about this race then.
JH: It was great to get those race day nerves and that buzz again. It was my first event since the 2019 Manchester Marathon. Being in that race day atmosphere was so good. Setting off in a small group brought a lot of it back, until about miles three to seven, where everyone in front of me was too fast, and everyone behind me was too slow (for the time being).
By mile nine, I was pretty on track for my sub-90 target, but I had started to suffer. Feeling sick, legs hurting, and just feeling the impact of the pace and the warm temperature. I was taking gels and sipping water as planned, so I don't think I missed a trick there. But we've all been there in a race when it just gets tough.
I probably didn't think these positive thoughts between miles nine and 13. But that's the sort of stuff I've really missed; when things are hard, and you keep battling because you just love running, and that character building of pushing through when it's tough. It was great to be back, though I missed the target I had set. However, a PB is a PB—and I'll absolutely take that. It's more evidence that we're heading in the right direction, and I can't wait to slash some time off the marathon PB next.
AS: Absolutely brilliant, mate! Well done on digging deep and winning that argument with yourself that we have all had, ha-ha. Any pictures for me?
JH: Yeah, here's some from the event. In the first one, I look like a confused old man trying to hold his walking stick (did someone say Coach Stazza?)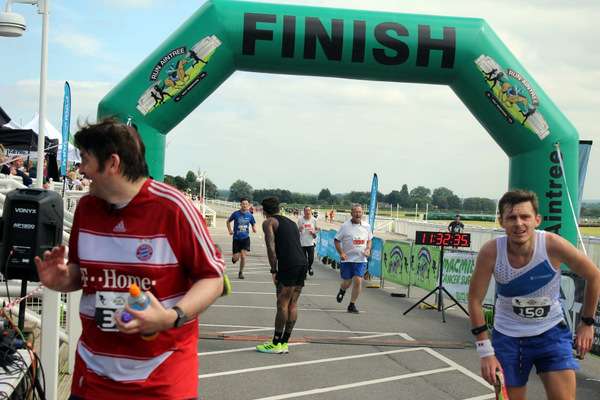 AS: HA-HA; bet you wanted a Zimmer frame after that run! So what's next for you, James?
JH: The London Marathon on the 3rd of October.
The Stable News tracked down Coach Stazza, coming out of the Sweet Tooth Fairy bakery in Layton, Utah, for his thoughts on James's race:
"James executed the race brilliantly! His main focus is the London Marathon and this half will spring him forward into the real work to come for London. Well done, James!"