JOHN'S (UN) GREAT (FUL) 8K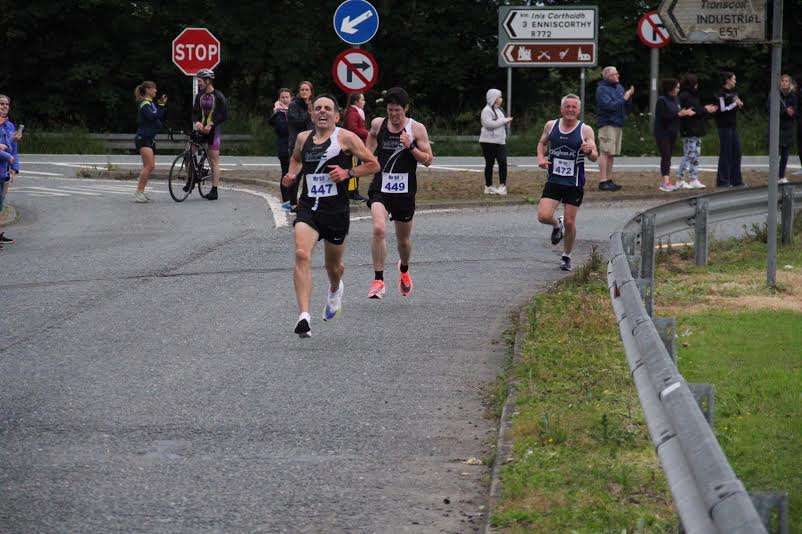 Stablemate John "Burn Baby" Byrne is back in The Stable News with a terrific run at the Mr Oil Wexford Intermediate Road Race, running 28:29 and torching exactly one minute off his previous 8K PB in typical "balmy 12oC" Irish weather.
The Stable News sent our wee Scottish laddie, Ally Smith, to catch up with "the Byrne-ing Man" (and also to prevent him from getting another doing from "Sugar" Coach Stazza ☺).
AS: A'right, John, nice te meet ye in person. Ye fancy a coffee and tellin' me about yer race?
JB: Absolutely, Ally. We'll nip down Arch Coffee—better than Costa, anyway.
AS: Superb. Get what ye want, mind. I'm no yer stereotypical Scotsman wi' short arms and long pockets, ha-ha! So how'd ye fair at the race?
JB: Well, to start with, it was a one-minute PB for the distance, so very happy with that. But that doesn't tell the whole story!
AS: Brilliant, bud; gimme the juicy details, then.
JB: Going into the race, our club knew we had a good chance of team gold again, following on from the novice race the previous week. The result would be drawn from the top four finishers from the club. The top three spots were gone to three speedier club-mates, based on form and the previous race, so it was down to me and another club-mate, Tomas, to pick up the fourth spot.
Right from the start, myself and Tomas were shoulder to shoulder and exchanging blows up to 5K. Eventually, I managed to open a gap of about eight-10 seconds as we climbed towards the finish on the second loop. After the race, Tomas told me he'd thought that was it—he wasn't going to catch me. Bear in mind that I'd pipped him to the line in the 6K by seconds for fifth place the week before, so he was still licking his wounds, ha-ha.
Unfortunately for me, 200 metres from the finish, Tomas appeared on my shoulder again; I knew he was close as the small crowd (COVID) cheered us on. Given he is 17 years my junior, and I had witnessed his turn of speed in training, I wasn't surprised when he passed me like a gazelle—literally on the line—to push me out of the team gold position. All things considered, it was a super race. I was delighted for Tomas, but for me it was bittersweet, getting the PB, but losing out on the medal. I would take the medal over the PB any day; more bragging rights, ha-ha.
AS: Ha-ha, that's true, ye can never hae too many medals; sounds like an epic battle between you two. Ye'll get him back again, I'm sure.
JB: Absolutely, Ally. We've still got the county senior 10K RR on the 16th of July: the county masters 16K RR on the 6th of August; and the county half-marathon race on the 29th of August. There are plenty of opportunities for revenge!
AS: I bet ye will, pal. Congrats again, and keep up the good work.
The Stable News had to hear what Coach Stazza had to say about this epic battle; we called just as he was about to play hide-and-seek with Aoife Cooke as "Stazz-active recovery."
"97 … 98 … 99 … 100! Here I come, ready or not! Oh, hold on, I better answer this. Yep, yep, I know, the Byrne-ing Man, another firecracker of a race … shoulder to shoulder racing, that's what it's all about … brilliant running, John. Wee tip: flare your elbows a bit more next time." 😉