JUBILANT JAKE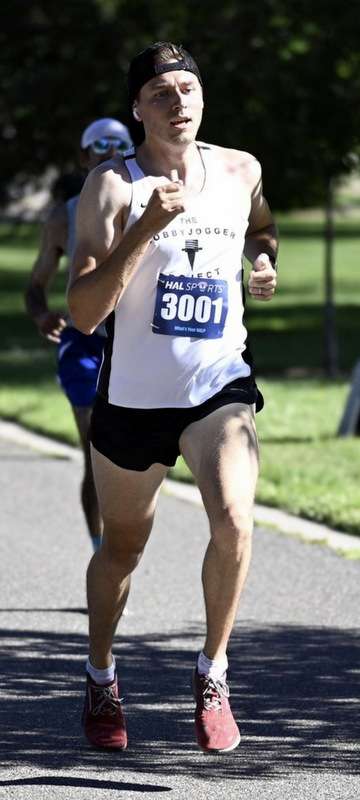 Stablemate Jake "the Snake" Lee celebrated Independence Day with a star-spangled 22:12 at the Liberty Run 4 Mile in Denver, Colorado.
The real estate agent extraordinaire (picture Phil from Modern Family) set a fine personal benchmark on this, his first foray at the distance—snatching third spot overall while securing silver in his category.
The Stable News got in touch with Lee for a recap:
"I wasn't planning on running a race on the Fourth, but I was in town for a wedding, and the groom asked me to come run this with him—so I went for it.
I narrowly beat out a 19-year-old girl for the bronze, and my major award was a small bag of popcorn.
The race director's truck was burglarised the night before, and they stole all the prizes and food/water, so that was a major bummer for everybody."
The News called up the awe-inspiring Stablemaster for some thoughts on Lee's leap into an impromptu quadruple-miler:
"Morning, General; you'd better watch that pasty skin of yours in this upcoming heatwave, or you may very well turn to dust!"
"Don't you worry. The strongest rays to hit my skin will be from the 4kW LED bulbs in the office. What did you think of Jake Lee's four on the Fourth?"
"Ah, he's a good lad, is Jakey boy; he's scouting a few properties for me in Malibu, for when me and Jellybaby need a week away. Nothing fancy, just a few million, ha-ha!
Anyway, a super-duper time after boozing and eating cake all weekend … Nice of the groom to get him back on track before he gets cracking for the Deseret News 10K at the end of July.
And what a pity for some scumbag to break into the RD's truck and nick all the goodies. If he wants, I'll organise some heavies, including Ally "the Chin" Smith, to 'look into it.' Just say the word."
"I'll be sure to let Jake know. And I'll slather myself in factor 50, in case I stroll past the window."