JUST DESERTS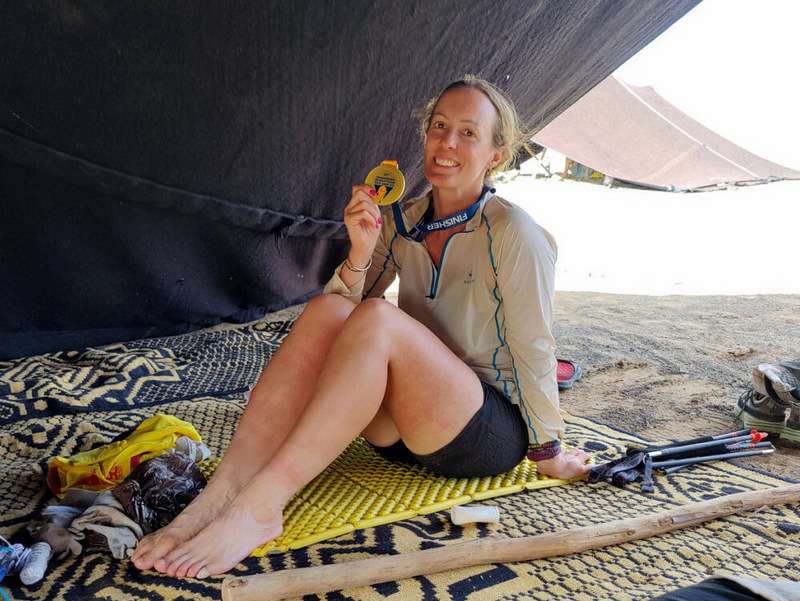 Stablemate "Super" Sara Pearce (41) took on her biggest ultrarunning challenge to date: none other than the formidable Marathon Des Sables—a mere 243 kilometres in seven days across the scorching Sahara desert. Pearce completed the gruelling event in 55 hours and 40 minutes and placed 468th/1128 starters. She was the 76th female across the line and 22nd in her age category.
Super Sara spent the past six months building up for MdS, wearing weighted packs while also wearing Stazza's old sauna suit from his boxing days (disgusting but specific), in typical British winter conditions—torrential rain and freezing cold—(also disgusting, if not so specific.) She also completed the 70K Brecon to Cardiff Ultra in February; not long after a 32-mile jaunt to pick her car up from the garage.
Battling multiple sandstorms and scorching, 50℃ heat, Pearce kept her head and legs focused on the task at hand—simply finishing.
The Stable News' very own Lawrence of Arabia, Ally "the Chin" Smith, was first on the scene to hear from the Saharan superhero with a fresh, 16" pizza and a 3kg tub of fizzy sweets:
"Congratulations, Sara! You look absolutely knackered! Here: get a slice of this down you and tell me all about it!"
"Thanks, Ally. With the MdS, you never know the route until you get to the desert. Once I saw this and the temperatures, my race quickly became about survival more than anything else.
I wanted to be challenged. I wanted to be pushed further than before, but even then, I got a lot more than I bargained for. I adjusted any small goals I had to just be, Get to the end. The Sahara was taking no prisoners this time.
It was the hardest thing I've ever done—a hundred times over. There was no way I was quitting; as long as I was moving (however slow), I had to make it. Somehow, I managed to avoid the heat exhaustion seen by so many, as well as the blisters so frequently talked about, and I made it to the finish line absolutely elated. There is talk of it being the toughest edition so far, with huge dropout numbers. I have no idea how I made it to the end, but I did."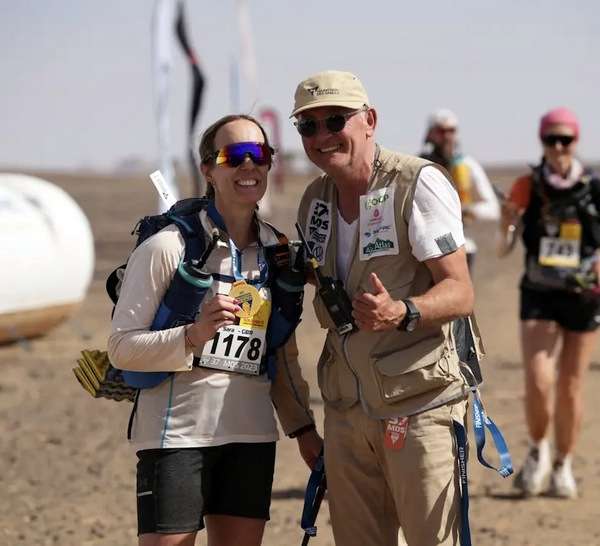 "An unbelievable achievement, so chuffed for you! Obviously, you're due a well-earned rest, so it seems daft to ask: but have you any other crazy races planned?"
"I would love to get into triathlon and do an IRONMAN."
"The craziest race of all, ha-ha! Well done again, Sara. I'll be seeing you."
"Cheers, Ally; leave the pizza."
The Stablemaster was dining out at his favourite restaurant (it's top secret, and for "Zelebs" only), when he called General Puffball:
"Puffers, my man! Have you seen Sara Pearce's Moroccan medley? She's as tough as they come, is Sara: there was no quit in her, whatsoever."
"A herculean effort, I'm sure."
"You're on it today, General! Even the great Hercules would've struggled where Sara triumphed. Fantastic from my lass … Now she'll have a well-earned rest before we need to have a 'talk' about this IRONMAN business."