KING KARL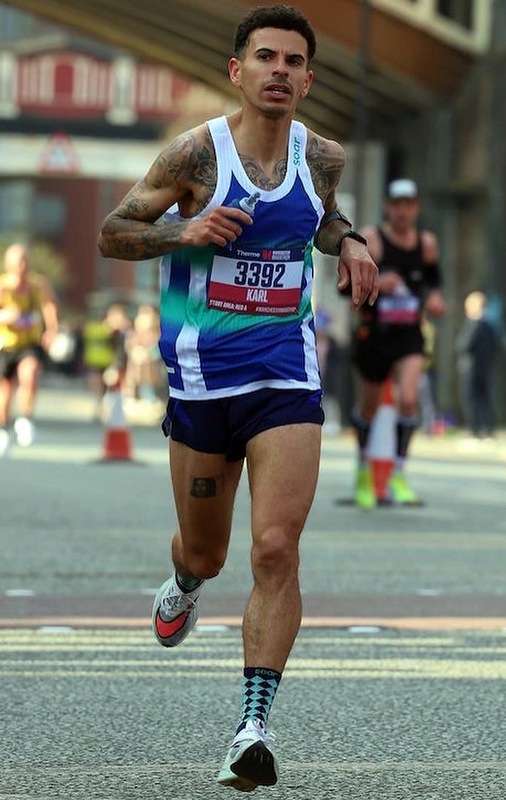 Stablemate Karl "Gorgeous" Gloster popped his mara' cherry in a nut-busting 2:44:23, and where better to do it than in the capital of the north—Manchester!
The cool, calm start to the day had the former pro-footballer jogging on the spot and entertaining the crowd with a few keepy-uppies before he volleyed the ball overhead for a lucky spectator to catch.
The Gorgeous one placed 321st from 24,000-odd souls in the second-biggest marathon on the UK calendar. A very respectable result for his first go at it, as he also came 66th in the open category.
Ally "the Chin" Smith awoke from his tent in Peel Park (funnily enough, all the hotels were fully booked) and headed over to the finish to snare as many Stablemates as he could:
Ally: Karl! Hey, buddy, congratulations on a sub-2:45! Tell me how it went, and I'll let you go catch your breath.
Karl: Thanks, Ally. Really good race—well put together. I'm happy with my time, considering it's my first marathon. So yep: a PB, I guess, but I know I can run better next time.
Ally: Excellent, bud. You've set a very high standard as your first 'thon PB, and I have no doubt you'll smash that to pieces next time.
Karl: Thanks, Ally. I'll catch you later in the pub.
Ally: Absolutely! Oh, before you go—what's next?
Karl: A few shorter races coming up in the summer. Then I'll be going back into a marathon block to get me ready for the Berlin Marathon, which was a place from last year.
Ally: Good man. See you soon (once I've rounded up more of the team).
The Stable News tagged along to Coach Stazza's "Lusty Libido" lecture to hear the great man speak about how to put the funk back in your junk: "As a former sex-god gigalo, I have some excellent techniques to boost T levels and have you waking up with more than a pep in your step.
But first—young Gorgeous Gloster! He could come and do a section called "The Best Way To Pop Your Mara' Cherry." After a setback in Berlin, he got straight back to work, constantly building towards the endgame. He was patient, he didn't rush, and he knew the feeling at the end would be orgasmic. 😉 A sub-2:30 is well on the cards! Now back to the lecture; we have a lot to discuss."