LONGING FOR ACTION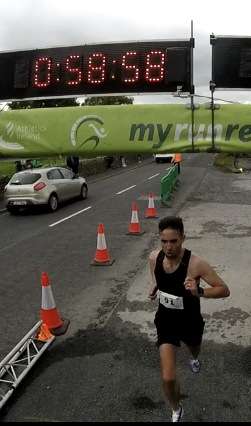 Stablemate "Honest" Tim Long sliced "about" two minutes from his 10-mile PB, running a sensational 58:58 at the Kilbeggan 10-Mile in Co Westmeath. The father of three and Nike Pegasus 36 Fan Club President tackled the wind and hills with relative ease, skipping through the Lake County like Goldilocks searching for the perfect porridge, and besides the wind, the temperature was just right!
The Stable News' very own honest man, Ally "Tae a Haggis" Smith, was in Kilbeggan, sampling the local whiskey distillery's produce, when he saw Tim thundering down the road:
Ally: Here, Tim, you're flying. I'll catch you at the finish with a snifter.
Tim: I could do with a sup of the uisce beatha right now. See you at the finish, Ally!
Ally: Come on, Tim! You can smell the smoky notes. Drive it in!
Tim: Thanks, Ally! I think that helped me sneak under 59 minutes.
Ally: You're more than welcome, pal. What did you think about the race?
Tim: My main thoughts on the race were … it is absolutely brilliant to be at a real race, with real people! Training is enjoyable, and while the suffering during a race isn't exactly enjoyable, there is a buzz from a race that just can not be replicated. At the moment, I feel serious credit is due to anyone willing to grasp the nettle of going ahead with a race and looking after runners in giving us the opportunity to participate and compete in our sport.
Ally: That's brilliant, buddy! Very well put, and fair play giving credit to the race directors for having the balls to get the races on. Well done on a great race—58:58 is serious moving. What's next for you (besides more whiskey?)
Tim: All going well, next on the calendar is the Manchester Marathon in October.
Ally: Good luck with it, pal. Training for a marathon must be a piece of cake compared to raising your kids … the best excuse to leave the house, hahaha.
The Stable News called up Coach Stazza, who we caught shoving crackers and pate in his mouth, with crumbs spilling out all over the place: "Mmmm mmm mm, that's some good pate! Jellybaby won't like the mess I'm making, but it's worth it." Crunching down on another cracker, Stazza continued: "Timotei! What a run you had there, my boy… stonking effort, good lad. Now go and stick your feet up for a day before the real work begins."