MASTER GARDENER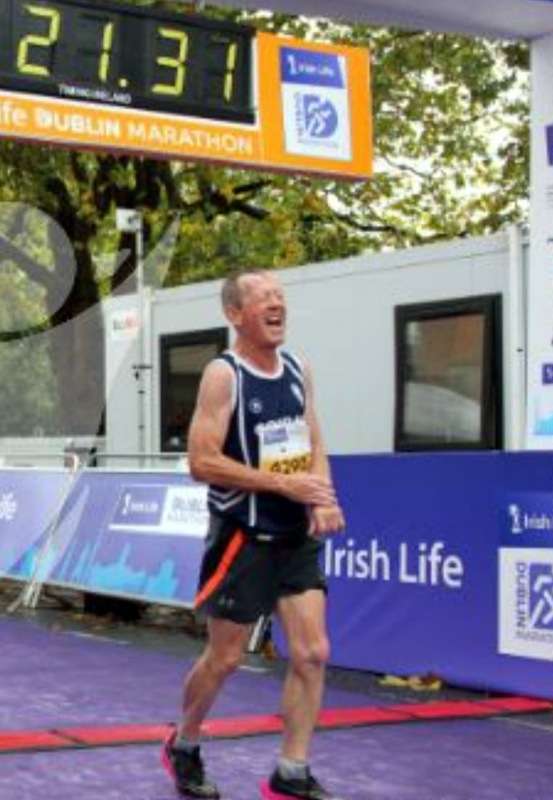 Stablemate Joe Stagg "Do" (66) shot seven minutes off his lifetime best with a tequila-slamming 3:20:27 at the Dublin Marathon, placing 2,078th overall, a fantastic fourth M65, and, in the national championships, blooming as brightly as a daffodil in spring, with a t'riffic bronze medal.
The retired vet-cum-gardener thought the weather was "perfect for running"—11°C, with some light rain. He'd finished and dashed home to take his flowerpots in before the downpours drenched them.
The Stable News' senior confectionery correspondent, Ally "the Chin" Smith, had just knocked back another caramel wafer when party boy Stagg came for a chat: 
Ally: Yum scrum. How's it going, Joe? Help yourself to a wee wafer and dish the dirt on Dublin.
Joe: Thanks, Ally; I'll take two! I'm really happy, as I only joined The Stable in May after an injury layoff. I ambitiously followed the 3:20 pacers and stayed with them to the 25-mile mark. Lost a minute on them in the last mile, so I think I probably maxed out.
Ally: Maximum effort! Even at 66-years-young, you're going balls-to-the-wall and smashing long-standing bests … Love it! What are you up to after this? Besides getting rat-arsed on Guinness?
Joe: Besides that, ha-ha. I'll tackle some shorter races through Christmas and New Year. Myself and local Stablemate Darren [Aldridge] have "Good For Age" qualification for Berlin, so I'm considering that.
Ally: Nice one. I love my yearly trip to the Grey City, so if you two are considering it, I'll twist your arm over a pint. Congrats again, ol' boy, and I'll catch you later in the pub.
Joe: No doubt.
Coach Stazza was tending to his African daisies and begonias (while smoking a fat Cuban) when the News rang:
"Whoooooo … My flowers love the carbon intoxication from Castro's finest … A little tip for you, young Joe … When the rain subsides, you can get the flowerbeds blossoming … Anyway, enough about the flora … A spectacular stride … Charging through the streets of the Pale to cultivate a solid best … Good man."