O'DONOVAN'S O'DISAPPOINTED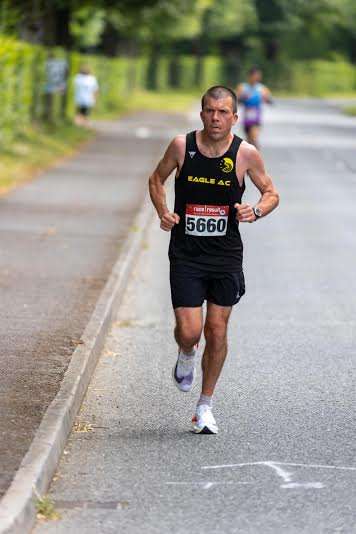 Stablemate and Cork hobby jogger Trevor O'Donovan annihilated his half-marathon PB with a stonking 1:22:55 at the Thoroughbred Run Kildare, taking over 10 minutes off his previous best. There was no lie-in on Father's Day for this dad of two, who was up early to drive two hours to the race. But it was worth it for "the Hobbyist," who finished 12th out of a Spartan-like 300.
The Stable News' weather boy, Ally Smith, wanted a full meteorological report for his new column, "Train in it, to Race in it." Trevor obliged: "Strava had it at 13°C at 10 a.m., but the humidity was 91%. It felt really warm before the race. Forecast had it to rain, so we were all cursing the sun and heat."
After the race, we caught up with O'Donovan, licking his wounds and being spoiled rotten by his kids, to see how he thought it went:
"First thoughts are ones of disappointment. It's crazy to say that after you get a 10-minute PB, but the last HM was a long time ago, and I've improved significantly since then, thanks to Stazza and his Stable. I probably could've run that HM time in Cork for a TT—would've saved me the travel and race fee!
I was aiming to go under 1:19, which is about a 6min/mile pace. I felt that time was achievable, given the recent training put in. On the day, it didn't happen. That can occur, I suppose. Weather was a factor, and halfway through the race I hurt my lower back, which may have caused some mobility issues. I hate even mentioning these, as it seems like I'm looking for excuses. Legs felt drained with five miles to go; the pace drifted right off, and I didn't have any fight in me, to be honest. I knew I couldn't get any more out of the legs."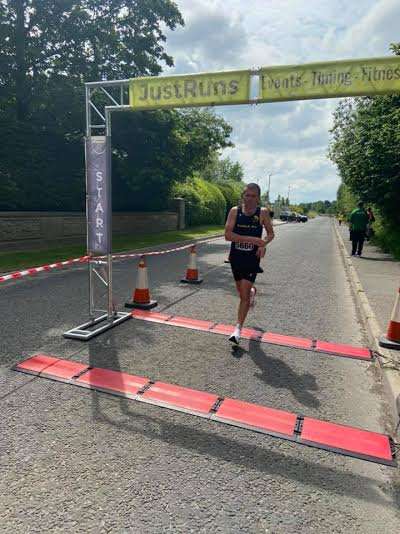 Once Ally put away his hygrometer (for measuring humidity, don't you know), he told us: "Trevor's race was a big rust-buster, and the weather really gave him trouble. But he gritted it out as best he could, so he should be happy in the knowledge that the next HM will be sub 1:18."
The Stable News eventually got hold of the one and only Coach Stazza, who was polishing his special stick, to hear his thoughts on Trev's triumph; "Running a half in heat and humidity … I can think of nothing worse … Trevor dug deep and finished with a massive PB! There's another three to four minutes to come off the next one."
Well then, what's next for this mixed emotions man?
"Next scheduled race would be the Dublin or Manchester marathon, Dublin being the preference, if it goes ahead. After today, I don't know how many times I said I would never do a HM again and that my goal time for the marathon will be dramatically increased—the mental side of racing!"
Good luck with it, Trevor.